For any healthy and nice-looking garden, you must cut and trim it carefully using reliable tools. After all, you don't want to run into the risk of breaking or damaging the healthy plant when cutting. But you also don't want to leave overgrown or dead branches hanging in your garden.
This is why you need the best loppers that can quickly remove unwanted stems without using too much energy. There are so many different designs and styles of loppers available in the market, which can quickly become quite confusing.
In this guide, I cover all aspects of loppers you need to know when selecting one and review some of the best loppers you can buy with confidence.
8 Best Loppers Available in the Market
What is a Lopper?
Lopper is a long handle cutting tool that is used to prune trees and bushes. It's designed like a scissor but can cut thicker branches and twigs. The extended cutting handle of the lopper provides better leverage to cut thicker branches of the trees. You have to use both hands when using a lopper.
Most often, you can easily prune branches that are 1 to 2 inches thick. For smaller branches that are less than 1 inch thick, you can prune those by using a pruning shear.
Best Loppers on the Market
There's no shortage of loppers on the market, but they vary quite drastically in terms of performance, quality, and design features. For smaller pruning tasks you can check out our in-depth guide on best pruning shears.
However, we'll be going over each of their design features and which type of garden works best. Not all of these loppers will be suitable for your garden but I'm sure that you'll find one that you love.
Best Loppers Review
Matching Your Pruning Needs with the Best Loppers
While the eight loppers mentioned above are all worthy choices, it's important to select the best loppers that work for your garden.
Let's understand more about the loppers and things to consider before buying one.
Read More: 5 Best Cordless Grass Shears for a Lawn in 2021
Types of Lopper
There are two main types of lopper available in the market.
Bypass Lopper
Anvil Lopper
The main difference between the bypass lopper and anvil lopper is the design of the blade. The bypass lopper's upper and lower edges cross each other like scissor blades. The anvil lopper blade has a sharp upper curved edge while the bottom part remains flat like an anvil.
To decide which lopper to buy, consider the plants you have in your garden. For a garden that has lots of green stems and needs to shape it with cleaner and precise cuts, the bypass lopper works best.
The bypass lopper provides a sharper and cleaner cut to the live plants, which helps the plant to heal faster and prevents infection.
If in your garden, you have lots of thick dead trees and branches, then it may be challenging to cut it with a bypass lopper.
The anvil lopper makes it more natural to cut thicker and fallen branches due to its ability to generate large cutting force. The main downside of using an anvil lopper is that it does not give you a cleaner cut.
12 Important Things to Know When Buying Loppers
To help you select the best loppers for your gardening needs, you should consider the following features in the lopper.
1. Blade Type
The most critical question you need first to ask is whether you should buy a bypass lopper or anvil lopper.
There is an essential distinction in the type of cut you will get from these two different types of loppers. You should choose the lopper type which best fits your needs.
Many people prefer bypass lopper because of its ability for a cleaner cut. As people tend to trim their plants and bushes when they are doing it as regular gardening maintenance, which means the plants are still green and live.
The bypass lopper does not work best when you try to cut dry or dead branches. The swiping motion of the bypass lopper blade makes it difficult to cut any thicker branches, thus making it wholly ineffective.
This is where the anvil loppers shine, and if you are doing fall maintenance for your garden, then it works best. During these times, most of the branches get dry, and an anvil lopper can trim these with ease.
Be aware that you don't get much cleaner cut with an anvil lopper. If getting a cleaner cut is essential for the appearance of your garden, then try using a bypass lopper or some other tools. 
2. Cutting Blade Quality
The cutting efficiency of the lopper largely depends on its blade quality. Most loppers blades are made from hardened steel or carbon steel. The steel prevents the blade from getting rust and maintains the blade sharpness for a longer duration.
A low or cheap quality blade quickly gets bend or needs frequent sharpening. A poorly made blade quality makes pruning harder and may damage the plants or branches.

Many branded loppers come with a blade that is made from high-quality carbon steel. These are hardened to last longer while cutting thick branches.
3. Protective Coating
Some plants, when cut, release sticky fluids. These fluids help plants to heal faster and prevent infection. But these viscous fluids may jam the blades and make it hard to move.
A protective non-stick coating on the blades prevents these fluids from remaining glued to the edges, which helps with cutting.
4. Lopper Length
The loppers come in various different sizes, and most commonly, it ranges from 18 inches to 34 inches. The longer the length of the lopper handle, the easier it becomes to make a cut.
The longer handle provides better leverage, which requires less force when cutting thick branches.
A longer lopper also helps you to reach higher and further branches without you getting yourself uncomfortably extended. But as a downside, the longer-length lopper makes it heavier, which may make you get tired quickly.
So, it's essential to have the right balance between the lopper length and the weight to not get tired quickly.
5. Adjustable Blade Tightness
Some loppers allow you to adjust the blade tightness. The fulcrum screw determines how close the blade rubs each other. Closer the module means you get a cleaner cut, but this also means you have to apply more force to cut thicker branches.
An option to adjust how close or tight the blades you want together provides you with more flexibility in your pruning task.
6. Lopper Handle Grip
Loppers handle grips come in various shapes and materials. The clamps make it comfortable to hold the lopper for a longer duration while making it easy to prune branches.
The excellent quality soft material and ergonomically designed handle grip comfortably fits in your hand and protects your palm from repetitive impact.
Always look at the size of the grip as it should be long enough to fit comfortably in your hand. Some softer material-made grip may feel comfortable while holding but may not last long.
Grips with multiple contours and finger-shaped cutouts make it easy to hold the lopper without it slipping from your hand. 
7. Telescoping Handles
The telescoping handles in the lopper allow you to extend the handle length for a longer reach. This provides you with more flexibility in reaching various distances.
You can keep the short length for smaller pruning needs, but when needed, you can extend the range to cut higher or further branches.
This flexibility comes at the cost of extra weight, though. The telescoping handle lopper weighs more than a similar size non-telescoping lopper.
Also, test out the locking mechanism of the telescoping handles, so it remains locked when fully extended.
8. Lopper Weight
Weight is a critical factor when choosing a lopper. You don't want to buy a lopper, which makes you feel tired, just holding it.
A lightweight and durable lopper makes it easier and comfortable to prune, especially when you are overextending your arm.
The construction material and the length of the lopper determine the weight of the lopper. Manufacturers use a different type of construction material to strike the right balance between the sturdiness and weight of the lopper.
For example, most loppers come with a durable stainless-steel blade but have a handle made from lightweight aluminum or fiberglass.
These materials keep weight low while maintaining the excellent performance level of the lopper.
9. Lopper Cutting Mechanism
The cutting mechanism of the lopper determines how thick a branch or bush you can cut. Depending on the design of the cutting mechanism, you prune branches with less effort.
There are four main types of cutting mechanisms for the loppers. 
Retching loppers: The retching loppers work the same as a jack works for a car. When you squeeze the lopper, it latches and allows you to release and press again. This applies the multiple force at the same spot to enable you to cut even a thicker branch with ease.
Compound Action: The compound action loppers have multiple pivot points. When using this type of lopper, you have to open the blades further to get it around the branch. But it requires far less effort in cutting dry and thick branches.
Geared Loppers: The geared loppers have mechanically designed gears at the joint, which provides you with higher leverage when pruning. This makes effortless cutting.
Traditional loppers: The traditional loppers have a simple design and don't have any complex cutting mechanism. These are the bigger version of the scissor as you simply cut by closing the jaw of the lopper. Since there is no mechanical assistance, you need to apply more force to make a cut.
Keep in mind that more complex designed loppers have the benefit of cutting thicker branches with ease, but as a downside, it has more parts to fail.
The complex cutting mechanism loppers also tend to weigh more than simple design bypass or anvil loppers. 
10. Safety Bumper
The lopper safety bumper prevents the handle from coming too close together. It prevents the hand from smashing with each other, which may cause injury.
The bumper act as a cushion when you make a cut and prevent the handle from hitting each other. Some modern design loppers have spring-loaded bumpers to absorb the cutting shock, which makes it comfortable to cut for a longer duration.
11. Cutting Capacity
The cutting capacity rating of the lopper determines the thickness it can cut. On average, the most common types of loppers are rated to have a cutting diameter of 1 inch to 1.5 inches.
Most small branches and bushes are typically in these thickness ranges. But if you have plants in your garden which are older or are of the thicker variety, then choose a cutting diameter rating of above 1.5 inches.
The larger cutting diameter rating means you will need to apply more leverage and more strength while cutting. For a smaller cutting job, it may not be an issue, but for tougher jobs, you may want mechanically assisted cutting loppers.
Most mechanically assisted cutting loppers are ratchet, gear, or compound action type designs.
12. Cleaning and Maintenance of Lopper
The traditional or conventional designed loppers are usually easier to clean and maintain. Since these loppers don't have any complex designed moving parts, it does not break or get damaged easily.
Most often, it's the lopper blades that get damaged easily either due to mishandling, such as dropping the lopper, or due to poor pruning techniques.
You should always attempt to cut straight in a single swipe. Many people tend to twist the lopper when cutting thicker branches, which bends the blade and damages it.
Using the wrong lopper type such as using bypass lopper to cut dead branches also damages it. You should be using an anvil lopper when cutting thicker or drier branches. The ease of cleaning and maintenance of the lopper determines how long it will last.
Some expensive loppers have the option to replace the blades if it gets damaged. But usually cheaper loppers don't have replacement parts available.
Keep these factors in mind when shopping for loppers so you can save lots of headaches in future maintenance.
Always wear safety gear such as eyeglasses and gloves when cutting or pruning.
Use the correct type of lopper for the job and use the right pruning technique.
Use mechanically assisted lopper or anvil lopper for thicker and drier branches. Using bypass lopper may damage or dull the blades.
Never touch the blades when in operation as it may cause injury.
Protect yourself from sharp cuts and thicker branches when pruning.
Never extend the lopper handle more than required and always maintain the stable standing base.
Keep the blade clean by regularly cleaning it with cleaning oils, which lubricate and cleans lopper at the same time.
Keep the blades sharp for efficient and effective cutting. You can sharpen these blades yourself with correct blade sharpening tools.
Keep lopper clean from dirt and debris once completed the job.
Conclusion
Finding the best loppers can sometimes become confusing. With the above information, I hope you can make the right choice and identify the suitable lopper as per your needs.
Using the right tools is essential for any beautiful-looking and healthy garden. Regularly pruning and trimming the branches and shrubs keep your plants healthy and disease-free.
When buying a lopper, pay closer attention to the construction material, blade quality, ease of use, and durability of the tool.
For any questions or feedback on the loppers which you have used, please share it in the comment below.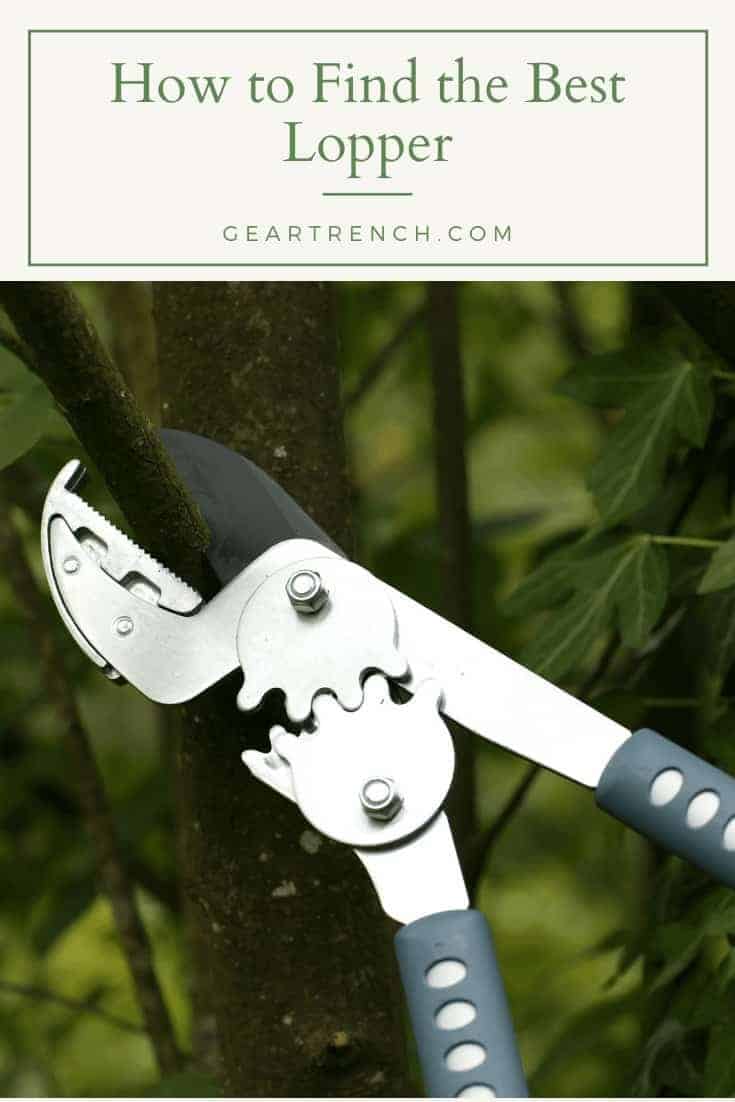 Don't forget to share this post