Who doesn't want clean, fresh, and nutritious water for their garden?
But do you know that many municipalities in the United States and other countries add chlorine and several other chemicals to the tap water?
Chlorine is a disinfectant that kills disease-causing organisms. Ironically, chlorine and other chemicals added to tap water also kill beneficial bacteria. It contaminates the ground with fluoride and other hard minerals that diminish plant growth.
You need a water filtration system to provide clean and fresh water to your plants, free from chemicals and other contaminants. Luckily, there are many varieties of water filtration systems to choose from.
GrowMax Garden Water filter is specifically designed to provide clean and fresh water to your garden and hydroponics plants. It has several features such as easy hook up to home taps, replaceable water filters, different water filtration capacities, and an easy-to-maintain feature.
So it may not be the best water filtration tool on the market, but it's definitely in our top 5 best garden water filter tools.
Keep reading our GrowMax Garden filter review to get the full story.
How does filtering water help with the garden plants?
If you're using your home water to irrigate your garden flower and vegetable plants, you take the risk of ruining the plant's health. The municipal water contains several different chemicals, pathogens, and minerals, including additives such as fluoride that can harm the plants.
Although most plants try to survive, but low water quality causes them not to grow fully or have weaker foliage. Some gardening experts recommend letting the tap water sit for 24 hours before using it in the garden as a cheaper alternative to using a water filtration system.
This may be a good option when you have a small garden but may not be practical for any medium to large garden.
When you use a water filter, it removes these harsh chemicals and minerals that affect plant growth. You don't need to go overboard and use distilled water which becomes utterly free of any chemicals and minerals from water.
GrowMax Water Filter Review
GrowMax specializes in water filters for hydroponics and gardening. The manufacturer sells a wide range of filters used by professional cultivators, hobbyists, and plant lovers.
Their filtration systems filter out harmful chemicals, minerals, heavy metals, and organic contaminants.
GrowMax provided us with a review unit to test the water purification ability and its efficacy. The most important features I focused on in the review was ease of use and simplicity.
So, let's get into it.
Types of GrowMax Water Filter
GrowMax sells water filters for regular home gardeners and commercial growers. The difference is based on the water filtration capacity. If you're a home gardener, you can pick from the following models.
| Model | Suitable For | Filtering Capacity |
| --- | --- | --- |
| EcoGrow 240 | Indoor plants and flowers | Up to 40,000 liters |
| GardenGrow 480 | Small size garden | Up to 60,000 liters |
| SuperGrow 800 | Large to medium size garden | Up to 60,000 liters (connect directly to garden hose) |
| ProGrow 2000 | Commercial Hydroponics | Up to 100,000 liters |
For Commercial Growers (High Flow Reverse Osmosis Systems)
| Model | Water Filter (L/Day) | Pump Power (kW) |
| --- | --- | --- |
| High Pro 5,000 | 5,000 | 0.64 |
| High Pro 10,000 | 10,000 | 0.64 |
| High Pro 15,000 | 15,000 | 1.5 |
| High Pro 20,000 | 20,000 | 1.5 |
| High Pro 25,000 | 25,000 | 2.2 |
The manufacturer claims to eliminate 95% of salts, heavy metals, and up to 99% chlorine for commercial growers. This is great for hydroponics growers and organic gardeners. The filtered water protects beneficial microorganisms while delivering chemical-free nutrients for plant growth.
GrowMax Water filter: Hit or Miss
We used GrowMax SuperGrow 800 model water filter for our testing. The unit came nicely packaged and well protected to prevent any shipping damage. The box contained
5-micron sediment filter (1 piece)
High capacity green carbon block filter (1 piece)
Wrench to change filters (you can use any wrench)
Garden hose connector
User manual
Build Quality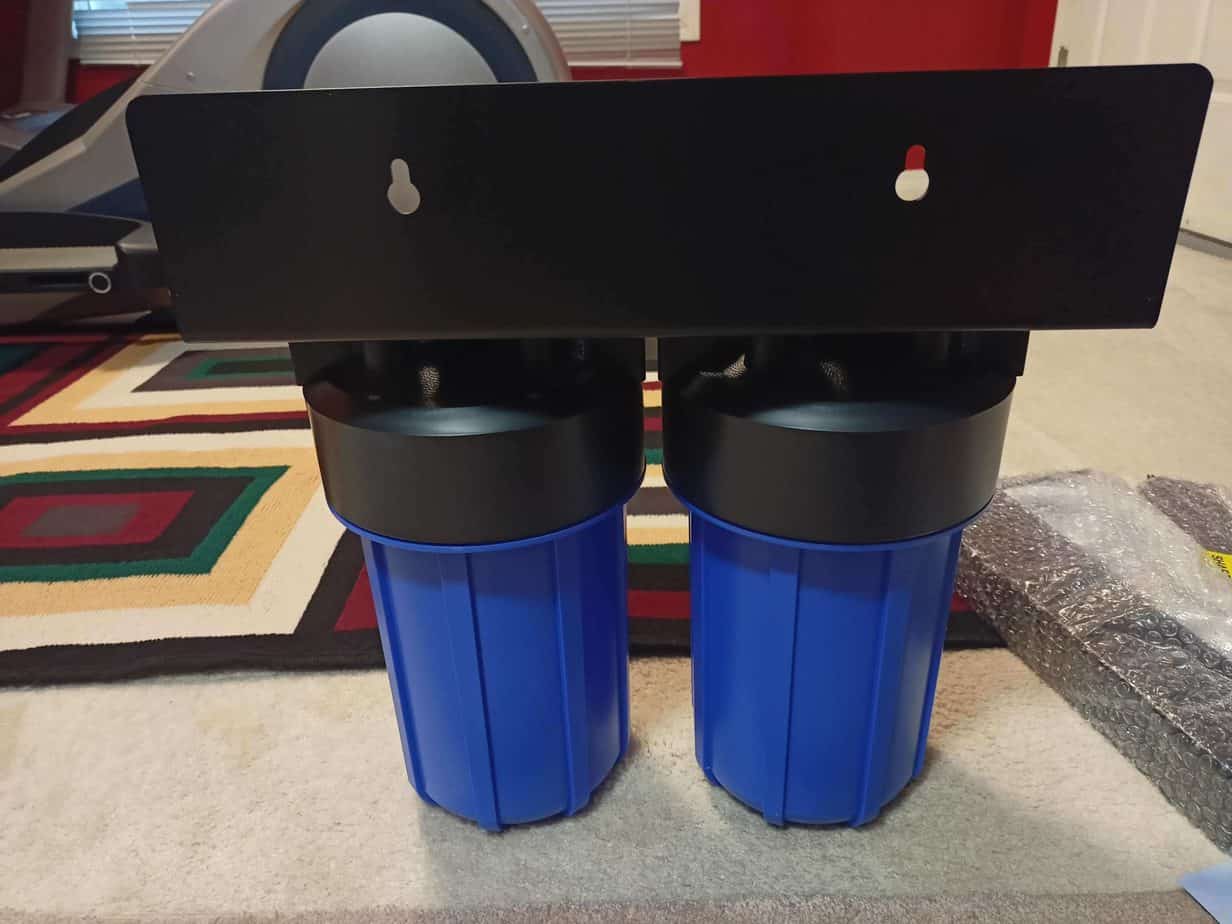 The unit comes with a twin filter arrangement and has a rust-proof steel plate with black paint. You also have an option to hang it on the wall through two screws at the top plate. The steel plates are sturdy and don't feel cheap or flimsy.
The filter is encased in a blue plastic casing which prevents any water leakage. It has a water inlet that fits any standard garden hose.
Does GrowMax Water Filter Use Reverse Osmosis?
Yes, some models of GrowMax water filters use a reverse osmosis process which provides clean water for the garden and hydroponic plants. This reduces the water waste while providing you with enough water to irrigate your garden.
It's one of the best value water reverse osmosis filtration systems available for growers and gardening enthusiasts. Pressure gauges and automatic shutoff valves are just a few of many features when it comes to performance.
How to choose the right GrowMax Water filter?
The GrowMax Reverse osmosis water filter is the perfect solution for those aware of harms caused to plants using regular water. The filter is designed to remove chemicals such as chlorine, hard minerals, and sediments from water.
The filter is rated to remove up to 99% chlorine and clean up to 90% of the sediment particles (above 5 microns). You have to be aware that the filter isn't designed to remove all the impurities altogether.
If your goal is to get water with lower Parts Per Million (PPM), then you should choose a unit with a Reverse Osmosis system.
I have been using the filter for the last few months, and I'm amazed at how well it works. I have never used a water filter for the garden before this, but this one is straightforward to use. All you do is attach it to your hose and turn on the water.
The green carbon filter is long-lasting. For example, SuperGrow 800 model is rated to treat up to 7,000 gallons (27,000 liters) of untreated water and last for 6 to 9 months. You can order the replacement filter from their website www.GrowMaxWater.com
How GrowMax Perform against competitors?
When you search for the water filters, most of the options available are for cleaning water for drinking purposes. There are few companies which make water filters for gardeners.
With GrowMax Water filter for gardeners, you have the option to choose from different units depending on your needs. These units can produce clean irrigation-grade water ranging from 500 liters per day to 3000 liters per day, including several helpful features such as an easy-to-read pressure gauge, control water flow, and automatic shutoff valves.
These are perfect for any growers or gardeners who have wanted reliable performance and convenience for many years. I found competitors also to have some of these features, but either they're hard to use or need more frequent cleaning or changing the filter.
GrowMax Water Filter Pricing?
GrowMax price varies depending on the country you're buying it in. But if you're in the United States, you have three models to choose from below.
| Model | Usage | Price |
| --- | --- | --- |
| EcoGrow 240 | Small home garden, potted plants, and balcony garden. Filters up to 10,000-gallon water. | $135 (Free shipping) |
| SuperGrow 800 | Medium size residential and community garden. Filters up to 15,000-gallon water | $320 (Free shipping + $49 value mounting stakes included) |
| Pro-Grow 2000 | Large home garden and commercial hydroponics. Filters up to 25,000-gallon water | $420 (Free shipping + $49 value mounting stakes included) |
Should you buy GrowMax Water Filter?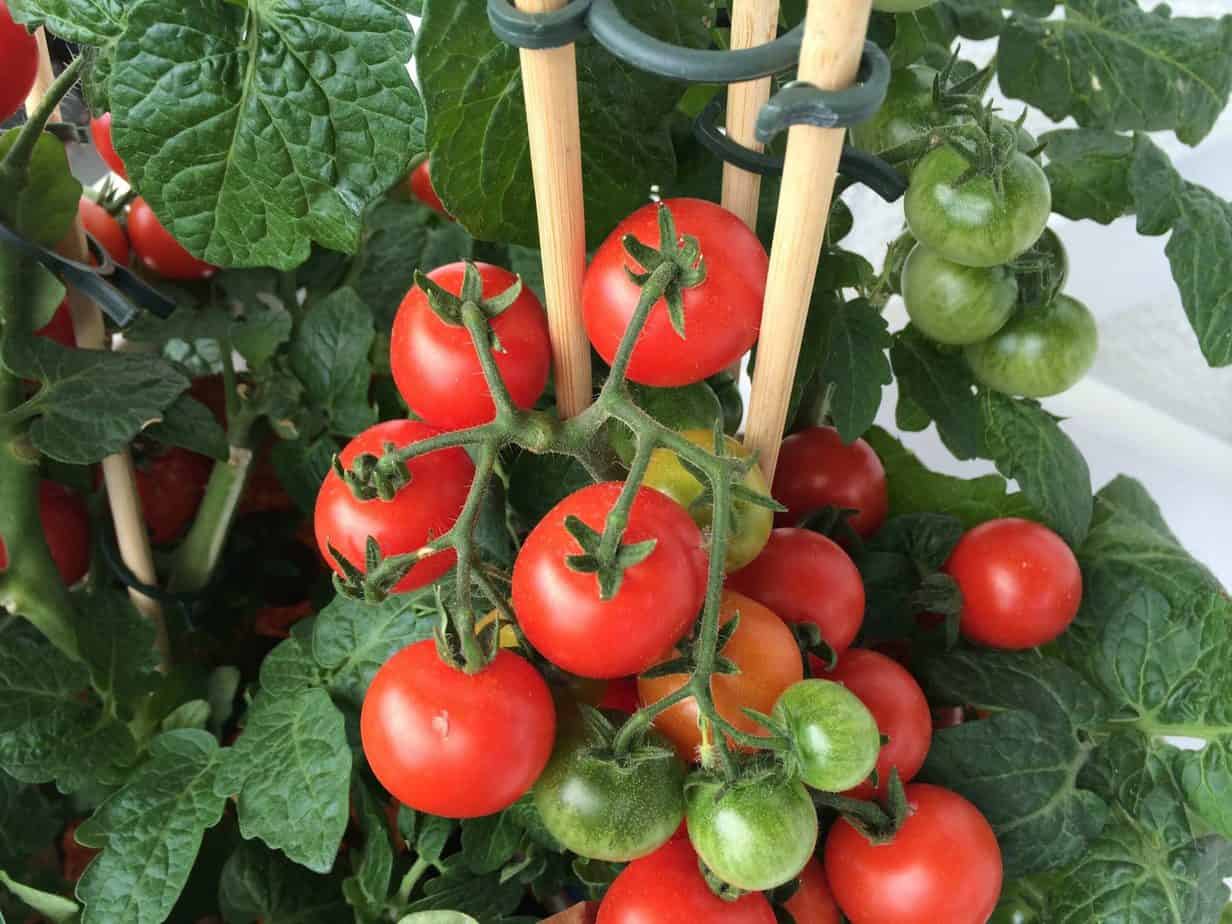 From our review, it's evident that GrowMax is a good water filter for your garden. That's why I wanted to test it myself to notice the impact on the garden plants.
For this review, I separated the garden into two different small lots, which had tomatoes planted. In one, I used regular tap water that contained chlorine and other minerals. In contrast, for another lot, I used GrowMax filtered water. I then analyzed the difference based on:
The overall growth and health of the tomato plant
Any increase in the yield
Ease of use and maintenance
Here it's essential to disclose that I tried to maintain other external factors such as sunlight, fertilizer, and water amount to be the same for both lots. The tomato seeds used were from the same packet for uniformity. It took four months for the plant to grow entirely and start bearing fruit.
Here is the finding, the tomato plant watered through the GrowMax water filter yielded 20% more fruits than the plant watered through regular tap water and looked healthier. Also, the filtered water tasted better than the tap water as the water filter removed the chlorine and other impurities. I found the filter easy to install and maintain, and it made the garden flourish.
Conclusion
GrowMax water filter for a garden is a must-have for any gardener. The filter removes chlorine and several other hard minerals from the water, essential for growing healthy organic fruits and vegetables.
You can attach a garden hose directly to the filter that helps prevent sediment by removing dirt, silt, and other particles from the water. It makes it easier for you to eliminate any buildup on containers or items in your hydroponics setup. You can purchase the unit directly from the manufacturer's website.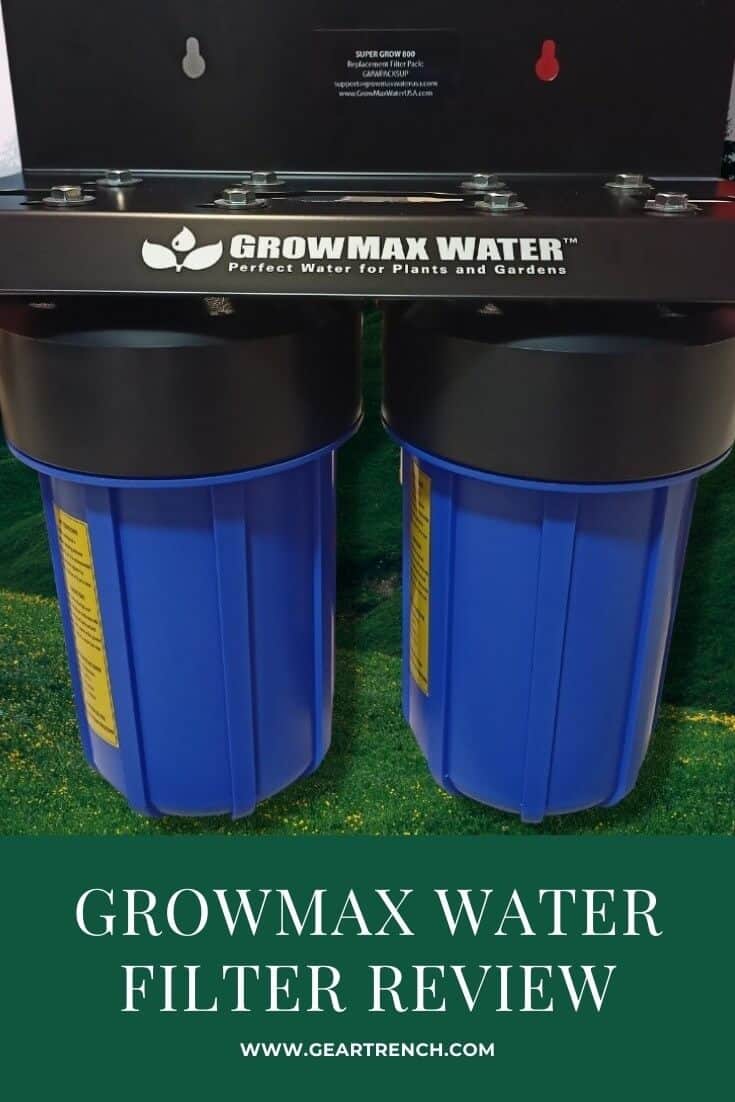 Don't forget to share this post