Bermuda grass is very versatile, making it a great addition to a lawn. If you're looking to grow it on your own, you'll want to start with the best grass seed for the job.
But how do you know which variety is suitable for you? Read our guide for the five best Bermuda grass seeds available today, along with a bit of guidance on how to grow a lush lawn using Bermuda grass.
Let's get started.
Our Top Pick
Scotts Turf Builder Bermuda Grass Seed is designed for full sun, high traffic areas, and drought resistance. It includes Scotts' best seed, protects against disease, keeps seed moist 2x longer, and feeds to jumpstart growth for thicker, greener grass.
With a 4 in 1 WaterSmart PLUS coating, Turf Builder Grass Seed is designed for the toughest conditions and will grow thick and green all season long
Does Bermuda grass make a good lawn?
Bermuda grass (Cynodon dactylon) makes for a beautiful lawn. It's widespread in the southern states, also known as the "carpet grass." This is because of the way it spreads and forms a nice lawn.
The grass is perfect for landscaping and is commonly used for home lawns, golf courses, and sports fields. These are easy to maintain as they're fairly disease and insect-resistant.
Another thing is, whether you're a homeowner or a rental property owner, you want your home to have a nice look. But part of that means spending several hours taking care of your lawn and garden.
Growing Bermuda on the lawn means you don't have to spend much time caring for it. Due to its aggressive growth rate, you can have a fully lush green lawn in under one year.
But it's not the only option. Some homeowners prefer to plant alternative grasses that are also attractive and easy to care for, like tall fescue, which grows between 3 and 4 feet, or Kentucky bluegrass, which extends between 1 and 2 feet tall.
Where does Bermuda grass grow best?
Bermuda is a warm-season perennial grass, and it actively grows from late spring to early summer. It's a popular choice for lawns because of its resilience to heat and pests and its ability to handle periods of drought.
It grows best in USDA zones 7–10, where it can get at least 6 hours of full sunlight. It's a bit more sensitive to cold temperature than other warm-season grass types such as Zoysia grass or tall fescue.
This is why it's popular in southern and western regions and not much in the northern part. It flourishes in the full, direct sunlight on soil with good drainage.
Some of its varieties grow in the hottest and coldest climates. They're also salt and drought resistant that you can quickly establish from grass plug or coated seed.
Fortunately, Bermuda isn't too sensitive about soil types or pH levels. So it will grow as long as the topsoil layer isn't compacted and has enough porosity to let air and water reach the grassroots.
Even though Bermuda is a hot-season grass, some cold-tolerant varieties, such as Riviera Bermuda, grow in northern areas. It goes dormant in winter, where the grass turns brown and becomes green again during early spring as the temperature rises.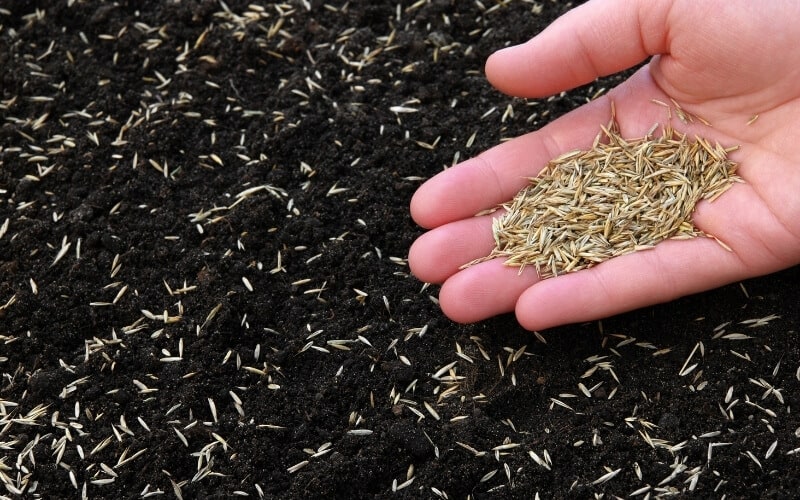 What is the best time to plant Bermuda grass seed?
The best time to plant Bermuda grass seed is during late summer or early fall, usually 6 to 8 weeks before the first frost. The Bermuda grass seeds are very small and can have more than a million tiny seeds in a pound.
It goes dormant during the winter but starts germination when the soil temperature starts to get above 65°F (18°C) during spring. So, if you missed the fall seeding, early spring is another time to plant it.
A plugged bermudagrass usually takes less time and gets established between 60 and 90 days. After it has become established and grown to the desired height, you can start mowing 2–3 times a week to encourage thicker and lusher growth.
Which Bermuda grass variety should you plant?
When choosing any type of grass for your lawn, you have several choices. The Bermuda grass varieties naturally vary in appearance, texture, and growth rate, just as other types of grasses do. You can easily plant it from grass plug, grass seed, or sod in tropical, subtropical, or drought regions.
The traditional type of bermudagrass has larger blade leaves but is not as dark in color. But these are easy to care for and look good when maintained at a higher height.
Hybrid Bermudagrass variety, called "Tifway," is now the preferred grass for the golf courses, sports fields, and parks. These are genetically modified to have a finer leaf blade and deeper green color. These won't need much care and looks best when mowed at a short length.
Here are some popular bermudagrass varieties:
| Grass Type | Description |
| --- | --- |
| Princess 77 | Fine-textured synthetic grass that can be grown from seeds |
| Riviera Bermuda Grass | Cold tolerant with higher grass leaf density. Ability to mow it at a short length |
| Yukon Bermuda Grass | Wonderful green color, smooth texture, and good pest resistance. Hardier than others and need less maintenance. |
| Bermuda Triangle Blend | It contains numerous types of Bermuda grass seeds that are chosen together specifically to grow well together. Great to use on lawn patches as it fills more quickly. |
| Blackjack Bermuda Grass Seed | It produces dense, upright growth patterns. Also, it can survive in regions with hot summers and cold winters. |
Best Bermuda Grass Seed Review
1. Scotts Turf Builder Grass Seed Bermudagrass
Best Bermuda Grass Seed
For a deep-rooted, lush, and healthy lawn, you need a grass seed designed to survive in full sun, have a high traffic tolerance while being drought resistant.
Scotts Turf Builder Grass Seed Bermudagrass contains exclusive 4 in 1 WaterSmart Plus Coating. The coating protects against diseases, keeps seed moist two times longer, and feeds to jumpstart growth for thicker, greener grass.
If you're spreading it in early spring, make sure the temperature remains above 70°F degrees (21°C). This grass seed is easy to grow within 5–12 days and can provide stunning results in several home landscapes. However, you should wait for the grass to become 4–5 inches tall before you mow.
You can apply them over the sod or spray it on bare spots of existing lawns where it aggressively spread and crowds out weeds.
The Scotts Turf Builder seed withstands heat, drought, and pests, which means you can have beautiful turf without worrying about the weather.
See More Information about: Scotts Turf Builder Grass Seed Bermudagrass
2. Princess 77 Hybrid Bermuda Grass Seeds
Best for the full sun
The Princess 77 Bermuda Grass seeds are high-quality hybrid seeds that will give you a dense turf and bright green color.
With this hybrid seed, you can grow a dense turf of fine-textured, fine-bladed Bermuda grass. Also, it's a shade tolerance that is second to none.
The two-parent clone hybrid makes it the first seed that is competitive with the vegetative hybrid of other turfs grass in terms of color, leaf texture, grass quality, and density.
These grass seeds are best planted in the spring but can be grown throughout the year if conditions allow. They need a soil depth of 1/8 inch (3 mm) or less covering over the seed.
You have to maintain soil moisture in the root zone for about 1–2 weeks after seeding. Then, it germinates 7–10 days after sowing.
After that, you can start mowing by keeping it at the height of 3/16 to 1 inches (5 mm to 25 mm). Stay away from removing more than 1/3 of the leaf blade per mowing session. This dense hybrid will provide you with complete grass coverage in as little as 4–6 weeks.
Princess 77 is one of the most popular for its good look and relatively easy care. These seeds require a few steps to get the best results. It will help you make a powerful environmental statement while still providing you with the lush green lawn that you desire.
See More Information about: Princess 77 Hybrid Bermuda Grass Seeds
3. Jonathan Green Heavy Traffic Grass Seed
Best for heavy traffic
A luxurious lawn is achievable even in tough, heavy traffic areas with Jonathan Green Heavy Traffic grass seed. The mix includes various tenacious, dependable grass seeds that can withstand constant foot traffic and other harsh conditions without giving up.
The best part? A 3-pound bag of heavy traffic tolerant seed can cover up to 1,200 square feet of the ground. This makes it an affordable and easy way to get your lawn to look lush and verdant.
You can sow the seed from full sun to partially shaded areas where children and pets play. It's perfect for taming backyards, sports turf, curb strips, or anywhere with aggressive foot traffic.
The seed is naturally insect resistant and will grow up to 4 feet deep and germinate in 10–14 days. This is great, as you can apply it without the need for any pesticides, so your family and friends remain safe from harmful chemicals.
See More Information about: Jonathan Green Heavy Traffic Grass Seed
4. Scotts Turf Builder Thick'R Lawn Bermudagrass
Best This and That
If you want a lush, healthy lawn in the shortest time possible, it all starts with the right grass seed. With Scotts Turf Builder Bermudagrass warm-season grass seed, you'll get up to 50% thicker lawn in just one season.
The 3-in-1 solution is perfect for any residential or commercial lawn. The unique blends of seeds, fertilizer, and root enhancers promote a fuller, thicker lawn. It's ideal to use on bermudagrass yards in late spring or early summer.
For any existing lawn that needs overseed, this one-part seed treatment, combined with water, will keep your soil moist until the seeds germinate and strengthen the roots.
Plus, it's formulated to help turn weak Bermudagrass into a thicker, greener lawn with stronger roots in one easy application.
You can apply it in late spring or early summer when planting in new lawns or overseeding areas. It's like magic for your yard without spending all your effort struggling to grow grass.
See More Information about: Scotts Turf Builder Thick'R Lawn Bermudagrass
5. Barenbrug Winter Overseeding Lawn Mix
Best for cool season
Barenbrug Winter Wonderlawn is the perfect solution for overseeding your lawn in cooler climates. A grass seed mix of Italian ryegrass and perennial ryegrass has been specially developed for the southern environments.
It's ideal for overseeding thin lawn turf grass and providing a quick green-up in early spring. It can be used on all types of lawns but is especially useful in areas where cool-season turf is tender and slow to establish.
The grass comes in a 25 lb bag that is sufficient to cover up to 2500 square feet. Unfortunately, it's not drought tolerant, so you have to ensure that you provide timely water to it.
It's a great way to brighten the winter season with a deep green, frost-resistant turf that will keep your yard looking lush and healthy even when the snow is six feet high.
See More Information about: Barenbrug Winter Overseeding Lawn Mix
How long does it take for Bermuda grass seed to germinate?
The germination rate of Bermuda grass seeds depends on the seed type and outer hull. You can buy three kinds of Bermuda seeds—hulled, un-hulled, and coated.
The hulled seeds have their outer covering removed, which allows them to germinate quicker, but they're more prone to rot.
The coated Bermuda seeds are covered with fungicide and dye to make them more diseases resistant. Some manufacturers also sell raw seeds that you can consider growing on your lawn.
Many popular brands sell coated Bermuda grass seeds that contain a mixture of un-hulled and hulled grass.
Here is a germination time of Bermuda grass seed:
| Seed Type | Germination Time |
| --- | --- |
| Un-hulled seed Bermuda | 7–14days |
| Hulled Bermuda seed (removed outer seed shell) | 5–10days |
| Coated seeds* | 10–15days |
* The coated seeds won't affect the germination rate but improve the germination success rate to be 80% or higher.
The germination rate depends on external factors such as soil temperature, moisture levels, and temperature.
When sowing seed, maintain some space and don't plant deeper than 1/4 inch. Once fully established, the grass grows aggressively and needs to be checked not to let it overwhelm any flowers or edible plants.
How to sow Bermuda grass seed
Sowing Bermuda grass seed isn't too difficult of a task, provided you use the correct quantity of grass seed and do it at the right time.
It grows best in soil that has a pH level between 5.8 and 7. You can use soil conditioners such as lime to amend any acidic soil and maintain proper nutrient levels.
If you've difficulty growing bermudagrass, test the soil to ensure it's not too acidic. Then, provide it with grass fertilizer high in nitrogen every 6 to 8 weeks during the active growing season. Reduce the fertilization rate in early fall.
For a new yard: Use 2 lb to 3 lb of Bermuda grass seed for a 1000 square-foot area (95–140 lbs per acre).
For existing overseeding lawn: Apply 1–2 lbs for 1000 square-foot area (50–85 lbs per acre)
Before you start sowing, remove any weeds or invasive plants from the yard and mow the lawn. When planting in fall, use un-hulled seeds as it protects from frost.
You need to provide thin soil covering (1/4 inches thick) on top of the grass seed. The grass won't germinate without this thin layer. You can rake the ground after seeding to provide the best soil contact.
Ensure you immediately water it and continue to do so multiple times a day till the germination happens. Then, you can start mowing once the grass has grown to sufficient height.
It's ideal for maintaining the grass height to be around 1-1.5 inches. Remove any weeds or unwanted grass to give more space for the bermudagrass to grow.
How much water does Bermuda grass seed need?
The water requirement for Bermuda grass seed depends on the seeding time and the climate in the region. As mentioned earlier, you should plant Bermuda grass seed in the fall. However, if you live in an environment where the ground doesn't freeze in the winter, you can plant it anytime.
You need to keep seeds to be moist as it allows them to germinate better. If you're planting seeds in a hot and dry summer temperature, you have to water them frequently but for a shorter duration.
For example, you can water it 3–4 times a day for 10–15 minutes. It prevents the seeds from becoming dry and maintains a conducive environment for them to germinate.
Be careful to now overwater as that could make seeds get washed out or create a water puddle that could rot the seed. It may take anywhere 1–2 weeks for the seeds to germinate, after which you can slow the watering frequency.
What kills weeds in bermudagrass?
If you see broadleaf weeds such as dandelion, you can use post-emergent herbicides to kill weeds. Depending on the weed growth area, you can also choose a DIY solution such as vinegar to eliminate weeds.
You can use manual weed remover for a small size yard to physically remove weeds from the bermudagrass lawn. There may be no permanent way to eliminate all the weeds in your yard, but you can take measures to control them most effectively.
Don't forget to share this post