Do you have lots of mature trees in your yard that you love, but you dread autumn?
You fear the backbreaking raking of all the leaves falling on the ground, driveways, roofs, and sidewalks.
Nothing more can be more helpful now than having the best gas leaf blower on your side. It quickly moves the leaves to a more desirable area for easier removal, cutting down your raking time drastically.
But you're not restricted from using these leaf blowers as a single-season gardening tool. These are useful tools for year-round cleaning decks, light snows, debris in the garage as well as dirty sideways and porches.
So if you're looking to buy a gasoline-powered leaf blower, then there are a handful of things you need to consider before buying. We'll dive into buying options below and point out a few important things to keep in mind when trying to pick the gas leaf blower.
But, if you're in a rush, just check out our quick picks for some fast recommendations.
Top 7 Gas Leaf Blowers You Can Buy
What is a gas-powered leaf blower?
The gas-powered leaf blower helps you blow away leaves and debris from your yard. A leaf blower is a convenient tool, and it's not limited to blowing leaves alone.
You can use it for a wide variety of tasks such as cleaning the patio, swiping the sidewalk, removing dirt from a garage, and even drying vehicles after a wash.
It has a small gas engine that sucks the air from its inlet and pushes out at a very high speed. You can then direct this high-pressure airflow to push leaves and debris and move it to the location where you can quickly dispose.
The gas leaf blower uses gasoline and engine oil as fuel to operate, but some models need regular fuel, and no premixing is required. There are various styles and designs of leaf blowers available in the market that you can choose based on your own preference.
Types of Gas Leaf Blowers
There are three main types of gas leaf blowers based on how you move it around. These are the handheld gas leaf blower, backpack gas leaf blowers, and walk-behind leaf blowers.
As the name suggests, the backpack gas leaf blower is carried at your back. There are straps attached to the tool that you put around your arms. This makes it easy to carry, and your hands are free to move things around and direct the air.
The handheld blower you lift and carry it around with you. These are lightweight and very portable. You can quickly put it down to free up your hand and then again lift it when you need it.
The walk-behind leaf blower is a heavy-duty, high-performance leaf blower. These are mounted on wheels, and you push it around wherever you need to do the cleaning.
These are usually quite heavy due to which these are mounted on the wheels. But these blowers provide commercial-grade air blowing power. Many commercial landscapers prefer to use this.
For small regular personal use, many people prefer to use either a backpack or a handheld gas leaf blower. You also have the option to choose the electric leaf blower that comes in corded and cordless form factor.
The corded leaf blower is preferred when you have easy access to the power outlet and need a longer run time. The cordless leaf blower is more appropriate in case you are a not-heavy user but need something more portable and convenient.
You can read more if you're interested in getting the best cordless leaf blower.
Why Should You Choose A Gas Leaf Blower?
The leaf blower makes the job of yard cleaning much more manageable. You can still rake leaves manually from your yard, and it may be worthwhile if you have very few mature trees.
But if you have a large yard with several mature trees, then you want to have a leaf blower to save time and your back.
The gas leaf blower generates more power than the corded and cordless leaf blower. It has a large capacity fuel tank that allows you the more extended run time before needing to fuel it again.
These are also very portable, and you can take it anywhere. But these are noisier than electric leaf blower and need more fuel and maintenance.
How To Choose The Top Gas Leaf Blower
Investing in high quality and performance of leaf blowers can make it last for several years. Plus, you are not limited to raking leaves alone, as you can use it for several other purposes.
There are several different types of gas leaf blowers available in the market, finding the right one can sometimes become confusing. Here are some of the buying considerations that you should look into a blower.
Airflow Rate
The airflow rate from the blower determines the overall power and usability of the blower. The airspeed, as measured in MPH (Miles Per Hour), tells you the airspeed and the air volume, as measured in CFM (Cubic Feet per Minute), tells you the density of the air.
The higher the MPH and CFM in the blower, the more difficult the task it can handle. But that also means a bigger engine and higher fuel consumption. You should pick the power rating needed based on your usage.
For light usages such as cleaning the smaller yard, driveways, and patios, you don't need much power. You would be fine buying a leaf blower that can generate around 300 CFM airflow.
For a massive size yard and tougher jobs such as moving wet grass, large dirt debris, you should aim for 300 CFM to 450 CFM rated air blower.
If you want to future proof yourself and also want to use it to remove snow in the winter and remove large dirt, debris, and a pile of grass clippings, then choose a gas leaf blower that's rated between 450 CFM to 700 CFM.
As a side note, the higher power rating blowers are more expensive, consume more gas, and produce more noise. Be aware of this when choosing the leaf blower.
Engine Type
The gas leaf blowers have primarily two engine types; two-stroke engine and four-stroke engine. The majority of gas leaf blowers have a two-stroke engine.
These are more fuel-efficient but need you to mix fuel and oil. The four-stroke engines are more powerful and easier to use as you don't need to mix fuel and oil separately and produce less smoke but cost more.
Fuel Usage
Fuel usage is an essential consideration as you don't want to keep refilling the overpowered blower for a small amount of work.
Most gas leaf-blower motor accepts the unleaded fuel that's usually cheaper than the premium gas fuels. But knowing the fuel type and fuel efficiency helps you spend less money operating the blower.
Noise
The gas-powered leaf blower generates more noise than an electric leaf blower. The sound usually comes from the gas engine itself, and from the airflow. The higher the power of the engine and the airflow, the more noise the blower makes.
Manufacturers attempt to reduce noise by including more energy efficient and low noise generating engines. Moreover, they design a semi-sealed body to dampen the sound.
There may also be a restriction on using gas leaf blowers during a particular hour due to noise concerns.
You should get familiar with your local bylaws regarding the noise and hours you can use the gas blower. However, choose a gas blower model that generates low noise.
Weight
The lightweight of the blower is essential when you are using a backpack or handheld type. It makes doing yard work a breeze, and you can work longer without getting tired.
If you have a high-power backpack leaf blower that has larger tank capacity, then don't overfill the gas tank. This increases the weight due to fuel. Only fill what you need to finish the task in hand. This reduces the weight you have to carry it around.
You should also have some idea about how much weight you can comfortably carry around for at least 15 to 20 minutes. This will give you some rough estimate of the maximum weight you should look for in the blower.
The backpack-type leaf blower usually costs more than the handheld leaf blower, but they typically have a more powerful engine. Backpack design also allows the transfer of weight from your hand to your back and shoulder and usually weigh approximately 20 to 22 pounds.
Choose a wheeled blower if you need more power and have tougher jobs to do. You can quickly push it around on a flat surface but becomes tricky on hills and uneven surfaces. These are also the most expensive.
Nozzle Design
Leaf blowers have nozzles from where the air passes to blow the leaves. The nozzles are designed either flat or round. Some models allow you to choose as per your needs by providing you nozzle attachments.
This gives you more flexibility as the flatter nozzle works best for moving loose leaves while the rounder nozzle tip generates more power to move items stuck in the lawn.
Speed Control
The speed control though a variable throttle on the blower, gives you the flexibility to change speed depending on the task.
For example, you can set the speed high to sweep on hard surfaces and tough jobs but lower the speed level when working around fragile flower beds.
Clear Visible Fuel Tank
A translucent fuel tank allows you to quickly gauge the amount of fuel left and refill it in the downtime. You don't want to waste time filling the tank when on the job as it's often inconvenient.
A wider opening on the fuel tank also allows you to fill fuel without spilling on the ground. This reduces fuel wastage and is also environment-friendly.
Air Intake
The blower has air intakes to suck air inside it and then push it through at high speed. If you are using a handheld blower, then the bottom-mounted air intake is more convenient. The blower won't be sucking your clothes when operating.
Durability and Warranty
A durable and well build blower require less repair and can last longer, providing the most value on your investment. For an added peace of mind, the more extended warranty gives you the assurance that if something goes wrong within the warranty period, then you will get it fixed or replaced.
The warranty on gas blower changes depending on the brand. Some brands provide limited warranty while others offer full warranty coverage.
How To Use A Gas Leaf Blower
Using a gas leaf blower doesn't need any special preparation than using any other gardening tool. Before you turn on the gas leaf blower, have a quick inspection to make sure there is no fuel leakage or any kind of damage to the body.
A quick visual inspection reduces the chance of injury or damaging the equipment further in case there is any crack or broken part in the blower.
Then you should also do the site preparation by moving any obstructive or large branches out of the way. This will help you to blow leaves under the more massive objects. You should start blowing air and collecting leaves in a semicircle pattern. This brings all the leaves in a single spot and makes it easier to dispose of.
If you have a variable speed control option in the blower, then you should change the speed of the airflow depending on the task. It helps save on gas and generates less noise. Using a small regular burst of airflow keeps the leaves moving and make a pile.
For leaves fallen near the wall or other large objects, don't blow the air directly to it but move it along the bottom surface. This pushes the leave in a single direction that you can make a pile. You can also use the best lawn sweeper, such as Scott Push Lawn sweeper to remove any leftovers.
How To Properly Maintain Gas Leaf Blower
Regular care of your tools makes it last longer and runs at its optimum efficiency. You should always treat your devices with care. If you drop it when putting down or kick it to move it around, then there is likely some physical damage that may happen. So being gentle and handling with care makes it last longer.
Gas leaf blowers usually require a bit more maintenance than the electric leaf blower. This is due to the gas-powered engine that needs a regular oil change and cleaning air filters from dirt or any type of damage.
Keep the spark plug clean to make the blower run smoothly. The product manual of the blower gives you the instruction on how to do it properly. Don't store the blowers with fuel in it for a longer duration. This increases the risk of fire, and also the fuel may clog the engine.
Regularly check the fuel line for any obstruction or cracks. When storing for the long term, store it at a dry place away from the reach of pets and children.
Can You Use A Gas Leaf Blower To Clear Snow?
The short answer is Yes. You can use a leaf blower to clear a small amount of snow from your driveways and sidewalks. But it will not be a substitute for a dedicated snowblower. Most gas leaf blowers can only blow snow that is less than an inch thick.
The thicker snow layer starts compaction and increases in the weight that makes it hard for the leaf blower to move it. The second consideration is the type of snow. Wet and melting snow gets heavy and difficult to move. You have a better chance of blowing snow if it's dry and has not started melting yet.
Just keep in mind that if you do use the leaf blower to clear the snow, don't let the water get inside the blower, especially in the carburetor and air filters. Always put it at a dry pace to remove any moisture from the leaf blower.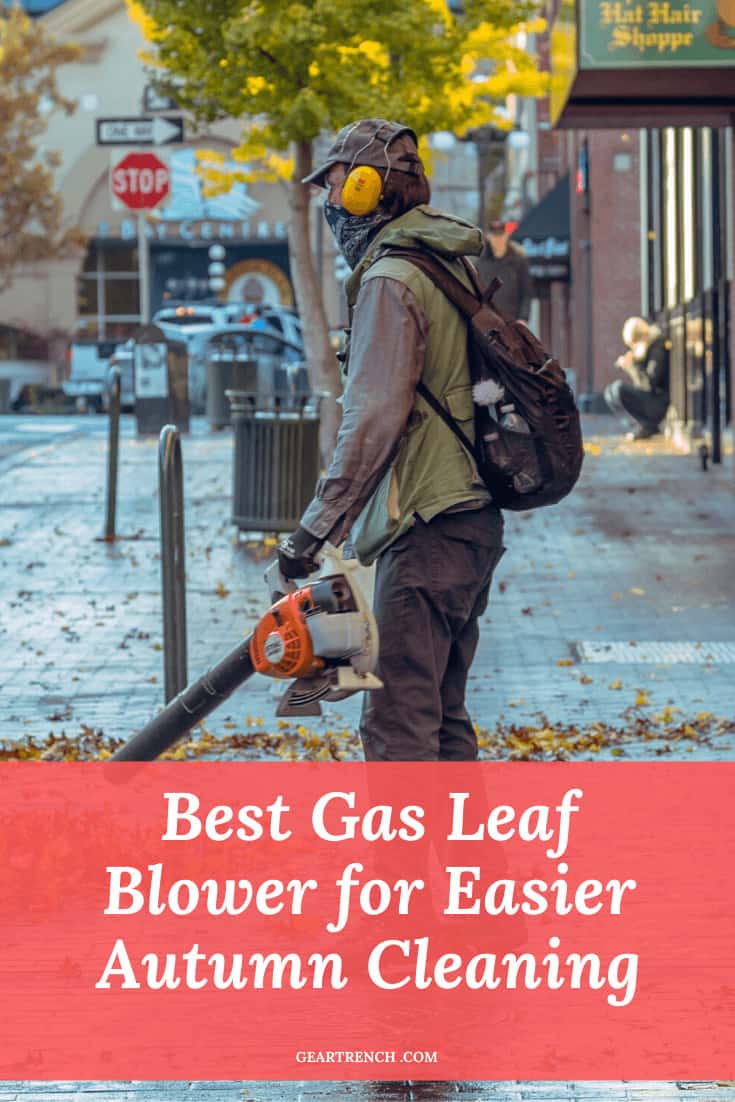 Don't forget to share this post