If you are looking for the best sprinkler heads to get a lush green healthy-looking garden, then the use of the right sprinkler head can make all the difference. There are several varieties of sprinklers in the market, and sometimes it gets very confusing to pick the right one.
In this grand post, we are going to cover all the essential factors you need to consider before buying a sprinkler head. You can then pick one out from the 11 best sprinkler heads with confidence.
11 Best Sprinkler Heads in the Market
Why Do You Need Sprinkler Heads?
Saves Time And Money
A spray head is an efficient way to water your garden. By choosing the right type of sprinkler head, you can manually or automatically set the timer to water your lawn.
If you do not have a timer inbuilt to your sprinkler then can buy it separately. The sprinkler timer allows you to water your garden at your chosen time.
The use of sprinkler heads also saves money on replacing hoses. Exposed hoses get sun damages and kinks which shorten their life and need constant replacement. 
Safe to Use
Some of the spray heads can be used underground. It makes it safer to use than a regular hose. Hoses are above the ground which increases the risk of tripping children and pets.
The sprinkler pop-out when you need to water the lawn and then goes under the ground when it's done. For the ground sprinkler, you are still better off as you don't have to deal with annoying hose kinks.
If you have tried using hose earlier then you can understand the frustration of dealing with hose kinks.
Efficient Use of Water
Sprinkler provides you with more control over your water usage. Most sprinklers come with various smart water-saving functionalities. Depending on your garden shape and lawn size, you can choose a sprinkler that best fits your needs.
Portable sprinklers are easy to move around depending on your watering needs. You can hide it among the foliage and set up the duration and water amount.
Take Care of Your Lawn While Away
Sprinklers are easy to set up and work on a hands-off approach. It means you do not have to do all the hard work of watering your garden.
You can set up the watering schedule when you have to leave your home for a couple of days. But you will still have a lush green lawn waiting when you come back.
Water Fun
A sprinkler can be a great recreational fun activity for your kids during the summer months. Kids love to play with water splashing around. The soft ergonomic and adjustable control on the sprinkler makes it easy to adjust the water stream.
Best Sprinkler Heads Review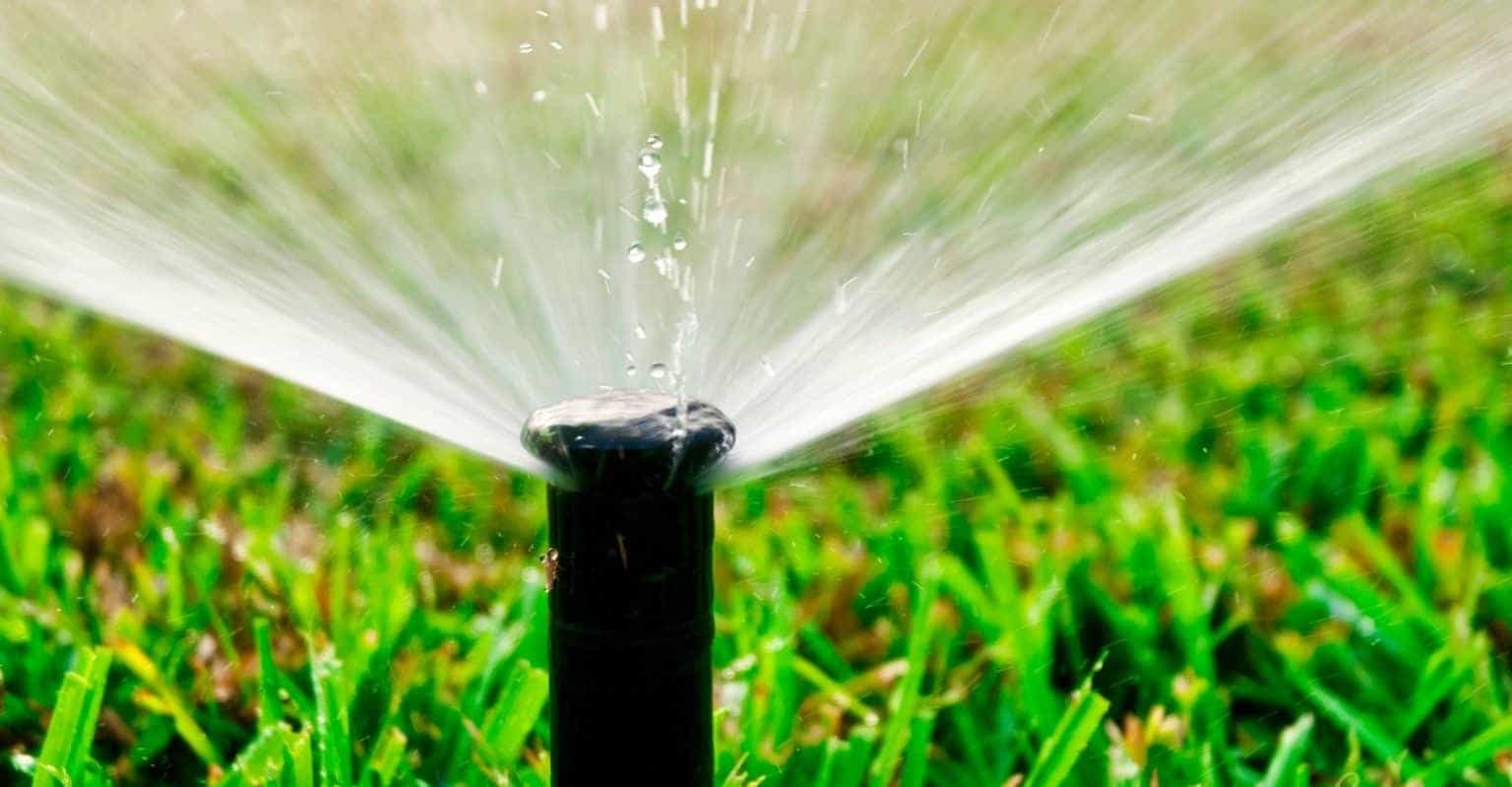 Types of Sprinkler Heads
There are three types of sprinklers based on the distribution of water.
Rotor Sprinkler
In a rotor sprinkler, the water comes out at high pressure from a single direction, and the rotor rotates it in a circle. It can be in either a single or double spray and is ideal for ample space such as lawns or parks. Since the rotary sprinkler covers a large area, it is perfect where the water pressure is higher than 35 PSI.
The high pressure allows it to cover wide areas between 15 to 50 feet. The steady high-pressure water stream will enable you to use it in windy and hilly regions. To cover all the watering areas, make sure the water pressure does not go below the desired covered distance. 
Spray Sprinkler
Spray sprinkler pushes a steady spray of water over the area. It is ideal for small and average size areas such as flower beds or vegetable patches. It saves water as you can put it around the area where water is needed. It is perfect for flat surface and high-absorbent soil areas.
For water pressure between 25 to 35 PSI, you can use it to cover around 15 feet in distance. These varieties of sprinklers have fewer maintenance requirements. It provides quicker irrigation than other types of a sprinkler. 
You can choose it to cover a wide area from 90 to 360 degrees. This is convenient if you are using it at the edge of your lawn, and want to water on a particular garden side rather than your sidewalk.
The sprinkler head generates fine water particle mist which can be easily blown away with winds. So be aware of it when there is a wind blowing. 
You can also choose a pop-up type spray head that raises up when you have to water and then retracts when not in use. It makes it safer to use as it reduces the tripping hazard. 
Drip System
The drip system type of sprinkler has tubes and hoses with a small hole in it that allows the water to drip on the soil.
It is ideal for long-term irrigation purposes such as when doing organic or vegetation gardening. The drip system allows the best use of water as you only water as per the need of the plant.
Other less common design sprinkler system
Bubble sprinkler heads
Bubble sprinkler heads or "Bubblers" are a good option if you want to water in a small area. These bubble sprinklers work at a shallow water pressure range. It complements your existing sprinkler system to cover unwatered areas or to water delicate flowers or plants.
If you are comparing bubbler vs. drip irrigation, then think about the time frame of the watering. For longer-term watering needs, you want to choose a drip system whereas for a temporary fill gap measure you can choose a bubbler. The bubbler is also suitable for the shrub irrigation system. 
Standing or Spike Sprinklers
These sprinklers are mounted on a tripod or on a spike that is gear driven into the ground. It is useful for covering wide areas of lawn. It comes in various types such as metal base pulsating sprinkler spray head configuration which is durable and long-lasting.
Oscillating Sprinklers
For small and average size lawns, you can use oscillating sprinklers. The water comes through in a pulse or spray pattern of individual water jets. You can adjust it depending on the size of the area you need to water.
Most of the oscillating sprinklers are made from aluminum or plastic materials which makes them lightweight and easy to operate. For optimal water dispersion, you can use a Melnor Oscillating sprinkler which has a double brass jet.
An alternative to the Melnor sprinkler is the Gilmour Oscillating Sprinkler. Gilmour Oscillating sprinkler provides the same level of performance as Melnor. 
Traveling Sprinkler
Traveling sprinklers are self-propelled and move along the path of a hose. The mechanism of operation is simple. The water pressure pushes the sprinkler, and a wheel is attached at the front of the sprinkler which runs on the hose. Orbit Sprinkler is the most common and popular traveling sprinkler system.
Here is a brief overview of how it works. 
Another important factor in choosing a sprinkler head is the elevation of the sprinkler system. 
Elevation of Sprinkler System
The pop-up sprinkler spray head systems come at various elevation levels of each head. You should choose pop-up elevator height based on the average height of the grass on your lawn.
Some pop-up sprinkler design allows it to remain stick out above the ground. While some design allows the sprinkler head to retract and disappear in the field.
The pop-up sprinkler head reduces the trip hazard and is pleasing as it can hide in the ground and remain invisible when not in use. The elevation can range from 2 to 20 inches and covers the irrigation distance of 3 to 15 feet.
How to Buy the Best Sprinkler Heads
There are so many varieties of sprinklers in the market. It often becomes difficult to determine which is the best spray head for a lawn. When choosing the sprinkler head consider the following factors to find the sprinkler spray system which works best for you.
Size of the Lawn
Before you settle down on any particular type of sprinkler, first determine the size of the lawn, you are planning to water. The differing sprinkler head design allows you to choose the amount of water and the area of coverage required by you.
Here are some guidelines to decide the sprinkler based on the size of your lawn.
Small to Medium Lawns
For small to medium-sized lawns, the best lawn sprinkler heads are pop-up spray heads. These sprinklers emit water in a full circle to cover all the surrounding areas. The fine mist of pop-up spray looks like water coming from a fountain.
You do not need very high-water pressure to use these types of a sprinkler. The downside of low-water pressure is that it gives you less coverage area.
It means if you decide to use it for a more massive lawn, then you have to use many pop-up head sprinklers, and then these have to be closely spaced to cover the full area. 
Large Lawns
For more extensive lawns, the rotor heads are the best sprinkler heads. It sprays water up to 150 feet and gives you the flexibility to adjust the angle of water spray.
It is particularly useful for clay soil as the rotor heads movements allow the water to sink in before the next water jet comes in. You can adjust the flow of the rotor head from lower 40 degrees to full 360 degrees.
Bushes and Shrubs
Bushes and shrubs are often used to create a border around the lawn or used in the landscape design. The thick, dense bush makes it difficult to water the plant as water does not fall near the ground.
For these types of plants, you can use bubble or shrub-style sprinklers. The sprinkler heads are attached underneath the shrubs or onto a tall rise pipe, so water goes straight to the shrub roots. 
Water Requirements of Plant
Depending on the types of plants in your garden some plants need more water than others. Many plants such as spider plants do not need excess water as it risks the developing of soil fungus.
Depending on your plant needs you should pick a sprinkler head that provides either a low or large water stream. Choosing the wrong sprinkler type could result in over-irrigation or slow watering for your garden.
Sprinkler Head Material
You want a sprinkler head that lasts longer which means less time to spend buying replacement parts. Sprinkler heads are made from plastics and sometimes with a combination of metal and steel.
For more extensive lawns, you should be using a sprinkler head that can handle high water pressure. The metal or steel-made sprinkler heads are more suitable as they can withstand high water pressure. The only downside is that it will be more expensive than plastic-made spray heads. 
For small or medium size lawns, you can use lightweight and cheaper plastic-made sprinkler heads. 
Cost of Sprinkler Heads
Depending on the design and material used, the cost runs from a few dollars to over hundreds of dollars. This is why it is essential to identify your requirements first and then choose the sprinkler head which is of good quality and lasts longer. 
In our review, we have mentioned sprinklers which are the best value for the money. 
How to Install and Troubleshoot Sprinkler Heads
Above the ground sprinkler heads are quick to install and use, but for underground sprinkler heads, you may need some work done to get it ready.
Here is a quick video that explains how to install a sprinkler head. 
Once you installed the sprinkler, you will need to adjust the head. Here is a brief but useful video about sprinkler head adjustment.
Over to you
The sprinklers recommended above are the best among themselves. We tried to include various categories of the sprinkler to make you pick as per your needs and budget.
Choosing the right sprinkler head will allow you to water your garden more efficiently without spending more time. For beginners, finding the best sprinkler head can be intimidating. But you will not regret it if you buy any of the recommended sprinklers above.
The adjustable sprinkler head makes it versatile as the small adjustment to the head can make a big difference in the way you water your garden. You can mix and match various types of a sprinkler heads. But for optimal performance, we don't recommend running all sprinklers at the same time but schedule a time for each.
Keep an eye on the leaks and replace the sprinkler parts as needed to improve their life.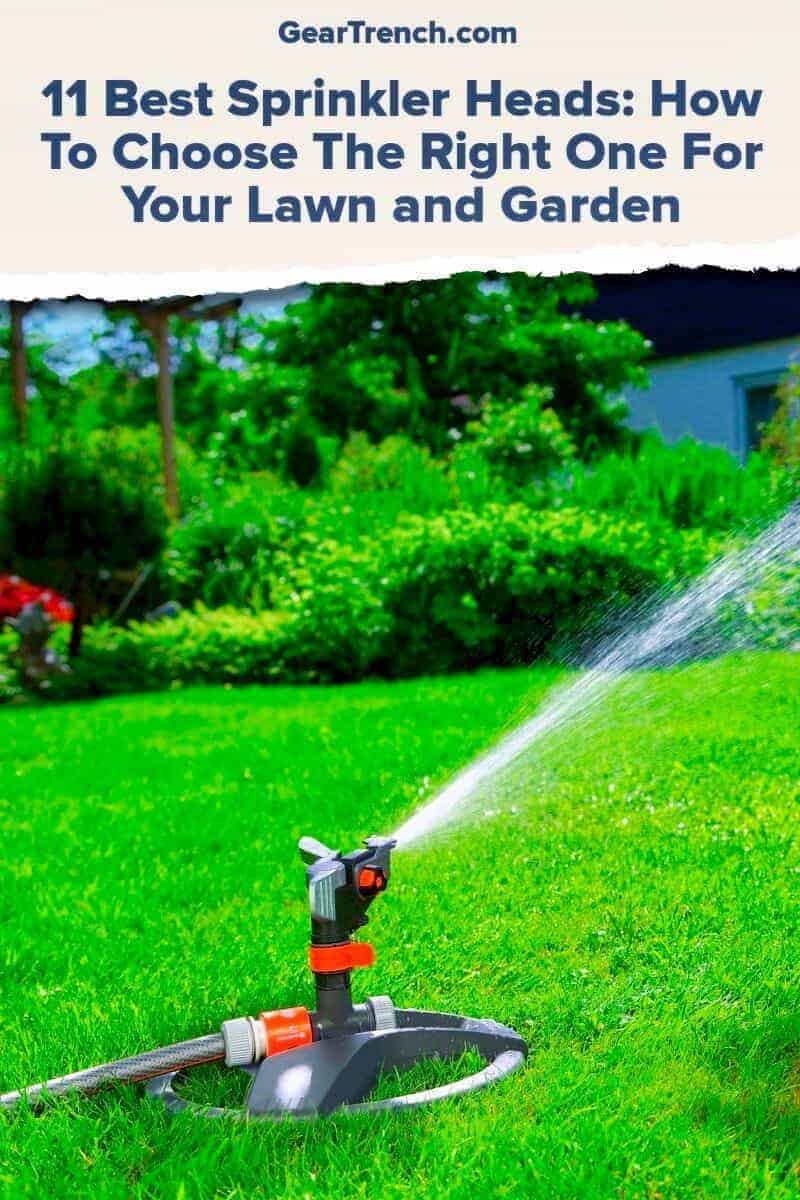 Don't forget to share this post