If you love spending time outdoors and exploring the natural world, you probably already know how difficult it's to identify all the plants you come across. It's even more difficult if you're unsure what type of plant you're looking for or can't find a reference guide.
If this sounds like you, then we have good news! Several apps are available that will help you identify any plant in seconds with just your smartphone.
Here's a list of some of the best plant identification app
1. iNaturalist
iNaturalist is a great app for nature lovers. You can take or import a photo, view the top 10 most visually similar species matches, and tap through to get more information. It has an association with the National Geographic Society.
The app provides details about the plant species, including habitat, behavior, nutrient requirement, and more. I have been using it for a while now, and it's a great way to share what you see. You will like that it's free, and you can add your observations to the database, which is helpful for other gardeners alike.
This app is so easy to use, and you won't believe how much you can learn from it. It's a fantastic way to connect with nature and learn about the plants around you. I also love that it has been translated into over 35 languages. The app is available for Android and iOS and rated 4.7 out of 5 during the review.
2. Agrobase
Agrobase is the best app for farmers and agronomists. It includes an agronomic knowledge database of pests, weeds, and plant disease catalogs. It has lots of information about different types of plants, caring for them, and what they do in a garden.
The app is straightforward to use. It also has much information about agricultural practices, climate zones, crop calendars, fertilizers, pesticides, etc.
I would recommend it to any farmer or agronomist, and it's available for both Android and iOS. It's freeware with in-app purchase options. During the review, the app had a 3.8 rating out of 5.
Some people had issues with the app crashing when open, which the developer responded to fix in a new update. Agrobase is an app that helps everyone with gardening.
3. Flora Incognita
I recently could try out Flora Incognita, a new app that can identify plants. I took a picture of my plant, and it was identified as a flowering plant within seconds.
I was surprised by how easy it was to use and how accurate it was. This is an excellent app for anyone who enjoys gardening or wants to know more about the plants growing in their backyard. It also has some cool pictures of the plants and flowers that you can look at.
The layout is clean, with a very user-friendly design. I'm impressed with the accuracy of the data and the detail on each plant species' profile page. The accompanying site is a great source of information for anyone who wants to learn more about plants. It has a 4.6 out of 5 rating at the Apple store.

4. PictureThis
PictureThis is a free plant app with in-app purchase options that identify different garden plants in any environment using a combination of machine learning and human experts. It has over 1,000,000 plants in its database and can identify plants with 98% accuracy.
It can identify plants in your yard, indoor plant, or in a botanical garden. You can ask it questions about your plants, and it will answer.
The app scans your plant and gives you a diagnosis and treatment recommendation from its plants' database. This is useful for those who want to keep their plants healthy and thriving but don't know what's wrong or how to fix it.
It has a 4.8 out of 5 rating on iOS and comes with a subscription option.
5. Smart Plant Home
This app takes the guesswork out of gardening. It's like having your botanist or plant expert on call. The idea of this app is that it's a complete ecosystem to create a beautiful garden as gardening experts and local garden centers back it.
It has a database of several thousand plants to help you identify the plant you're looking for. The plant selector allows you to find the perfect plants for your needs. The app also has a plant care section that teaches you how to grow your plants and care for them once they're in your garden or home.
The app was rated 4 out of 5 at the Apple store. It has both free versions with in-app purchase options.
6. Garden Answers
Garden Answers is a plant identification app that identifies over 20,000 plants and tells you what kind of plant it is, how to take care of it, where to find it, the season it blooms, and more.
I would recommend this app to anyone interested in gardening with a green thumb. It has a keyword-searchable database to find even more information about the plant. You can then save your favorite matched under the favorite tab.
The app is straightforward to use. You take a picture and get an answer in seconds. The information about the plant is very detailed and answers questions anyone may have about the plant. The app is free to use with in-purchase options. It's rated 4 out of 5 at the Apple store.
7. PlantSnap
I love PlantSnap! It's so easy to use and has everything I need. The plant ID app is available in over 30 languages, perfect for those whose English isn't their first language. The app has a search function and a database of the most popular plants in the United States.
PlantSnap also has information about plant care and maintenance, including watering and sunlight requirements. With its "Explorer" function, you can use their SnapMap feature to identify the plant and get more details about it with expert knowledge.
The app is easy to use with a simple interface and helpful plant information. You can also share your plant knowledge with other users by uploading unknown plant photos of your finds. PlantSnap is perfect for anyone who loves nature or has a green thumb.
It comes with both free and paid versions. The pro version is listed for $19.99 and is rated 4.5 out of 5 at the Apple store.
8. Seek
Seek app can identify plants and animals quickly. The interface is very intuitive that takes no time to learn how to use. It's really cool how it can identify the type of plant by just looking at a photo because not everyone knows what all these plants are called.
The seek camera is a great way to explore the world around you and discover more about what lives in your environment. My only gripe is that this plant recognition app sometimes shows a blurry picture of suggested plants.
However, it helped me identify several plants growing in a public park. It also tells me about poisonous plants to my dog, which is helpful.
The app is rated 4.8 out of 5 at the Apple store.

9 . Plantifier
I love Plantifier as it's so easy to use. You upload a photo of the plant, and the app does the rest. I love how it tells you what type of plant it's and where it grows in the world.
It's perfect for identifying flowers, medicinal plants, and wild plants in your garden or neighborhood. The app has a database of thousands of plants that you can search for and learn about a plant family.
You can even post pictures of your plants to the Plantifier community and get feedback from other users. The only problem with this app is that it's not updated frequently. This is a free app that is available on both Android and iOS. It's rated 2 out of 5 at the Android store.
10. FlowerChecker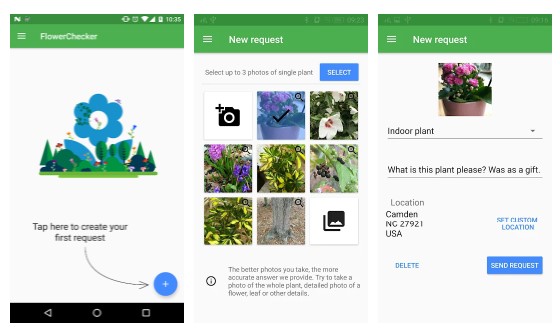 I'm not a plant expert, but I know when my plants need help. FlowerChecker is the best way to ensure your plants get the care they need. I've been able to grow anything in my garden, from cacti to roses. But when I got fungi growing in my lawn, I had no idea what it was and how to get rid of it.
Luckily, FlowerChecker saved the day. They helped me identify the problem and provided me with all the information I needed to get rid of it.
The identification is made by plant experts and a community of plant enthusiasts with decades of experience. They provided a detailed description of plants not available elsewhere.
It's rated 2 out of 5 at the Android store.
11. What's That Flower
This plant identifier app is easy to use with an intuitive, user-friendly interface. You can search by several different things. I love that I can find a flower that I'm looking for without having to go through the thousands of options. It has a lot of information about different types of flowers and their care.
I also like how you can search by color, type of flower, or even the kind of soil they grow in. The pictures are beautiful too for a casual gardener to look at.
I would recommend this to anyone who likes to garden or wants to learn more about flowers and a plant profile. The only thing I would change is the price for the premium feature.
The app is rated 4.5 out of 5 at the Apple store.
12. Plantyx
Plantyx is a great app for regular people who want to know more about plants with instant identification. It's easy to use, and you can learn about plants in no time. All you have to do is take a picture of the plant, and the app will identify it. It's great for identifying flowers, bushes, and trees.
I've used it on my lawn and all around my neighborhood. It's great for people interested in gardening or who are just curious about what's growing in their backyard. The plant database has over 10,000 plants with 95% accuracy guaranteed.
It's rated 4.4 out of 5 at the Apple store. You have both the free options and an in-purchase subscription option, including the chance to share pictures on the social network.

13. Planta
You will love this app if you have a collection of house plants that you care for and love. It's so easy for many of us to forget about the plant when we're busy or away for the weekend. With Planta, you don't have to worry about your plants anymore.
It's an app that not only identifies unfamiliar plants but also reminds you to water plants and gives you tips on how to take care of them. This new app helps you find the perfect plant for your home.
You can see which plants are suitable based on the different light conditions in your rooms. I'm always on the go, and this app is perfect for me because it's easy to use and has a great design. It has 8 million plants already on it, so you can find something that will fit your need. The app has a 4.8 out of 5 rating at the Apple store.
14. Gardenize
If you want all your plant information in one place, you will love Gardenize. You can take photos and write notes about each plant in the app. You can also access the Gardenize news feed for information about plants and gardening.
Gardenize is a really cool app for those looking to learn more about plants. It has a ton of information about different types of plants and how to care for them. It also has a section for flower beds and raised beds, perfect for a garden project.
It has a rating of 4.4 out of 5 at the Apple store.
15. Leaf Snap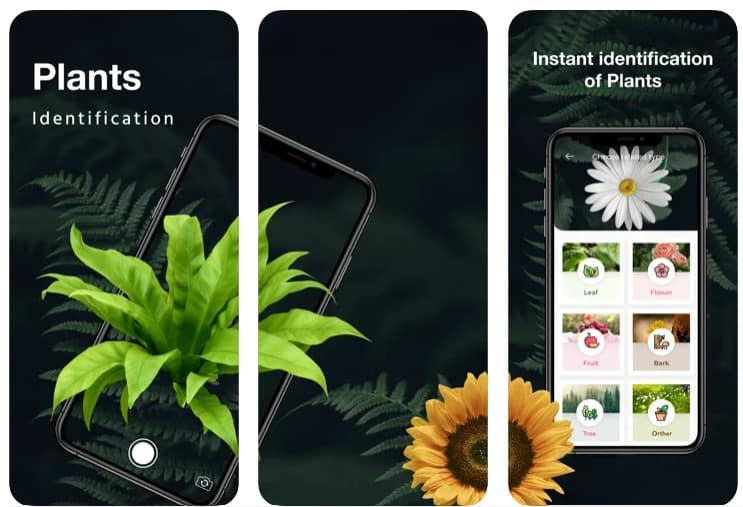 Leaf Snap is a great app for identifying plants and trees that researchers from Columbia University developed. The app is easy to use and has a database of over 98% of the known species of plants and trees.
The app is very detailed and includes information on the plant's habitat, ornamental plant leaf shape, leaf margin, and many other features. It's also great for identifying plants that you find in your garden on your hike.
The app allows you to create custom collections of your favorite trees and plants and track the upcoming plant care tasks. The care calendar feature helps you know when to water or fertilize the plant taking a guessing game out in maintaining your lawn.
The app is free to use with limited features but comes with annual and monthly premium versions subscriptions if you find it useful. It's rated 4.7 out of 5 at the Apple store.

16. PlantNet
I'm always on the go. Whether on a hike or just walking the dog, I'm constantly looking for plants. I have found that PlantNet is helpful when identifying plants. It's so easy to use. All you have to do is take a picture of the plant with your phone and PlantNet will tell you what it is.
It's so cool to identify plants just by taking a picture of them. I tried it on my houseplants, and it was right. The database is constantly updated, so you never have to worry about out-of-date information. You can also search for the plants in the app, not just the ones you have.
This is great because it allows you to identify new plants from a database of over 20,000 different plant species. At the time of review, it has a 4.6 out of 5 rating at the Google play store.
PlantNet plant identification is a free app.

17. Google Lens
Google Lens is a free app that uses the power of the Google images AI search engine to enable you to identify plant pictures, texts, and much more. It's easy to use and has many different features. I love that it's free and easy to use for a gardening enthusiast.
It's not alone an app for identifying plant names, but it allows you to match the plants you're looking for, including any gardening tip. The app doesn't provide too many details about the plants upfront, but it lists plants in the area.
I have used this app to identify plants in my garden, and it was helpful. It's an entirely free app rated 4.3 out of 5 at the Apple store.
Conclusion
There are many benefits to using the plant identification app, both free and paid options. The best part about it's that you can access all of the information you need right on your phone.
It can't be easy to know which one best suit your need with so many apps to choose from. Plant identification apps offer several services, from free identification to in-depth descriptions and pictures of plants found worldwide.
Don't forget to share this post