This is our review of the best artificial grass in 2023
Artificial grass is a pretty great DIY project. You can install it yourself, and it will last for years to come.
It's also a good option for pet owners who have a hard time keeping their dogs off the grass or homeowners who want a more durable lawn that can withstand the harsh winters.
However, you want to make sure you go with the right type and brand of artificial grass for your lawn, or it looks cheap.
Artificial grass can provide several benefits over real grass. It's easy to maintain, can be used almost anywhere, and many different styles and color options are available.
This post reviewed the top 7 artificial grass you can buy with confidence and the buyer's guide. If you're in a rush, you can pick from our top three picks.
Let's get started.
Best Artificial Grass in the Market
What is artificial grass, and why should you use it?
Artificial grass is a synthetic grass mat that looks like a real grass lawn. These are easy to maintain and give a nicer appearance to your yard without needing much care.
You can also use it anywhere where it isn't easy to grow natural grass.
Artificial grass is easy to clean and is suitable for different size homes. This is gaining popularity among residential and commercial builders.
It's a cost-effective way to do the landscaping without spending thousands of dollars for turf installation and annual maintenance fees.
Best Artificial Grass Review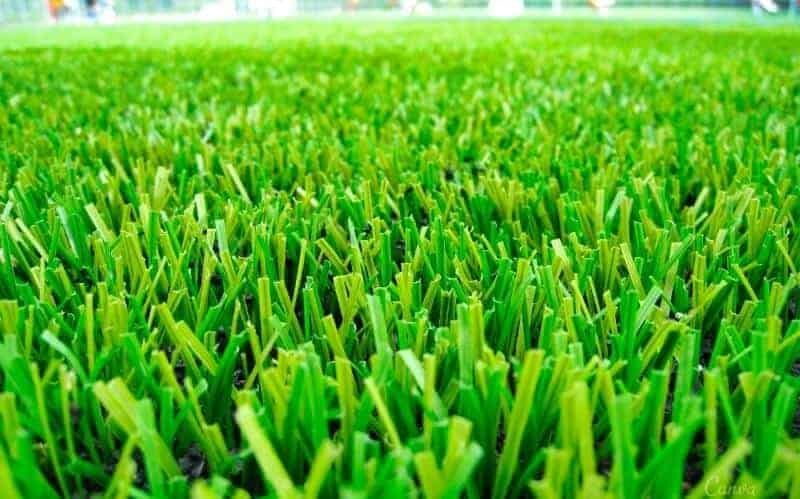 Things to consider when buying artificial grass
When putting green artificial grass, it's recommended that you consider some of the following factors.
Artificial grass material
The type and quality of grass material determine the appearance and feel of the grass. There are three main types of material used in artificial grass.
Polypropylene: Polypropylene-made grass is very sturdy and can withstand heavy foot traffic. It's a long-lasting material with a vibrant fiber. You can lay it in an area that regularly gets wet.
However, you won't get a very realistic look of grass, and it looks fake at a closer distance. The material is also a bit stiff that may feel a bit prickly on the skin.
Polyethylene: Polyethylene is a better-quality material than polypropylene. It has strong fibers, which means it can withstand high foot traffic and is naturally UV resistant.
It feels soft on the touch and looks less fake than polypropylene. It's an excellent option for backyards and lawns and easier to maintain.
Nylon: If you want the most natural realistic look of grass, you should choose nylon. It has a soft texture that feels as natural as actual grass.
The mild hue mimics the coloring and looks of grass. It's a premium quality material that gives you the closest experience of real grass with some limitations.
It's not as durable as polypropylene or polyethylene-made fibers. You can lay it down in a heavy traffic area without impacting the grass's life span. Nylon is also prone to be affected by environmental conditions such as UV lights and rain.
Artificial grass backing
The backing on the grass is the support material that holds fibers together. There may be different backing materials depending on the quality and price of the grass.
You should choose backing material depending on where you're placing it and how firm you want to feel walking on the grass.
There are two primary backing materials used.
Rubber: A rubber backing gives you a much softer feel when you walk on the grass. It's great to use in the backyard where children like to play due to the extra cushion it provides on falls.
However, rubber doesn't respond well to water and is naturally degradable. If you're choosing rubber backing material, make sure it has proper drainage to improve its life.
Urethane: Urethane (Ethyl carbamate) is more durable than rubber and can handle a heavy load without getting cracked or damaged.
It provides proper support to the top fiber and can withstand waterlogging without degradation.
But it's stiff and provides little rebound. You can install it in areas such as a patio or deck where you need more durability.
Grass height
The grass height determines how lush and denser the appearance you get from a distance. Taller grass looks more natural. Most synthetic grass comes in the size of 1.38″.
That's long enough to give a nicely trimmed appearance to your yard. If you want some extra shock absorption for kids to play in the backyard, you can choose the grass height of 1.5″.
Don't go more than 2″ grass height as you start to get the appearance of an unkempt lawn. You may use it in certain situations, such as commercial landscaping, but shorted grass height is a better residential use option.
Water Drainage
Artificial grass doesn't like water staying in it as it causes damage to the backing.
To allow the water to sweep through the grass, it contains several tiny holes to let the water pass through it.
A natural grass soaks water in the ground, which isn't possible with artificial grass.
Well-designed water drainage holes allow the water to pass through it without being obvious.
This is more important if you have pets such as dogs at home. For example, a well-designed drainage hole allows the water and urine to pass through it, preventing odor or discoloration.
Durability
Artificial grass is subject to elements such as UV lights and water that impact its life.
When it gets exposed to prolonged sunlight, the UV light affects the grass material that causing it to deteriorate. Eventually, it fades the color or turns brown.
You should look for the UV-resistant coating on the grass that prevents it from harmful sunlight radiation.
It maintains the color and texture of grass that lasts several years.
Easy to clean
An easy-to-clean artificial grass makes it convenient to use. You don't want stains and dirt to stick to it; otherwise, it won't look right.
When you buy the grass mats, it comes with cleaning instructions. Brushing grass regularly maintains its natural looks while getting rid of dust or leaves from it.
Warranty
Artificial grass comes with a different warranty period. Most manufacturers provide a limited 1-year warranty.
Some premium quality grass mats can have a warranty of over five years.
You should choose a guarantee depending on the location where you will be using the grass. If you will lay it in a heavy traffic area, select an extended warranty.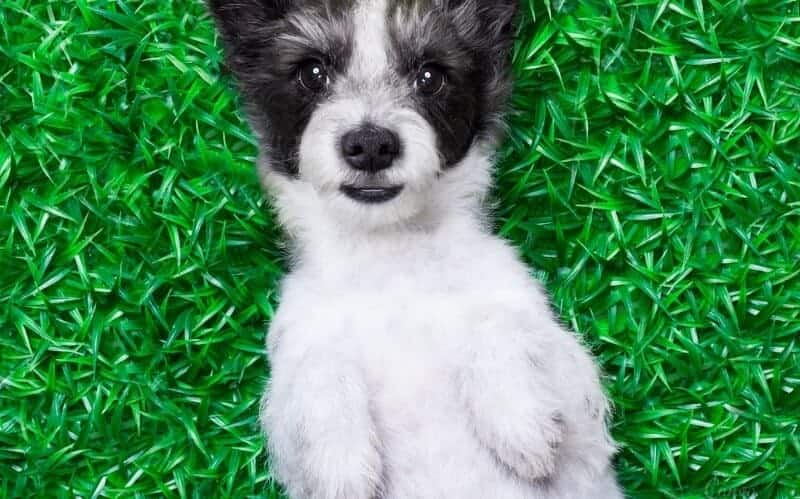 What is the best artificial grass for dogs?
SavvyGrow Artificial Grass for Dogs is the best artificial grass for dogs. It's a peed pad that helps train puppy potty trains. It has easy-to-clean drain holes that keep the mat free from foul urine odor.
It's also safe and non-toxic to pets. The soft feel of grass makes pets enjoy playing on the mat.
Can dogs pee on artificial grass?
If you're using artificial grass rated for pets use, dogs can pee on poop on it. You can use it just like natural grass without worrying about cleaning it right away.
The dog's urine passes through the grass's drains, but you can also wash it with clean water to keep the mess away.
How to install artificial grass
Most often, you can install artificial grass yourself without needing a professional installer.
But if you're not comfortable or have a complex layout in the yard, it's better to hire a professional installer. Follow these steps to install artificial grass.
Step 1: Measure the area where you want the grass installed. You will find the grass roll in 2 meters or 4 meters multiple.
Depending on the location where you want to install the grass, choose the size that closely matches the required coverage area.
Step 2: Remove any existing turf from the lawn and smoothen the ground. Get rid of any rocks and debris from the yard so you don't get bumps after installation.
Step 3: Prepare the edges to allow the water to drain through them. You can level the ground so water can naturally flow to the drainage direction.
Step 4: Add a layer of crust gravel on top of the soil to smoothen the ground.
Step 5: If you have any trees or shrubs in the lawn, measure the diameter so you can make a hole to fit artificial grass in the yard.
Roll the artificial grass in the property and hold it together with spikes about every foot along the edge.
Step 6: When lining up two separate layers, carefully line up seams, looking natural. Ensure there is no overlapping of grass; otherwise, you will get a bump in the lawn.
Keep an eye on wrinkles and remove them. Install spikes where you see the grass to be loose.
Step 7: You want the grass to stay and not move during use. You can weigh the turf down using sand. Use a hopper to spread the sand uniformly over the grass mat.
You'll need about one and a half to two pounds of sands per square foot of grass.
Step 8: Use a stiff bristle push broom to smoothen the sand and let it settle at the bottom. This gives a natural look to the grass while holding the grass down.
Frequently asked questions
How much does it cost to install artificial grass?
The installation cost consists of the artificial grass's price, labor, and extra material required.
On average, the material cost ranges from $2 to $3 per square foot. This means for an average 500 square foot lawn; you're looking at on average $1,000 to $1,500 material cost.
If you want professional installation, it may cost an additional $6 to $8 per square foot, depending on the area you live in.
A complete hands-free installation may cost anywhere $10 – $12 per square foot, including the material and labor cost.
For an average 500 square foot lawn, it may cost you anywhere from $5,000 to $6,000.
You can get it done cheaper if you decide to install it yourself. You may need to buy accessories such as spikes and sand.
If you don't have all the necessary tools, you can rent them from home hardware stores such as Home Depot, Lowes, and United Rentals.
What are some problems with artificial grass?
It's no doubt that there are several benefits of having synthetic grass in your yard.
It gives you the option to have some greenery where you couldn't plant actual grass. It has several water-saving benefits since you don't have to water it like usual grass.
But there are also some downsides to having these types of grass. First, you won't benefit from having natural grass, such as improved soil quality beneath the grass surface, natural rainwater absorption, and eco-friendliness.
Second, there is a limited life span of these grasses, and once destroyed, you can't have them regrow. You can put a patch on it, but it may not be a long-term solution.
Moreover, it contains synthetic and non-biodegradable plastic materials, which end in landfills after several years of use.
Some pet owners don't like artificial grass in their yard as it needs some additional cleaning effort to remove urine and fecal material from the yard.
Can weeds go through artificial grass?
Most artificial grass has thick underlining made of sturdy material that prevents the weed from growing under it. But weed may still succeed if it finds any tear or weak spot in the grass mat.
If you have weeds growing up in the infill, it's easy to remove as weed roots won't be getting inside the ground. The weeds often find enough opening to grow around the edges of artificial grass.
You can remove these using weed removal tools or pull them with your hand.
You can also lay down a weed barrier protection under the artificial grass to make it difficult for weeds to pass through the grass barrier.
Can you get moss to build up in artificial grass?
Moss's build-up happens when there are organic matter and suitable moisture presence.
Artificial grass that is well maintained, free from plant pieces, dirt, and debris won't have moss build up.
But if you don't care about it properly, there is a strong possibility of moss building up. You can regularly clean the grass to remove any dirt or debris from it.
The best way is to rake it so you can remove organic materials hidden under the grass. You can also use a leaf blower to get rid of some of the dust and debris that promote moss buildup.
What Next
Now you know the several high-quality artificial types of grass that you can buy for your indoor and outdoor use.
When making a decision, remember that not all grass turfs are the same.
We found SmartLawn Professional Realistic Artificial Grass to be the best for most users. It's premium quality grass that is non-toxic and safe to use around kids and pets.
If you're interested in growing real grass, you can read about our post on maintaining and caring for Zoysia grass. It's an excellent option for most residential and commercial yards.
Don't forget to share this post