There is no getting around it: If you use a power tool such as a miter saw, then you need the best saw horses to work safely and comfortably.
You can use sawhorses in construction, home renovations, and DIY projects. It holds the cutting material securely so you can get a precise and clean cut. You can also use it for other tasks besides cutting, such as painting and grinding.
There are so many different options for sawhorses on the market. Sawhorses are designed in various types and made from different materials. It comes in different lengths and heights.
It can be overwhelming to find the right sawhorse for your needs. But don't worry—we've picked the 5 of the best saw horses to make your search easier.
Read on to learn more about sawhorses, and the things you should consider when making a purchase. Or, if you're in a hurry and don't want too much information, just pick one of our quick picks. 
Check out the Best Saw Horses in the market
What is Sawhorse?
A sawhorse is a support tool that provides support for cutting materials such as a board or lumber. It's an adjustable cutting table that has four supporting legs and a plank at the top.
It's used by carpenters, contractors, and DIY enthusiasts when working on a project that needs a stable platform to work. If you're working on a project that needs cutting of woods or metals and using a chainsaw, then the sawhorse can be useful to get a job done in less time.
In earlier days, saw horses used to be made of wood or metal and tended to be heavy and bulky. But these days, these are very lightweight and portable, which allows you to move it to the job site quickly. 
Best Saw Horses Review
Other Notable Sawhorses: Worx Pegasus Multi-Function Work Table, Bora Portamate Speedhorse Sawhorse, and Keter Folding Table Work Bench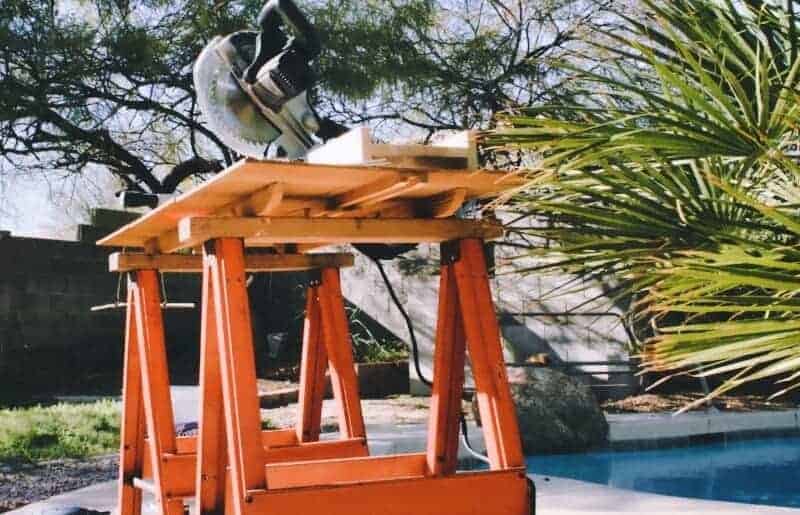 How To Choose The Best Sawhorse
When choosing a sawhorse, you should look for the following features.
Material
Sawhorses are made of different types of materials. The built content determines the weight and durability of the sawhorse. Most commonly, sawhorses are made from plastic, metal, wood, or carbon fibers.
Plastic Saw-Horse: The sawhorse made from plastic has the advantage of being lightweight and portable. You can quickly snap the plastic made foldable sawhorse for transport or storage.
The plastic is also rustproof that allows you to use it in any weather conditions. But on a downside, the plastic sawhorse can't hold as much weight as a wooden or metal horses can.
Wood Saw-Horse: The wooden sawhorse can hold more substantial weight than the plastic sawhorse. These are also rustproof and last longer. But on the downside, these are usually heavier and bulkier than plastic sawhorse and don't quickly fold.
Metal Saw Horse: The metal sawhorse is lightweight but not as much as a plastic sawhorse and can be easily folded and transported.
The metal sawhorse can be made of different metals such as steel or aluminum that is relatively lightweight and hold significant weight. These metals often have rustproof coatings to improve the life of saw horses.
Height
The height determines how comfortably you can work on it. You get the sawhorses with different heights. You have the option to buy the fixed height sawhorse or the adjustable-height sawhorse.
If you're wondering how tall a horse be? Then consider this; usually, the fixed height sawhorse is cheaper than the adjustable sawhorse. Most sawhorses in the market have a height from 27 to 35 inches.
If you're picking the fixed-height sawhorse, then select that you're comfortable using. The sawhorse should be high enough, so you don't have to bend more than a couple of degrees. Most people with average height choose anywhere between 25 to 33 inches tall sawhorse.
If you decide to buy the adjustable height sawhorse, then check out the locking mechanism, so it doesn't collapse during use.
Clamping
Clamps on the sawhorse allow you to secure the object on the plank. It prevents movement when cutting the piece, and modern sawhorse comes with clamping options included.
You may find the clamping option more prevalent in the wood or metal sawhorse than the plastic models. You also have the option to buy clamps separately. Just make sure the clamp can fit securely on the sawhorse.
A right clamp should be able to hold the cutting material securely and be able to accommodate any width.
Durability
The durability and sturdiness of sawhorse is essential factor. A poorly made saw horse not only breakdown quickly but also seriously injures by dropping the object on your feet.
A sawhorse made with high-quality material can hold more substantial weight and doesn't flex or bend after repeated use. Check out the joints of the sawhorse as those are the primary point of failure in most sawhorses.
Knowing beforehand the maximum weight, you will be working on can help you decide to buy the right load capacity of the sawhorse. 
Setup
Sawhorses don't need an elaborate setup as often you have to unfold and adjust the height of the leg. The more complex the sawhorse design, the longer it may take to set it up.
A tight hinge or joints in the saw may slow the setup. If the saw is made of metal or has metal joints and is prone to rust, then it will make it difficult to open and collapse. 
Portability and Storage
Whether you're a contractor who uses the sawhorse daily or a DIY enthusiast who needs it once in a while, portability and storage are vital.
If you often need to move around and change jobs, then you want a lightweight and portable sawhorse that you can fit in your work truck and set up quickly.
The collapsible or compact saw horse makes it easier to store without taking up much space. Keep these two factors in mind when picking up sawhorses.
Ease of Use
A good sawhorse is easy to use and improves your work efficiency. A poorly designed or improper saw height may get you quickly tired or cause back or neck injury.
A sawhorse that has a sturdy and non-slip surface makes it safe and easy to work. The slippery or unstable plank may cause the object to fall off and cause injury. A good sawhorse is easy and secure to use, which reduces the time and effort needed on the job. 
Price and Warranty
The price of the sawhorse varies a lot. It depends on the brand and the quality you're buying. You can spend anywhere from $40 to over $200 on the sawhorse. You don't always have to buy the most expensive model. Identify your needs and frequency of usage.
If you're a casual user and need to use sawhorse occasionally, then go with the mid-price range model. But if you're a professional and need it for different types of jobs, then invest in getting a higher quality saw horse that may last longer.
Also, check the warranty on the sawhorse. The more extended manufacturer warranty gives you additional peace of mind that the product will be fixed or replaced if something goes wrong in the warranty period.
Read More: Best Sliding Miter Saw for Quick and Angled Wood Cutting
What is the Best Sawhorse Design?
The best sawhorse design gives you higher flexibility to use it for several purposes. Here are some essential features in the sawhorse design:
Stable non-slippery legs
Made of non-corrosive material
Clamps that secure the load
Adjustable saw horses leg
Easy to open and collapse
Compact but extendable design
In the end, the sawhorse should be able to help you with your task. A good design sawhorse is comfortable and safe to use and should reduce the time it takes you to finish the project.
There is no single universal saw horse design that will fit everyone's needs. You have to identify your needs and types of the job first, then look for which saw horse design is more suitable for you.
How Tall Should A Sawhorse Be?
The sawhorse comes in various heights. Most commonly, the working heights of sawhorses are about 27 to 32 inches. It's a comfortable working height for the average person that is 5′7″ or higher.
You may also consider an adjustable sawhorse, whose height you can adjust depending on the task and your height. As a general guideline, the sawhorse shouldn't be taller than above your waist.
It allows you to fully extend your hand, giving your proper reach to work on the job without you getting tired or needing to bend too much.
Don't forget to share this post