It's no secret that a garden requires a lot of water. If you have several plants, leaves, and trees in your garden, you will need to water it quite a bit.
Luckily, there are many ways to keep a garden watered without having to do it manually. One of the best ways is to use a drip irrigation system. It's very efficient and saves you time and a lot of water.
There are several irrigation systems on the market to choose from. We have reviewed some of the best drip irrigation systems available in the market.
If you're in a rush, you can choose from our quick pick below with confidence. Later in the article, we have included a buyer's guide to help you choose the right system for you.
Let's get started.
7 Best Drip Irrigation System in the Market
What are a drip irrigation system and its benefit?
A drip irrigation system is a type of underground irrigation system that delivers water directly to the plant's roots, eliminating the need for a traditional above-ground watering system.
As a result, it's very efficient as it generally uses 50 percent less water than other irrigation methods. You can install it in places that are impossible to reach with traditional techniques.
People living in drought or water usage restriction areas often face significant problems in watering their lawn. The drip irrigation system is a great way to save water because it delivers water directly to the soil.
Here are the advantages of using a drip irrigation system:
Cost-effective way to save water and help the plant get required slow drip water
Prevents fungal growth in soil by reducing excess moisture in the soil
Saves you time and effort as you don't have to water plants manually
Keeps plants healthy by keeping ground moist and prevents the growth of bacteria around the soil
Provides uniform distribution of water around the plant
Helps plant grow strong roots to keep it healthy
Ability to inject liquid fertilizer directly into the irrigation stream with minimal fertilization loss
It reduces weed growth due to selective watering
Best Drip Irrigation System Review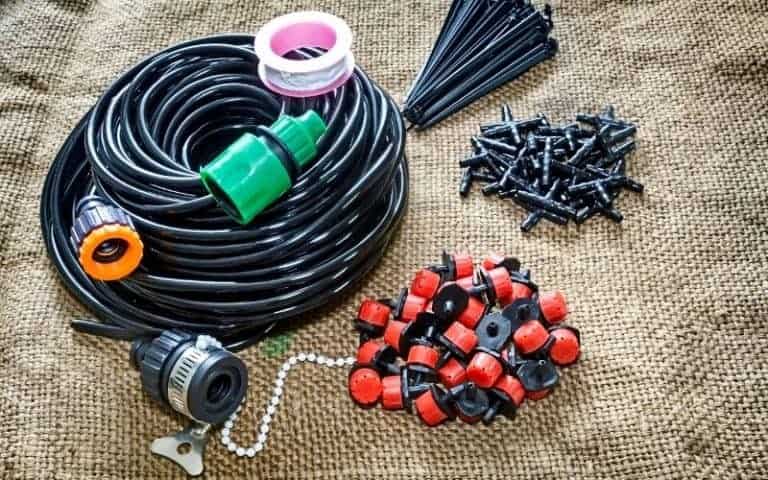 Is a drip irrigation system better than sprinklers?
There are two methods—sprinklers and drip irrigation systems when watering the plants in your garden. The latter is often much more efficient, but they also require much more time and money to install.
Sprinklers are one of the most popular irrigation systems today used in medium to large-sized gardens. These are useful for small lawn patches where you can adjust the spray head to spray a cone of water from 5 to 360 degrees.
You can install sprinklers under the ground or use portable sprinklers—such as oscillating, pulsating, whirling, and stationary rings. You can hook up to a hose and position right where they're needed.
These handy portable sprinklers are perfect as temporary irrigation for lawn renovations or starting plants from seed. However, sprinklers shouldn't be relied on long-term due to their inefficient use of water.
Moreover, you should keep sprinklers out of garden beds. They can hurt plants with their direct spray, promote fungus issues by continually soaking the foliage, and stain adjacent walks and walls.
The drip irrigation system has built-in emitters that are laid on the ground and covered with mulch. You can arrange it throughout a bed in a grid or other pattern to water, not just individual plants but also the soil between plants.
Individual emitters of drip irrigation systems for container plants can be tailored to match the pot's size and water needs.
These are best to use for edible gardens where daily overhead watering can harm leafy crops. You can also easily remove it to prepare the ground for planting or during harvest.
Things to consider when choosing a drip irrigation system
Buying and installing a drip irrigation system is easy for most people as the setup instructions are user-friendly. The drip system uses a plastic pipe network to deliver a low water flow to a precisely defined area.
Consider the following factors when choosing a drip irrigation system for your garden.
Garden size
Watering your garden can be such a chore that people sometimes say they would prefer to hand water their garden than using a sprinkler system or drip irrigation system.
The drip irrigation system isn't much beneficial for small size gardens, but it's a great time and water saver for medium to large size gardens.
You should know the garden size and soil type that you will be watering before deciding which irrigation system to choose.
If there are small flowering plants or edible plants in your garden, the drip irrigation system works best. Also, for a landscaping garden that has ferns and shrubs at the edges, it works perfectly.
For most residential gardens, the drip irrigation system compatible with the 4 mm system works best. You can easily install it to cover pots around the terrace and balcony.
But for a large outdoor garden, choose a higher capacity 16 mm system to allow more water to pass through.
Tubing length and thickness
Drip irrigation system tubing comes in two main types. The flexible tubing is used for less than 50 feet and runs up to 100—feet. It offers less resistance to water flow than rigid tubing, but it can kink and become blocked more easily. Moreover, it's also more expensive and harder to work with.
The second, rigid tubing, is used for runs of up to 100 feet and beyond. It's more resistant to kinking and restrictions than flexible tubing, but it's more rigid and can be a bit challenging to work with than flexible tubing.
If you have an open garden where the tubing will be exposed to sunlight, choose UV-resistant polyethylene-made tubings. You may also want to choose flexible tubing if you have a lot of bends across your garden.
You should also factor in the length and thickness of the tubing. The tubing diameter and size you choose will depend on the water pressure, the type of water, the spacing of the drip irrigation emitter, and the distance you want to cover.
You must understand your needs and determine what sort of tubing you need for your specific application.
Water flow rate
When you're working with a drip irrigation system, the water flow rates are an essential factor. The water flow rate tells you the volume of water delivered to the plant in a unit of time. Most systems are rated as a gallon per minute (GPM) or cubic foot per hour (CFPH).
The water flow rate depends on several factors. The most prominent are the irrigation system's design, the emitter's size, and the water source type.
As a general rule, the tubing diameter is matched with the flow rate so that you can efficiently water the plant roots. It's imperative not to increase the flow rate beyond the rating of tubing.
Emitter
Drip irrigation system uses emitters that slowly release the water onto the ground. These are inserted into the tubing with an outlet to let the water drip into the soil.
You need to carefully follow the instruction for spacing and positioning to adequately water your plants' root systems.
The kind of soil determines how closely you should place your emitters. For example, if you have clay-type soil, the dripped water will drift laterally in the ground and cover a larger ground area.
For sandy soil, you will need emitters to be close together, approximately 1 foot apart. For mixed soil, the emitters could be more widely spaced at 1.5 feet apart.
The emitters come in different types. Following are the most common types of emitters available in the market:
Adjustable Automatic emitters: These are great to use in large garden areas where the plants need to be watered every day. The automatic emitter saves the effort of you manually watering your plant as you can set the timer to water your plants without needing any further action.
Constant flow emitter: The constant flow emitter is great for plants that need the same amount of water for all plants.
It provides a consistent and uniform water supply to each plant. Most constant flow emitters are rated to give a gallon per hour (GPH) water to the plant.
Micro sprinkler: The micro-sprinkler emitter sprays a very light raindrop-type pattern. These are at relatively gentler water pressure than traditional sprinklers that are designed to cover a larger area.
This helps install a micro-sprinkler irrigation system at raised garden beds without damaging delicate plants.
What PSI should you use for drip irrigation?
As you might have guessed, the proper PSI for your drip irrigation system depends on your needs and what you're irrigating. The PSI of your system is directly linked to the flow rate (GPM), so the higher the pressure, the higher the flow rate.
When you're using a drip irrigation system, it needs low water pressure and water flow to irrigate plants. Most drip systems are rated to operate in the range of 10 to 30 pounds per square inch (PSI).
You may have to use a pressure regulator to reduce the average 30 PSI home water pressure into the operational range pressure of below 30 PSI.
So, if you're looking to water a large area, a higher PSI will work with mature plants. If, however, you're looking to supply water to a few plants in the corner of your yard or on a raised garden bed, you will want the lowest PSI.
How to install a drip irrigation system
When installing drip lines, some considerations are made, such as the size of your garden, the soil type, plant variety and spacing, time of year and weather conditions, and layout of your garden.
Follow these steps to install a drip irrigation system:
Step 1: Measure the garden size and mark the plant locations where you want the drip irrigation to be installed.
This will help you determine the length of mainline tubing you will need include emitter joints and other components you may need.
Step 2: If the drip system is fed water through an outdoor spigot, you may need to attach backflow prevention, a pressure regulator, and a filter to prevent potable water contamination.
Follow the manufacturer's recommendation to install these components before you start laying them out in the ground.
Step 3: Hook up the controller to the tap and install the water filter. If you're using a pressure regulator, attach it now.
Step 4: Spread the tubing around the garden, keeping it closer to the plant that you want to water. Install emitter at the designated spot and if the tubing has no built-in dripper, make a hole and install the dripper.
Step 5: Slowly turn on the water and check out for any water leakage and regulate the pressure valve to control the water flow rate.
Most drip systems are set to turn on for one hour of watering per week. The schedule will depend on the plants in the garden, and the number of emitters hooked up to the system.
How to take care of the drip irrigation system
When it comes to a drip irrigation system, it can save you hundreds of dollars a year on water bills and provide a more constant water supply to your plants.
It also helps you to conserve the water you use by giving it more time to soak into the ground.
Here are some guidelines for its proper care:
Prevent use of lawn tractor or mower to run over the tubing as it may cause cracking or damage to the system
Regularly inspect for any cracks or leakage. Replace any damaged or cracked tubing with drip tape to maintain the uniform water flows inside it
To prevent excessive evaporation during the summer, cover it with mulch as it also improves the tubing's life
Always ensure that the pressure regulator works appropriately to control the water pressure. High water pressure above irrigation system rating could cause the emitter to pop out
Keep tubing clear from any blockage as it restricts the water flow
Keeping the water filter clean and washing the emitter once a month keeps it free from any obstruction
After a season, clean and soak the emitter in vinegar and water to remove any mineral deposits such as calcium or magnesium build-ups
The Bottom Line
The above list is the best drip irrigation system that you can find on the market today. We found Raindrip Watering Kit has everything you need to get started with drip irrigation and stop watering your plants by hand.
It's completely customizable and perfect for any plant. You can install it in three simple steps.
Overall, regardless of which irrigation system you choose, you shouldn't hesitate to install this as it may look intimidating, but the process is very simple and straightforward and any new gardener can do it.
Don't forget to share this post