If you have a medium to large-sized property, it can be tricky to till it manually. This is why you need a tiller that can get the job done quickly to start planting.
But there are so many different types of tiller in the market that making the right choice becomes difficult.
Don't worry, though. We're here to help you with our in-depth review of the best rear tine tiller that you can buy with confidence. We'll also discuss things to consider in a tiller and recommend some of the best tillers available in the market.
7 Best Rear Tine Tiller in Market
What is a rear tine tiller, and why do you need one?
For many gardeners, tilling or turning the soil has several benefits. It improves the airflow to the ground and helps remove weeds and pests from the soil. Some people think you don't need to till the garden as the natural process can take care of its own.
There is certainly some merit in their reasoning to not till their garden. But there are some clear benefits to tilling. Tilling helps loosen the soil that allows you to plant seeds in the ground. It also makes it easy to remove weeds and distributes the nutrients in the soil.
You can go manually move the soil, but it's hard work. It may be OK to do it manually for a smaller garden, but you may need to have a machine that does the job for any medium to large size garden.
These are powered machine that works independently from the front wheel. The rear wheel of the tiller is machine powered which gives you better power distribution and maneuverability. The engine is at the front, wheels in the middle, and tines at the back.
What are the benefits of rear tine tiller?
Rear tine tillers have several benefits, and the most vital is that it helps you till the ground in a short time. It saves you the need to do long and hard physical work.
Here are some other benefits:
Powered rear wheel allows the tine to work independently of the wheels, which means you get better tilling precision
You can easily adjust the tilling depth by using an adjustable depth regulator
Rear tine tillers delivers more power than the front tine tillers
Better safety when using the tiller due to the use of shields around the tiller
More stable and comfortable to operate
The rear tine tiller is excellent to use in large areas. The self-propelled wheel design makes it less exerting. You also have the option to choose a tiller model that can rotate tines in both directions.
Best Rear Tine Tiller Reviews
What are the different types of tine tiller?
There are two main types of tine tiller that you can buy; front and rear tine tiller.
Front tine tillers: As the name suggests, the tiller is present at the unit's front. This may resemble a lawnmower that you have to push around, except the tiller has a more prominent and different blade style.
The front tine tillers are compact and cheap. It's easy to control and maneuver. The tiller at the front makes it easy to turn and reverse. You may choose this for any small to medium size garden.
Rear tine tillers: If you need more power and need to move a large ground, you should consider a rear tine tiller. It delivers more power to the tiller, allowing you to break stiff and clunky soil in your garden.
For any rocky or compact soil, a rear tine tiller is a better option. You can use it to dig any medium to large size garden where you need to break ground, cultivate compost or loosen the dense and compact soil.
Read More: The Ultimate Guide on Starting a Garden
What should you look for when picking a tiller?
When choosing a rear tine tiller, you should be aware of some characteristics. Here are a couple of crucial factors to consider.
Tiller rotation
Depending on the tiller's price, size, and power, it can rotate in both directions. For example, a standard rotating tiller has tines that rotate only in a single forward direction. It comes in different engine power ratings anywhere from 100 cc to 300 cc.
Counter-rotating tine has tiller rotate in the opposite direction. It helps you break up harder surfaces such as clay soil.
Dual rotating tine tiller has both forward and reverse rotation. It allows you to both forward and reverse direction and till in a clockwise or counter-clockwise direction.
Engine
If you're buying a rear tine tiller with a gasoline engine, it comes in a 2-cycle engine and 4-cycle engine option.
2-cycle engines are small and compact, but you need to mix oil and gas to operate. The 4-cycle engine doesn't require you to mix oil and gas and is more powerful. 2-cycle engines are lightweight and less powerful than a 4-cycle engines.
When looking for the engine power rating, you should pay attention to the engine's horsepower rated in HP or its displacement rated in cc. A higher number means more power to the engine.
Another critical aspect of the engine is how you start it. The machine can be either manual recoil starts or electric starts. Manual recoil engines need some effort to get started, but they usually cost less than an electric start.
You may also find some engines to be OHV rated. OHV is a short form of overhead valve that provides better fuel efficiency, light design, and reduced emission. The higher fuel efficiency means you can save on gas while emitting less exhaust.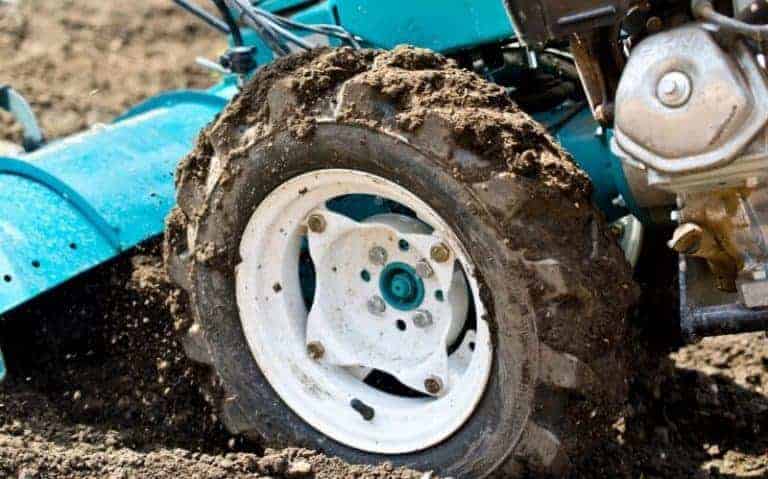 Tiller tires
Sturdier and heavy-duty tiller tires give you better traction and make it easy to keep the machine balanced. Heavy-duty well-made tires allow you to move through the ground surface without needing to push it harder.
Depending on the engine power, tire size varies. A larger tire size makes it easy to move along an uneven or rough surface.
Pneumatic tires are easy to use, and you don't have to worry about filling air into it. Air-filled tires are cheaper, but they also tend to provide smoother movement.
Tilling capacity
The tilling capacity depends on the depth and width of the blades. For example, a 6-inch tilling blade can dig 6 inches into the soil in each round.
Fortunately, the tiller comes with an adjustable tilling depth that you can control with a flick of a lever. You can set it depending on the plant you want to grow later.
Tilling width determines how wide you can till at a time. It allows you to get the job done quicker, but it also means a bigger and heavier machine.
There is different tilling width capacity small garden tine tillers you can buy based on your need. For most residential use, you can safely choose anywhere from 16 to 20-inch width tiller.
Transmission gears
Transmission gears help transfer the engine power into the tiller blades and tires. Most dual rotating tines have a speed lever and reverse gear. This allows you to move back and forth while tilling.
Some tiller models have variable speed options that allow you to set speed depending on the area you're planning to till.
Handle
An adjustable ergonomic tiller handle allows you to get the job done without getting tired. Tiller comes with either a fixed or adjustable handle. The adjustable handle gives you greater flexibility as it allows you to change the length you find comfortable.
Another aspect of the tiller is to look at the drag bar. It helps improve stability, provides uniform tilling depth and consistent speed when in operation. Some tillers come with a counterweight to maintain the stability of the unit.
Weight
Most tillers weigh anywhere from 150 to 200 lbs. The weight depends on the engine size and functionality of the machine. The weight shouldn't be an issue as most tillers are machine-powered, which means you don't have to push it manually.
The extra weight makes the tiller more stable, and you don't have to struggle to balance while operating. These are great when you move rocky and hard ground surfaces.
How often should you till your soil?
Depending on the plant, you may till the soil maximum of twice a year. Usually, tilling has been done when planting crops for centuries. But new research has suggested that plants don't need as often tilling as it was initially thought.
You can do tilling when you're planting it for the first time or changing to a different set of plants. Tilling allows you to quickly clear out old plant roots and mix the soil's air and nutrients.
There are benefits of doing a tilling but don't overdo it. Excessive tilling may damage beneficial microbes, roots, and soil structure. Tilling is great for vegetable gardening. You can do it to take out root vegetables such as potatoes, carrots, and turnips.
If you need to do occasional tilling, you also can get a rear tine tiller rental from your local home hardware store.
What tilling depth and width you need in your garden?
You can till 3 to 5 inches deep and 7 to 8 inches wide for most plants when preparing new garden beds or planting different crops. Often over time, the soil gets compacted, reducing the soil's airflow and passage of nutrients to the plant roots.
For a new garden where you plan to grow fruit and vegetables, you can dig the grounds 7 to 10 inches deep. This gives you 9 to 14 inches deep workable depth in which you can plant most types of vegetables and ornamental flowers.
You don't have to dig very deep as it may bring weed seeds to the surface that you have to remove and disturb the underground biodiversity. The tilling should be deep enough to allow the moisture and air to pass through from the surface to plant roots.
Do tilling kill weed?
If you have weeds in your garden, then tilling helps you to remove them quickly. It loosens the soil that allows you to pick and remove it from the garden.
For a garden filled with weeds, you can use a tiller to move back and forth on the surface while overlapping each row by 2 to 3 inches.
Tilling kills weed by cutting through the deep weed roots inside the soil. It would be best if you tilled the weeds when there is no seed on the plant; otherwise, you have to remove weeds again next year.
Conclusion
You may have to till your garden before preparing a new raised garden bed or getting ready for seeding. Tiller is a powerful gardening tool that can make your job easier.
Choosing the right tiller isn't easy. There are so many different kinds available in the market with various features. Investing in a high-quality tiller allows you to get a tool that will provide you with hassle-free operation for several years to come.
Don't forget to share this post