Hiking and outdoor activities are on the rise, and many people look for hiking shoes for flat feet but don't know where to look.
This is more so as an estimated 25 to 30 percent of the population has flat feet. Many casual and experienced hikers who have flat feet are not even aware that they have flat feet.
Being not aware makes hikers go out and buy general lifestyle hiking shoes which may not fit their needs. For hiking or not, wearing the right type of shoe is essential for your good health.
Your feet carry the full weight of your body, and wearing the wrong shoe can cause pain in the ankle, knee, hip, and back.
In this article, we explore the 5 best hiking shoes for flat feet hikers.
5 Best Hiking Shoes for Flat Feet
Our Top Pick
We recommend Salomon Authentic LTR GTX to be the best hiking boots for flat feet. It has an excellent combination of comfort and lightness, which is essential for people hiking with flat feet.
The superb traction and sufficient ankle support make the hiking less physically exerting. The soft and cushy internal walls reduce the chance of blister and swelling in the feet.
The waterproof and breathable design of the shoe allows it to use in any weather and hiking season. Many experienced flat feet hikers had a good experience with this shoe, and you should try it once, and maybe it will be perfect for your hike.
Best Hiking Shoe For Flat Feet Review
1. Merrell Mens Moab 2 Vent Hiking Boots
Merrell Men's Moab 2 Vent Hiking Shoe is made with 100% suede leather and upper mesh. This provides comfort and air ventilation during hiking and following rough terrain.
The design of the shoe is stylish, and the material feels very high quality and smooth. Merrell Moab has designed a toe cap that provided increased protection from rock and chips. The use of an air cushion to the heel adds extra stability and absorbs shock.
The Moab 2 version is the improved version of much famous Moab's earlier version. You may have seen the previous version used by other hikers on the trails. It is not waterproof, which makes it get wet quickly in soggy conditions.
But the air membrane gets it dry immediately. The Moab 2 is meant for professional to average hikers, which means it is built with more durable and robust material. It adds weight to the boot but nothing which you can not pull off.
The well-designed sole provides excellent traction, which is essential for hiking in tiny stone chips and rugged terrain mountains. If you are planning to walk in a more humid and wet environment, then we recommend considering Moab's 2 waterproof shoes.
We found Moab's hiking shoes to be a bit more cumbersome than other brands of hiking shoes. Although the difference is not that much and you won't likely notice it if you are not carrying heavyweight.
Overall, it is a perfect hiking boot for men who want to do day hikes or light night hikes in dry weather conditions. The extra cushion around the sole and the comfortable protective toe siding makes it the perfect hiking boot for men with flat feet.
See More information on Merrell Men's Moab 2 Vent Hiking Shoe
2. Columbia Women's Newton Ridge Plus Waterproof
Columbia Newton Ridge Plus is good looking hiking boot for women. Several users indicated it to be the most comfortable hiking boot for women.
One of the critical challenges for any hiking boots is the ability to use them promptly. This means it should be comfortable right out of the box and should break in quickly.
This is where Columbia's Newton Ridge Plus shines. It is a sturdy-looking hiking shoe and has leather at the top. The rubber sole provides lasting life and excellent traction to hike on rough terrains.
For flat feet hikers, the durable midsole offers long-lasting comfort. The inside of the boot is surrounded by the right cushion materials which help with under and overpronation condition.
Columbia uses proprietary "Omni-Grip" technology, which makes it suitable to work on trails, hikes, and in bad weather conditions. The use of multi-directional tread zones is ideal for scrambling and forward traction during hiking. It helps in gripping loose dirt and provides a solid footing for weighted treks.
The waterproof hiking boots make them ideal to use during rain, snow, and mud. The laces are quite long, which makes it easier to tie them multilayered. The waterproof material and design allow feet to remain dry during rain, but if it gets wet, then it dries quickly.
The boot has flexible soles, which means it provides good traction control on rugged terrains but is less supportive to the feet. It may not be a massive problem for standard to medium hiking. The extra cushion around the boot and the heel area make it suitable for hikers with flat feet.
The boot is quite durable and lasts for several months with moderate use. This is a good startup pair of boots for beginner to average hiker women with flat feet. The stylish and versatile look of the boot makes it look good on anyone wearing it.
See More information on Columbia Women's Newton Ridge Plus
3. Salomon Authentic LTR GTX Men's Waterproof Boots
Salomon GTX is a 100% waterproof split leather with an air mesh upper. All the flat feet people will appreciate the lightweight of the footwear for comfortable hiking. It will help you make the most use of your hiking by going the extra mile without getting exhausted.
We like the Salomon proprietary "ClimaShield" waterproof liner which provides full-boot waterproof protection. For the comfort of flat feet hiker, the Salomon Authentic LTS hiking boots have padded interiors more comfort.
The slightly contoured instep fit lowers the pressure on the feet while keeping trail debris and moisture out. Salomon's rubber-made toe protector, and heel slings are useful in protecting toes and upper legs from bumps and abrasion.
This is especially useful if you decide to go off-trail and explore some not well-traveled territories. It is becoming common for many hiking boots to have dual-density EVA foam midsole which provides long-lasting comfort.
But don't take it for granted as there are still many hiking boots that do not use dual-density EVA foam midsole. So this is something we recommend to keep an eye on when researching hiking boots.
Many hiking users found this shoe to have a good grip and traction on the ground while going through hilly and rocky areas. Traction and stability are essential as traction makes hiking much more comfortable. It puts less stress on your feet to create a grip on the ground.
Blistering is another problem that many new to experienced hikers face. Blistering happens due to feet rubbing to the interior of the shoe. This is where Salomon's padded interior shines. The comfortable padding allows a tight, cushy grip on the shoe, which reduces the friction with feet.
The Salomon's "OrthoLite" sock liner improves the shock absorption during the jumping and running part of hiking. The well-circulated airflow design reduces the generation of odor and moisture inside the shoe. This helps to keep feet dry and stink-free on a long trek.
See More information on Salomon Men's Authentic LTR GTX
4. KEEN Men's Targhee II Mid Waterproof Hiking Boot
Keen's Men Targhee II is a waterproof hiking boot that keeps your feet dry and breathable during hiking. It can do it due to its proprietary waterproof, breathable membrane that lets the vapor out without allowing the water to get in.
The top is made with nubuck leather, which keeps the water out. The insole is made with a removable dual-density EVA footbed. For hikers with a flat foot, it provides proper arch support. This is very important as it offers excellent support for feet and absorbs shocks during hiking.
Another unique design to Targhee II boots is its thick and padded inner lining which provides excellent ankle support. The Targhee is very lightweight as it is only 12 ounces. This is especially good for people with overpronation feet.
The Targhee II hiking boots come in the only standard size option. There is no narrow or wide feet option. As we talked about earlier, the right fit is essential for any successful hiking.
Many people have mentioned the size of the boot to be not exactly accurate and recommended to order it half a size larger than the usual size. So for people with the usual size of 10 should order 10.5 or maybe 11.
The flexible and smooth leather makes it easy to mold as such, there is no need to break-in. This is good for people who just want to grab it and head for hiking. Targhee's dual-density midsole provides greater stability and comfort for hiking in any terrain.
The dual-density sole means it is made from two different density materials. This is particularly helpful for over-pronation hikers. Overall, it is outstanding quality hiking boots perfect for light to moderate hiking.
See More information on KEEN Men's Targhee II Mid Waterproof
5. Vasque Men's Mantra 2.0 Hiking Shoe
Vasque Mantra 2 is a 100% leather hiking shoe. The upper part is made with Nubuck leather with abrasion-resistant upper mesh for breathability and durability.
Vasque Mantra 2 has multiple versions available for both men and women. The GTX version of Mantra 2 is a waterproof version of the Vasque Hiking shoe but is costlier than the non-waterproof version.
It covers all the sizes from size 7 to 13 and also has full-size available, which is nice to see as it helps people with wide flat feet. The weight is a bit heavier than the other similar types of shoes. But it should not be much issue for average to medium hike.
The footbed is a dual-density EVA foam, similar to Targhee II but at a lower price range. Vasque has used good quality material in fabricating the shoe, which makes it an excellent and durable hiking shoe that lasts longer.
The outer sole is made with a high-quality material, which makes it last longer without any significant erosion to the shoe. However, the inside bottom has to be replaced after a couple of hikes. This is not as much of a problem as these inside soles are easily replaceable.
Users reported Vasque Mantra 2 shoe to be at best when hiking at the flat trail. But they did not like it much when walking on the rugged path. We do not recommend this pair of boots for rugged terrain hiking where you will be walking over lots of rocks and stones.
This is because of the hard rubber sole used in the Vasque Mantra 2 shoes. It makes it durable to last long, but the hard rubber makes it less flexible and poor shock absorber.
Many hikers compared the sole to be as stiff as a brick. But this should not stop you from buying it if you are not doing any extended hiking.
For flat foot hikers, the stability and extra support to feet are essential for a smooth and successful hike. And this is where this shoe shine.
The firm and reliable support by this shoe on the feet make hiking with a flat foot a non-issue. The large pad at the outer sole makes it more natural to roll the ankle while hiking.
If you like stylish design shoes, then Vaque Mantra 2 will not let you down. It comes in various colors and designs. We also liked the idea of pull-on loops on the heels, which makes it far easy to put on the shoe.
See More information on Vasque Men's Mantra 2.0 Hiking Shoe
What Are Flat Feet And How To Identify It?
Many people don't realize the type of feet they have. It is essential to know your foot type for any long-term outdoor activities.
So, what in reality is flat feet?
People with flat feet do not have an arch on their feet. You can identify if you have flat feet by looking at your feet and see if you have any arch on the feet. If you have a slight arch or no arch, then it means that you have flat feet. This may be in either one foot or both feet.
Why is this arch necessary?
Your feet carry the whole weight of your body. The arch in the feet acts as a spring, which helps to absorb the shock and distributes the body weight. The arch in your feet determines the way you walk, run, or hike.
But the problem with flat feet is that it causes the feet to roll to the inner side when you are standing or walking. This condition is called overpronation. The overpronation causes the feet to roll inward, and it is advisable to use overpronation shoes.
Now don't get too concerned about it if you have flat feet. Many people don't even realize that they have flat feet and live their life without having any issues. But a severe flat feet condition may cause several complications. 
One very common painful condition is plantar fasciitis which causes pain in the heel. People who wear shoes with inadequate support are at more risk of developing plantar fasciitis.
Types of Flat Feet
Depending on the structure of your feet, there are three types of flat feet.
1. Neutral Pronation
The body weight on the feet causes the ankle to bend either inward or outward. In neutral pronation, the ankle does not turn more than 15 percent inward with each step.
This is the right position to be in as in this the foot and ankle care in the upright and aligned posture. The bodyweight gets uniformly distributed around the toe and heel.
2. Over Pronation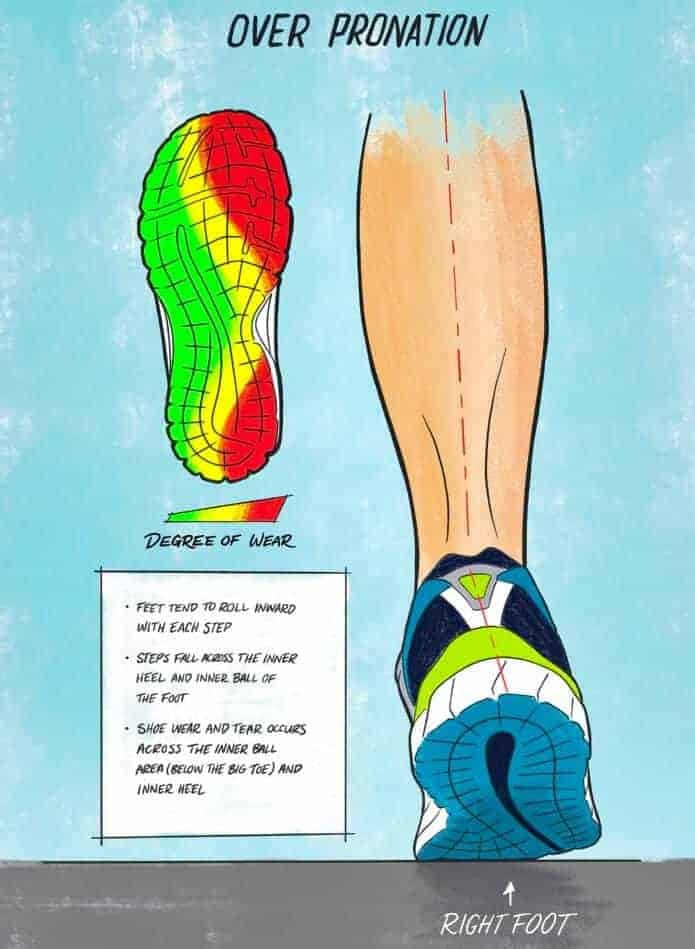 Overpronation causes the feet to roll inward during the walk. The weight is not uniformly distributed and causes excess stress on the ankle, which causes the ankle to bend inward as you walk. The excess one side weight causes more wear toward the inner ball area.
3. Under Pronation
The under pronation is also known as supination. In this, the steps fall across the outer heel and outer ball. In supination, the foot does not roll inward enough with each step. During the walk and run, the steps fall across the outer heel and outer ball of the foot.
This causes more wear and tear to the shoe across the outside, which is below the small toe and outer heel.
What to Look for in the Best Walking Shoes for Flat Feet
Once you have identified your arch type, you should look for the shoes which are designed for your feet arch type.
It may be challenging to find a shoe that clearly labels the shoe for each arch type. But knowing where your feet are getting the most pressure can help you find matching footwear for you.
Here are some guidelines to find hiking shoes for flat feet.
Hiking Shoe for Neutral Pronation
Hikers and runners with neutral pronation should use a shoe that provides more stability. A person with neutral pronation has body weight evenly distributed.
If you have a standard pronation feet type, then you can pick a shoe that has balances insole cushion area. It keeps your body balanced when wearing the shoe.
Hiking Shoe for Over Pronation
Hikers with overpronation move their step which falls across the outer heel and inner ball of the foot. During a hike or walk, the step falls first outside of the heel area, which makes the bodyweight move inward.
More wear and tear happen below the big toe area to inner heal. You should pick a shoe that is more durable and has more cushion toward the inside.
Hiking Shoe for Under Pronation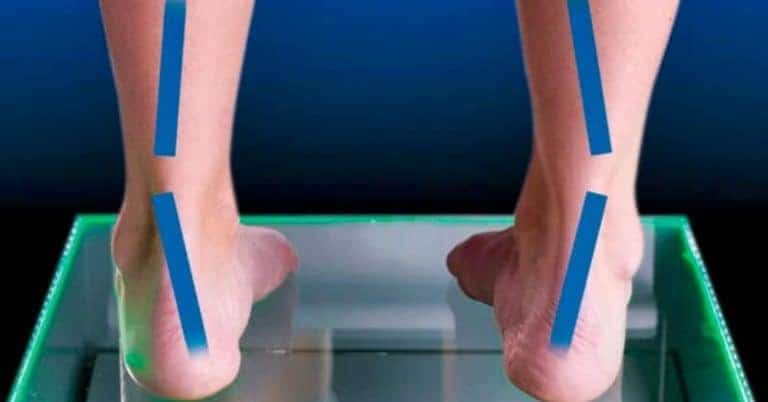 Hikers with under-pronation often have higher arches and get more weight outside the foot area. If you have this type of foot, then use a shoe that has a sturdy outward sole.
It provides comfort and support to the ankle. Pick a lightweight and flexible sole shoe to support the arches.
Other Considerations When Choosing Hiking Shoe For Flat Feet
Here are some other factors to consider when choosing the hiking shoe
Comfort
Comfort is the most important thing when shopping for shoes, especially when you will be using them for hiking. Hiking puts more pressure on the feet during climbing and descending. The boot should be comfortable to wear so your feet can take extra physical stress.
We recommend picking a shoe, which provides comfort for the toe and heel area during walking. This will prevent your ankle from getting bend due to flat feet.
Material
There are various types of materials used in making a shoe. Hiking causes too much sweat and bending. Pick a shoe that is made of a material that allows the free air circulation to let your feet get dry.
Fitting
A good shoe fit is essential as the too-tight fit will create more stress on your feet' ligaments. A loose-fit shoe will cause friction, which may result in blistering.
The best thing is to know your feet size, which you can measure yourself. Based on the feet size you can pick a shoe that you know will fit you perfectly.
Durability
Durability is vital as you don't want a shoe to get ripped off during the mid of the hike or just after your first hike. Invest in a quality shoe that has reliable and premium quality material so it can last multiple hikes.
Swelling is widespread in people who wear incorrect shoe sizes. Factor in the type of socks you will be wearing as it may result in changing shoe size.
For example, hiking in colder weather, you will be wearing a thicker sock, and during hot weather, thinner socks will be appropriate. Consider these when you are picking the best hiking boots to avoid any discomfort or disappointment during your hike. 
Shoe Type
This one should be self-explanatory. Every day so many people go hiking with various levels of experience and background. Many go with regular pairs of boots or wear casual boots during hiking.
You don't need a specialized hiking shoe if you are going for short casual hiking. But if you are looking to do some rigorous hiking then pick a shoe that is designed for hiking purposes.
Hiking generally involves walking through a well-defined trail or exploring uncharted, rocky territories. Consider the kind of hiking you will be doing. Get some more information about the terrain you will be hiking so you can be better prepared.
Another thing to consider for hiking shoes is the weight you will be carrying. More massive loads such as camping gear or items you plan to take require more sturdy hiking shoes. 
For bulky and more extended hiking, we recommend that you choose hiking boots that are designed to use in rugged and unplanned trails. These boots often have a high ankle collar to provide excellent foot support. 
Don't forget to share this post