As a gardener, I find weeds to be a severe nuisance. It makes the garden look haphazard and unkempt. But controlling weeds may not be an easy task. Any uncontrollable weed problem may feel like an impossible situation to handle.
Aggressively growing weeds can quickly take over flowerbeds and green space in the yard. After all, who wants the weed to be around their beautiful flowers and juicy vegetables.
So, when it comes to weeding, you need to have the best weed killer for lawns that provides quick and effective prevention from weeds.
Below, we'll discuss some important considerations with a weed killer (herbicide) and recommend five of the best options on the market.
We'll also talk about some basic safety guidelines when using a herbicide to ensure you use it safely and don't get sick.
But if you're in a rush, see our top picks here, or keep reading for a full review.
Top Weed Killer for Lawns
Our Top Pick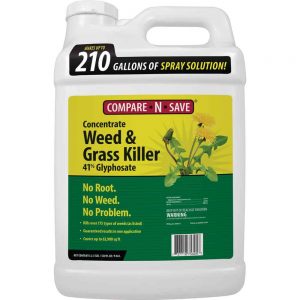 Compare-n-save grass and weed killer is our top pick. It's a concentrated weed solution that contains 41% glyphosate that gives you visible results in a short 2 to 4 days. You can use it to cover up to 25,000 sq ft area.
It's handy in killing the most common types of annual and perennial weeds, grass, and other undesired plants. You can mix the solution with water and use it to control weeds around your home and in the yard.
What is a Weed Killer?
During the spring and summer seasons, weeds such as dandelions, clovers, crabgrass, and several other invasive unwanted species start filling up the yard. The weeds are plants that grow themselves where you don't want it. It's an eyesore and causes damage to the plants and flowers in your yard.
The weed killer helps you get rid of these unwanted growths so you can have a healthy- and good-looking yard. The weed killers are also known as herbicides, and these are chemical-based solutions that control the weed.
The other way to control weed is through physical means such as using gardening tools such as stand-up weeder, tiller, or pulling it with your hand. Manual removal of grass is a time-consuming and labor-intensive process. But it's handy as it gives you immediate results.
What to consider when buying Weed Killer
Weed Killer Type
You have option to choose proactive or reactive weed killer. For any existing weed in lawn, choose reactive weed killer.
Pre-Mixed
Some weed killers need to be diluted before use due to its high potency. Choose pre-mixed herbicide that is ready to use right away.
Eco-Friendly
Choosing an eco-friendly week killer reduces damage to the soil by not leaving any harmful residues.
Have a question about buying a weed killer? Contact us
Best Weed Killer for Lawns Reviews
1. Preen Extended Control Weed Preventer
Best Lawn Weed Killer Granules
Preen extended control weed preventer is a capable granular weed destroyer. It can control more than 600 types of weed perennials, ground covers, shrubs, and trees.
The top flip applicator makes it easy to use. It's a pre-emergence professional weed killer that destroys and prevents weed from growing.
It works by sterilizing seeds and stopping germination. It won't be effective on plants that are already rooted and growing, whether it be weed or grass.
You can use it on existing grass or sod, but don't use it where you're attempting to grow new grass. You should remove any existing weed before applying it to your lawn.
To get started with Preen, you mulch the area to expose the soil then sprinkle the weed killer on top. You can apply the granules when the garden is dry so it won't stick to the plant leaves. Afterward, water the pellets to release the ingredients to block the weeds growing below the surface.
You should use it in spring after spreading mulch in the lawn, but before weeds start growing. It's useful in preventing broadleaf garden weeds grow, such as dandelion, purslane, chickweed, and crabgrass. It provides up to 6 months of relief from weeds.
You have to use it on bare soil and don't sprinkle it on top of the existing lawn as it may kill the grass that you want to keep. For example, you shouldn't use it on flower seeds, lawns, vegetables, or edible gardens.
It's an eco-friendly grass killer as it contains 1.50% Trifluralin and 0.375% Isoxaben chemical composition and is relatively safe to use.
If you want to use it around edible plants such as vegetables, then choose Preen Natural Weed preventer. You can use it once the plant grows 2 to 3 inches above the ground.
See More Information about Preen Extended Control Weed Preventer
2. Ortho Nutsedge Killer Ready-to-Spray
Best Weed Killer For New Lawns
For those who are getting tired of weeds such as Nutgrass, Kyllinga, Broadleaf plantain, Nurslane, and several other biennials and perennial broadleaf plants, the Ortho's Nutsedge Killer is a good option. It's tough on weeds but gentle on the grass.
The application is straightforward, as there is no need to mix it with other things. It's ready to use that allows you to connect the water hose directly to the bottle. You then press the tab at the top of the applicator to spray the weed-killing solution evenly.
It's most effective on the growing weeds that are less than 3-inches high. If you have tough grass growing in your lawn, then you may have to apply it more than once to eliminate them.
Once applied, it starts working to destroy weeds, but sometimes you may have to wait up to a couple of days to see any visible results.
Apply it when the temperature isn't too hot and less windy as it prevents the chemical from getting blown to the other plants. For best results, apply the weed and grass killer when the temperature is around 65°F to 85°F.
Be careful when spraying the grass killer and prevent it from getting sprinkled over the top of flowers or edible plants as it may cause damage. You can use this general-purpose weed killer whenever you see a weed growing on your lawn.
Generally, you can use it every few weeks to prevent any new regrowth of weed. When you apply it over nutsedge, it takes a day or two to see the result.
You may have to apply more than once, depending on the growth cycle of nutsedge to kill it. It's hit-or-miss on crabgrass, but there are weed killers specifically designed for crabgrass removal.
You can use the solution multiple times and don't need to use it all in a single cycle. Shake it well before use to get uniform concentration. Wait at least 2 to 4 weeks before you apply it a second time on the weed.
See More Information about Ortho's Nutsedge Killer For Lawn
3. Roundup for Lawns Ready-to-Spray
Best Weed Killer That Won't Kill Grass
Roundup for lawns is a liquid weed killer for lawns. You can use it on southern grasses as it kills more than 90 different types of weed, such as dollar weed, dandelion, clover, and yellow nutsedge.
The specially formulated formula for southern grass types works perfectly and kills the toughest weeds down to the root. It's handy on weed grass like Bermuda, Centipedegrass, Zoysia, Floratam, and St. Augustine.
The ready-to-spray applicator is easy to use and allows you to cover up to 6,000 square feet. However, the applicator isn't refillable. It's also effective in killing weed from non-lawn areas such as sidewalks, driveways, and patios.
Once applied, it takes a couple of days to see results. Homeowners and professionals trust it. The dual-action formula kills weeds effectively and prevents regrowth.
There is no recommended frequency to use it. But you should use it more than once when you find the weed isn't dying. Some people prefer to use it more frequently where weed growth is sturdy.
It's safe to use around the most common types of weed but still maintain precaution and don't let pets or children walk on the lawn at least 3 to 4 hours after applying the herbicide.
Overall, with it, you don't have to waste time pulling out weeds manually to have a clean and well-maintained garden.
See More Information about Roundup For Lawns
4. Compare-N-Save Concentrate Grass and Weed Killer
Best Broadleaf Weed Killer For Lawns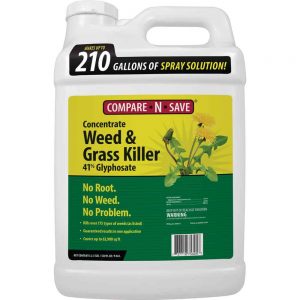 Compare-N-Save concentrate grass and weed killer removes unwanted weed and grass in a single application. You can use it to keep the areas such as driveways and walkways free from weeds and grass. It's also safe to use around flower beds, trees, and shrubs.
While other brands need a few days to show you a visible result, the compare-n-save weed killer gives you results fast. For optimum results, you should apply it on a warm sunny day with a temperature over 60°F and no rainfall forecast for 24 hours.
It's not a selective weed killer as it indiscriminately kills all the green plants around the sprayed area. As a result, you shouldn't use it for spot spraying on the lawns.
It has an active ingredient of Glyphosate that, when sprayed on the plant, gets absorbed through the foliage and travels to the root of the plant, and kills it.
It's a concentrated solution, and you need it to mix with water before use. To prepare the solution, add the three tablespoons concentrated solution in 1-gallon water for general weed control.
If you're dealing with a tougher weed, then you can increase the concentrated amount to 5 tablespoons for each gallon of water. You can use a gallon of mixed solution to cover a 300 sq ft area.
A full bottle allows you to make up to 85 gallons of spray solution. You can use it to spray on a 25,000 sq ft area. It's a post-emergent herbicide that is helpful if you're planning new growth in your yard.
You can start the replanting in a day or two after using it. The use of Glyphosate means you can store it for a long duration as long as it's not exposed to direct sunlight and remains sealed. 
Glyphosate works by inhibiting plant enzymes that are necessary for the plant to stay alive and grow. To remove tougher weeds, try to use it multiple times rather than making a stronger solution.
Overall, it's an effective weed and dandelion killer with the flexibility to adjust the concentration level depending on your needs. Make sure you don't over dilute the solution and be careful when using around flowers or other edible plants.
See More Information about Compare-N-Save Weed and grass Killer
5. BioAdvanced All-in-One Lawn Weed & Crabgrass Killer
Best Value Weed Killer
BioAdvanced all-in-one weed and crabgrass killer is a concentrate-based solution that efficiently kills weeds. You can use it to kill over 200 different types of common broad lead weeds, such as dandelions and clovers.
You also have the option to buy ready-to-use formula, but buying concentrate alone gives you more flexibility. You can customize the potency as per your needs. For the best results, you should apply it when it's not too hot (temperature below 90 degrees).
If you have a newly seeded lawn, then you can use it after the 4th mowing then stop mowing for the next 1 to 2 days after application. Don't apply it to dry a lawn and water it 1 to 2 days before use.
Although it can kill many types of weeds, you shouldn't use it on St. Augustinegrass, Bahiagrass, Carpetgrass, Centipedegrass, or Dichondra. It has an active ingredient of 4-D Dymethylamine Salt that is very effective in killing broadleaf weeds.
The 40-ounce package contains concentrate that can be diluted to cover up 6,200 sq ft area. It's very effective on crabgrass and other weeds. Make sure you follow the proper instruction labeled at the back of the bottle to get the most desired result.
Once applied correctly, it prevents the weed from taking over your yard again. You can always reapply after a few days if you need to. The 4-D compound is carcinogenic, so use precautions when using it and wear protective gear.
Also, keep your pets and children away from the treated lawn for an extended period to prevent any health issues. Overall, it's a very potent and effective pet-friendly weed killer that can help you get rid of the most common types of weeds from your lawn.
See More Information about BioAdvanced all-in-one weed killer
What are the most invasive weeds that grow on the lawn?
The weed growth depends on the area and the external environmental factors.
Remember, weeds are a plant and need an optimal condition to grow. But unlike other plants, weeds are very sturdy and can survive in a harsh climatic condition.
Dandelion
Cornflower (Bachelor's Button)
Blueweed
Bur Chervil Burdock
Common Periwinkle
Common Tansy
Daphne
English Holly
English Ivy
Field Scabious
Garlic Mustard
Giant Hogweed
Knotweeds
Mountain Blue
Oxeye Daisy
Perennial Pepper weed
Wild Chervil
Yellow Loosestrife
That isn't a comprehensive list of weeds. But there is a good chance that you will find one or many of the weed species growing in your lawn.
What are the different types of weed killers?
The weed killer can be both chemical and physical types. Which one you should use depends on the kind of weed you're attempting to get rid of. The most widely used is chemical based weed killers which are known as herbicides.
The herbicides contain toxic chemical solutions that work by killing the weed or inhibiting its growth. The herbicides are further divided into two types, a pre-emergent herbicide, and post-emergent herbicide.
The pre-emergent herbicide is a proactive method of removing weeds. You spray it in your yard before the grass even grows there.
It works by preventing the weeds seed from germinating or forming a root in the ground. Most often, you have to apply pre-emergent herbicide around two to three weeks before the weed germination period.
The post-emergent herbicide is a reactive weed control approach. You use it once the weed starts growing in the yard, and you want to get rid of it. It takes more work as you have to continually spray herbicide on the leaves and roots of weed until it dies off.
The herbicides can be selective weed killer, persistence, or translocation type. The herbicide labeling should tell you it's kind, but if it's not there, then you can determine it yourself.
The selective herbicides are specially formulated toward the specific type of weeds. It only kills the grass without affecting other plants.
For example, if you want to get rid of dandelions from your lawn, then you can choose dandelion herbicide that only kills dandelion. But this also means you may still have other types of weed left in the yard that you have to deal with further.
The persistent herbicide provides ongoing weed control for a while after applying. These contain a generic formula that kills the plant wherever it's used.
You have to be careful as it may kill plants that you want to keep. The herbicide that provides only a short duration weed controlling effect is called non-persistent.
The translocation herbicide kills the plant internally. The roots absorb the weed and circulate it across where the chemical breakdown the internal growth mechanism of the plant.
Here is a short video on how to kill weeds without killing grass.
Homemade weed killer recipe that is safe and easy to make
You have the option to buy commercial lawn weed & crabgrass killers or herbicides on any local garden store or big-box retailers, so why should you bother making it at home?
Well, there is no doubt that commercial weed killers are a convenient and effective way to control weeds. But often, these contain harmful chemicals that are neither good for the environment nor good for your health.
Plus, if you're doing edible gardening, then you may be consuming these harmful chemicals through fruit and vegetable you eat. Some commercial herbicides contains toxic chemicals that may also cause cancer.
If you're not dealing with a chronic weed problem and have a small size yard, then you can use homemade herbicide.
Do you want to know how to make homemade herbicide? Here is the homemade weed and grass killer recipe using only vinegar, salt, and dish soap.
The main ingredient is the vinegar that contains acetic acid, and it kills the plant cells. The salt is a natural dehydrator and stops the weed roots from taking up water and other essential nutrients.
The dish soap helps the vinegar and salt to stick to the plant longer and not spread to other plants.
To make the natural homemade herbicide, mix one-gallon white vinegar with a half-cup salt and a tablespoon liquid dish soap. Mix it correctly to get a homogenous solution and fill it in a spray bottle.
Then apply it on the weed during the warm sunny day. The hot temperature dries up the solution quickly and kills the grass in a short time.
It's advantageous on annual weeds as these have shallower roots. The perennial plants may need a couple of treatments as they have longer rooted.
What to look for when buying a weed killer for lawns
If you want a herbicide that is effective and only kills the weed and not the grass, then you need to consider the following factors:
Weed Types
When you're looking for a herbicide be aware of the type of weed you're trying to remove. It can be either annual or perennial types. It's a bit easier to control annual weeds as the roots are shallow, and once removed, they don't grow.
The perennial weeds have long deep roots, and you need a strongly formulated herbicide that can penetrate deeper into the ground to kill it permanently. Otherwise, the grass will again start to grow.
You can choose a selective grass and weed killer if you have a specific weed that is invading the lawn. If you're not sure which weed killer to buy, you can take the sample weed plant to the local garden store and ask the product specialist to recommend you the effective weed killer.
Coverage Area
The coverage area determines the quantity of solution you need. If you're buying the fast acting concentrated weed killer solution, then you may have to mix it with water to dilute it.
The recommended mixing ratio should be included in the product manual. Make sure that you follow the proper instruction to get the compelling mix.
For tougher weeds, you can buy a higher strength weed solution. But if you have a larger area to cover, then it may not be the most effective option.
In that case, try to combine herbicide with other weed removal solutions such as physically removing weeds around the flower beds.
Proactive Or Reactive Weed Killer
Are you planning to spray the weed killer before it takes hold in your yard, or you already have a weed growing in your yard that you want to remove?
Use a pre-emergent weed killer to control weed growth in the yard. It's handy in the annual weeds and can control invasive plants such as crabgrass. You can apply the pre-emergent weed killer to areas where you see the weed germination, but the roots haven't developed fully.
However, if you already have a weed growing, then it may be the time to use a post-emergent herbicide. Usually, these herbicides have more potent chemical ingredients, and you may have to apply it several times to control the growth.
Be careful when using the post-emergent herbicides. If used carelessly, it can damage the flowers and plants that you want to keep.
Many people use it around the sidewalks, driveways, and fence posts where they don't want any kind of plants.
Weed Selectivity
If you see yellow dandelions all over on your lawn or see large crabgrass covering the flowers and inhibiting its growth, then you can choose selective fast acting weed killers. It causes no problem for other plants and only kills the weed.
It makes it relatively safer to use around the plants that you want to keep. However, you should remain careful and try to avoid spraying it on non-weeds.
Eco-Friendly
The eco-friendly weed killer doesn't damage the environment by leaving residue in the ground that could inhibit the growth of plants for a very long duration.
A highly concentrated fast acting weed killer used for a long duration could impact the soil pH level that could barren the land gradually.
The eco-friendly weed killer contains ingredients that are biodegradable and doesn't linger long to impact the surrounding areas.
When to apply weed killer?
The best time to apply the pre-eminent type weed killer is in early spring to later summer before the weed germination starts.
For those who have a large yard, they can use a spreader for complete coverage. Check the label on the box as it should mention being used in lawn care.
If you have some specific weed growing in your yards such as dandelion, clover, or crabgrass, then use an herbicide that kills these weed types. You can use these anywhere in your garden where you don't want the weed to grow.
The weeds growth isn't limited in the garden alone as you often find these little plants to be growing through a small crack in the driveways, sidewalks, or patios.
These are the tight spot to remove weeds physically as pulling it means that the root remains under the ground, and it regrows after few days.
To remove weed from patios and driveways, apply contact weed killer that also targets the root of the plant and prevent it from regrowing.
Safety precautions when using herbicides
You should take proper safety precautions when using herbicide in your lawn. These are toxic and, if consumed, can do serious harm. You can follow the tips below when using herbicides.
Use protective clothing: The protective clothing such as gloves, goggles, and breathing device reduces the exposure of harmful chemicals to you.
Follow the proper dilution ratio: If you have diluted the herbicide with water or other ingredients, then make sure that you follow the recommended proportion. Avoid adding more than the maximum amount of solution as it could severely impact not only the surrounding plants but also the useful insects and pollinators.
Safely discard the leftover: You shouldn't dump the residual herbicide in the drain. It may become damaging to the environment and may be illegal. Always follow your local guidelines to dispose of chemicals safely.
Conclusion
Getting rid of stubborn weeds isn't an easy task. The easiest thing you can do it to pull it out from the yard, but it may not be possible if you have a more large areas.
The weed killer is an excellent solution for those that have a medium to large size yard and dealing with several types of weeds. You can choose any of the above best weed killers that won't kill grass and start regaining control of your lawn.
If you want to get rid of dandelions from your yard, check out our buying guide of best dandelion killers.
Don't forget to share this post