The autumn would be a back-breaking season if you got a large property with lots of mature trees. Raking all those fallen leaves, dirt, and debris around the yard isn't an easy job.
If you find yourself doing more work than required, then you need some help. And that help is to get the best walk behind leaf blower that gets the job done quickly, way better than backpack blower.
But this is an expensive tool, and it may not be worth buying if you have a small yard or occasionally clean.
It's an excellent investment for those who have large acreage with several mature trees or those who are professional landscapers.
If you want to have a quick pick, you can choose from our top three picks below. We have also provided a detailed review and some other great alternatives, including a buyers' guide, later in the article.
So, keep reading.
Best Walk Behind Leaf Blower To Buy
What is a walk-behind leaf blower?
A leaf blower is a popular gardening tool that you can use to push debris, leaves, sticks, and twigs from your yard, patios, and driveways. This is a highly efficient and far better option than raking leaves in your yard.
The walk-behind leaf blower has a powerful motor that blows air out of a tube and is housed on a pushcart that clears the yard from debris and leaves quickly.
5 Best Walk Behind Leaf Blower Review
What are the different types of leaf blowers?
The leaf blower comes in different styles and shapes. There are three main types, handheld, backpack, and walk-behind.
The blower engine can be powered by gasoline or electricity. The electric leaf blower can be either powered directly to the electrical outlet or are battery-powered.
Handheld leaf blower: It's a portable leaf blower that you carry in your hand to blow away the leaves. Most cordless leaf blowers are handheld types that allow you to move it around.
These are very lightweight and portable. It's suitable for small to medium size yards. Many residential homeowners with a small backyard use a handheld leaf blower.
Backpack leaf blower: A backpack leaf blower is a bit heavier than a handheld leaf blower. These are more powerful than the handheld types.
Carrying it on your back allows you to clean a medium-size yard without getting tired quickly. Most gas-powered leaf blowers are backpack-type. It's a preferred option for both residential and professional landscapers.
Walk-behind leaf blower: Walk-behind leaf blowers are suitable for large yards and are mostly used by commercial landscapers or people living on large acreage.
There they have several mature big trees and get a massive amount of fallen leaves during the autumn. These are heavy and less portable, and the unit is assembled on a wheel to make it easy to push it around.
Why should you choose a walk-behind leaf blower?
You should choose a walk-behind leaf blower if you have a large size yard and several mature trees. It makes it easy to get work done quickly due to a bigger and more powerful motor and blower fan.
You can also use it for several other purposes besides raking leaves, such as removing wet and dried leaves, sticks, dirt, and debris without getting tired.
You shouldn't choose a walk-behind leaf blower if you have a small yard or do not have enough space to move a bulky machine.
These blowers aren't cheap, and you will have a better return on your gardening tool investment with either a backpack or handheld leaf blower.
Read More: 7 Best Gas Leaf Blower in 2021: Give Your Garden Some Easy Autumn Cleanup
How to choose Walk Behind Leaf Blower?
When choosing a walk-behind leaf blower, consider the following points.
Engine
Most walks behind leaf blowers come with a gasoline-powered engine. The engine is rated in cc, and the higher engine power rating means more blowing force you can have. Most gas leaf blowers have an engine rating of 100 to 500 cc or more.
You should also consider the engine manufacturer of the blower. Usually, the engine is made by other companies such as Honda, Cub cadet, Cyclone, and Briggs & Stratton.
The engine is one of the expensive parts of the blower. Choosing an engine brand that is reputable and has easy spare availability makes it last longer and cost less to maintain or repair.
Engine cycle
These types of blowers have a gas engine powered by either two cycles or a 4-cycle engine. Many entries to mid-level units come with a 2-cycle engine as it's convenient to use and more compact.
However, the 2-cycle engines are loud and need gas and oil mix fuel to operate. The larger and more powerful blower comes with a 4-cycle gas engine that runs quietly and uses fuel efficiently.
You don't have to mix gas with oil for it to operate. However, these are more expensive than the 2-cycle engine.
Airflow Speed
The airflow speed depends on the design of the blower fan and the motor powering the fan. You can find the rating on the blower specifications that tells you the Miles Per Hour (MPH) and Cubic Feet per Minute (CFM) airflow rating.
The higher the MPH and CFM in the leaf blower, the more challenging task it can handle. But it also means a bigger engine and higher fuel consumption. You should pick the correct rating blower, so you get the most value out of it.
Noise
All blowers are going to be noisy, and there is no other way around it. The noise comes from the gas engine itself and the air flowing through the fan.
You can find the noise rating in dBA on the blower. If you're living in a residential area, then make sure you buy the blower that generates the minimum noise possible.
Design
An ergonomically designed blower makes it comfortable to use for routine yard maintenance. The smooth-moving front and rear wheels make it easy to push, and you can quickly maneuver around the tight corner and rough ground surface.
The ability to control the airflow direction with a flap is a nice feature in the blower. You can simply turn the flap rather than turn the massive fan in the direction you want to clean.
The comfortable paddle handle makes it easier for your hand to push it. The adjustable speed control allows you to change the blower speed depending on the task quickly.
Price and Warranty
Let's admit it; the walk behind leaf blower isn't a cheap yard maintenance tool. It's more expensive than the handheld and backpack-type leaf blowers. But you also get more power, speed, and durability that makes cleaning your yard quick and easy.
Choose the leaf blower that comes with a more extended warranty. Most blowers come with a limited one-year or more manufacturer warranty.
A longer warranty blower protects your investment and gives you free repair or replacement if anything goes wrong during the warranty period.
How to use a walk-behind leaf blower?
When you're ready to use a leaf blower, place it outdoor on a level ground free from tall grass and debris. Check the oil level and fill it up if needed. Don't overfill the oil and inspect the gasoline tank that it's half full of gas.
If you're using it first time after long storage of more than two months, replace the gas with fresh gas. Make sure not to spill the gasoline on the ground.
Then, you start the engine and walk behind it in a semi-circular pattern, pushing leaves and branches to the collection spot.
While walking, make sure you maintain a secure footing. Walk across slopes and hills carefully. If you slip or fall, stop immediately. Don't push the leaf blower up or down a hill as it causes a safety risk.
Keep your face, hands, and feet away from the blower while operating. You can use the short airburst to move leaves to the clearing spots.
If, during use, the leaf blower starts to vibrate, turn it off immediately. Once you have a massive pile of leaves, start putting it in a garbage bin so it won't blow off.
How to properly maintain the walk behind leaf blower
You can keep the blower in proper running order with adequate maintenance. Before you start cleaning the blower, make sure the engine is turned off, and the leaf blower has cooled down. Remove any dirt or leave it stuck on the fan and check the blower for any fuel leak.
You should inspect all fasteners on the blower monthly or every 10 hours of operation and make sure they're firm and secure. You should also change the engine oil and air filter every 25 hours or each season.
Clean and replace the spark plug if it appears to wear off. Clean out and flush the fuel system to maintain fuel-efficient operation. Always store it in a garage or shed that is away from children and pets.
How much the best walk behind leaf blower weighs
The weight of the walkout leaf blower depends on the make and model of the blower. On average, it ranges from 80 lb to 110 lb.
For example, Troy-Bilt walk behind gas blower with 150 MPH and 1000 CFM weigh 87 lb whereas Beast commercial duty leaf blower with 155 MPH and 1250 CFM blower weighs 110 lb.
Since the blower is housed on the wheel, the weight isn't a huge issue as long as it has a good set of wheels and an ergonomic handle to push it.
What kind of oil can you put in a walk behind blower?
You need to use unleaded gasoline oil in the walk behind blower. If it has a 2-cycle engine, then you may have to mix motor oil in it. But if you're using a 4-cycle gas engine, then you don't need to mix oil.
When filling oil in the tank, ensure that there should be a ½" air gap between the gasoline and the gas cap. Clean up immediately any spilled gas and don't turn on the engine until the odor of the gas vapors has gone away.
What to do if the gas blower engine won't start?
Most starting problems in gas engines occur due to dirty gas or improper storage of the blower. If you don't remove gas before storing it for a long time, then the gas sits in the carburetor and "gums" up. This prevents the leaf blower engine from starting.
This happens due to fuel additives such as ethanol added to the engine. You shouldn't use E15 gasoline as it may cause damage to the engine. You should flush out the old oil and clean the carburetor and try it again to start.
If you're still unable to start the engine, check the oil level and make sure the fuel valve is in ON position. Also, check the air filter, and if it's dirty and clogged, then clean it up. Remove the spark up and clean it as a dirty spark plug won't burn the fuel properly.
Make sure the spark arrestor is clean and allows the exhausted air to pass without any hindrance. These are some preliminary troubleshooting steps. If the blower still doesn't work, you may have to bring it to the authorized service center.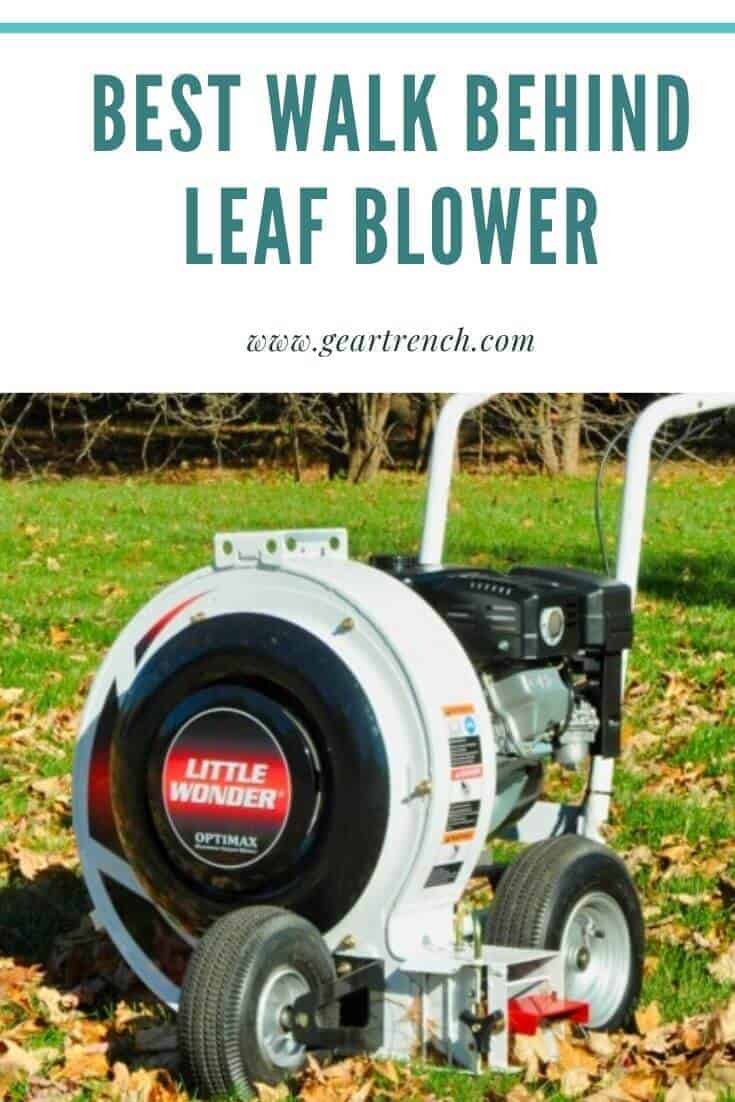 Don't forget to share this post