Do you want to have your own Koi pond but need some inspiration? We collected here 33 awesome backyard pond ideas which you will fit any budget and space requirements.
It absolutely takes a lot of effort to build and maintain a water garden. But once completed, you can enjoy nature in your own backyard garden.
Check out these Koi pond ideas which will not only impress your neighbors but will also make you say wow whenever you step into your backyard.
1. Lit Up Pathways Koi Pond Ideas.
Walking on this glassy bridge with water flowing underneath it and lit-up lights create an aura that calms you down and takes away all the stress of the day.
2. Piano Waterfall
This is a unique piano in a world as it flows the sound of nature. The water falling through the piano keyboard emits the music of a waterfall which I am sure no other musical instruments produce.
3. Koi Pond Gala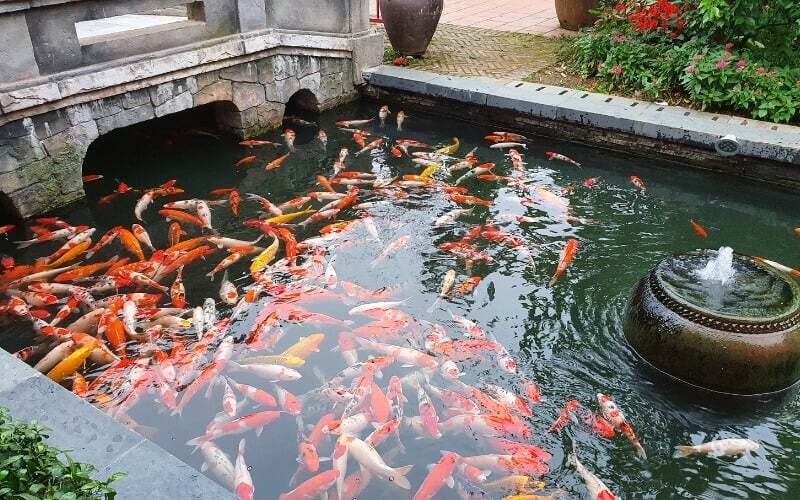 The simple but elegant design of the Koi pond has transparent glass at the front. You can see the colorful Koi fish from any direction. You can fill the basin with brightly-colored Koi fish which will catch anyone's eye.
4. Wall Waterfall
The rock wall with multiple crevices from where waterfall at the floor. You can hang your flower plants or put statues on the wall for an extra touch. This is a neat design, and you can build inside your house without breaking a bank.
5. Koi Pond Zen Garden
This Koi pond gives a feeling of a Zen garden with all the stones and the walkout pathways. The serene view of Koi fish swimming and feeding gives a sense of a Zen garden.
6. Relaxing Koi Pond
This is a small koi pond that you can build with any little outdoor space to spare. The small pond with a wooden deck and a couple of chairs are all you need. You can pick up a book or grab a coffee after work and sit down on the chair, and time will fly by.
7. Rustic Pump Koi Pond Idea
Make a wish in this rustic pump koi pond. The water flows from the leading wall and the pump. As an added bonus, you can plant small leafy flower plants to get the natural-looking colorful backyard pond.
8. Nature's Spa Backyard Pond Ideas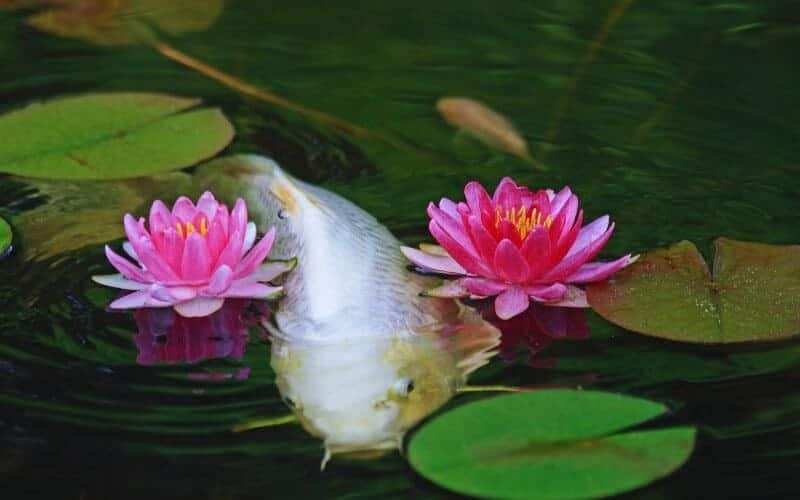 This backyard pond looks modern and natural at the same time. The falling water from the rock gives the feeling of a dramatic water feature.
9. Swimming Pool And Koi Pond
What about this, you swim in the freshwater swimming pool while looking at the pond full of fish. It gives the vibe of being in a resort plus being close to nature.
10. Stoned Pathways Backyard Pond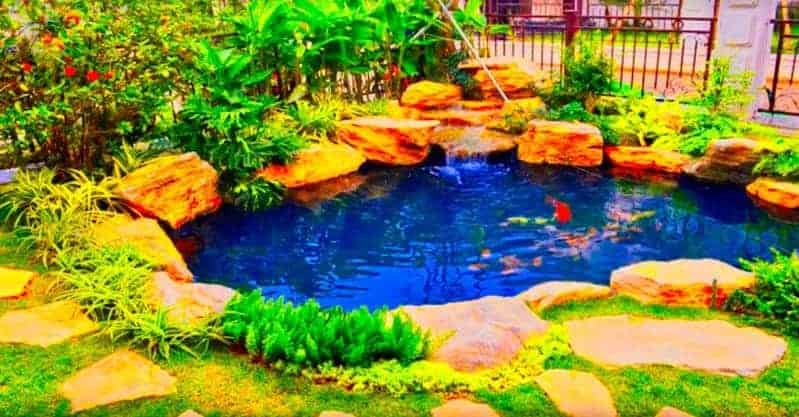 This intriguing koi pond feels authentic with natural granite surroundings and blue water. The plants around the backyard pond make the backyard look so close to nature.
11. Backyard Pond Simplistic Beauty
This is a very simple but beautiful-looking backyard pond. You can even build it around your driveway. I love this simplistic design and pay close attention to the little water flowing over the rock.
12. Rocky Mountain
Seriously, this is not a rocky mountain, but having it in your backyard pond will give you the appearance of having a private rocky mountain in your own backyard. The small waterfall, along with naturally grown grass looks very appealing.
13. Flowing River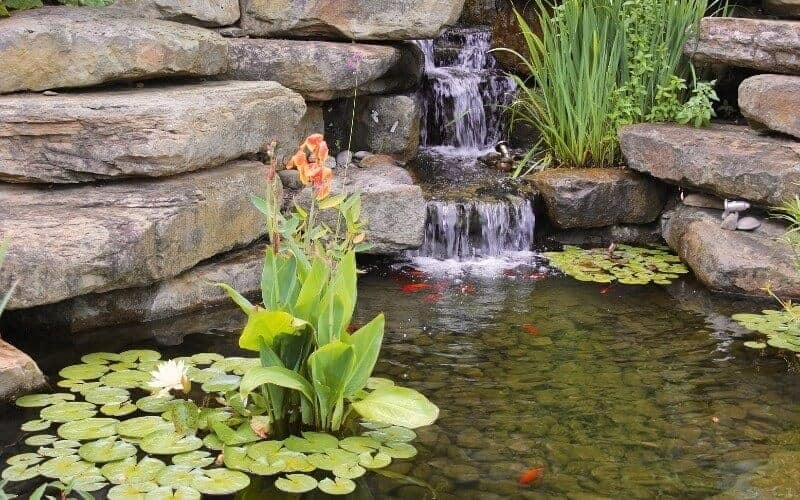 Do you like the idea of water flowing around your home? Well, you don't have to spend a fortune to get the prime spot to build a house on the riverside. Now you can bring a river to your home. What you really need is money in the bank and a skilled landscaper.
14. Rock Garden
This water garden looks small, but there is no compromise on the natural looks. You can plant water lilies in the garden which keeps the water clean and bloom in the summertime.
Read More: Cottage Garden: Everything You Need To Know To Get Started
15. Cottage Villa Backyard Pond
Build a cottage around the pond. Call your friends on a beautiful sunny day to grill a barbeque. Not a fan of getting into the crowd, then place a chair around this peaceful backyard garden and see how your pet koi fish is doing.
16. Lost In The Jungle
Want to get lost in nature? Then, probably move out of city concrete jungle and get on to the countryside. You will need a bit more space to get this backyard pond to its full glory. Carefully grown plants around the koi pond will make you feel like Alice in Wonderland or probably like Tarzan.
17. Backyard Pond Walk
A tiny wooden bridge in a backyard pond with little water trickling from the sideways is all you need to get started for the morning and evening pond walk.
18. Koi Pond Soothing Melody
This rock-laden backyard pond is an impressive creation of using rocks and plants in between. The polished granite rock creates a beautiful border around the lake while the water lilies inside give more depth to the backyard pond. Get inspired with this backyard pond idea as there is an unlimited possibility of creation.
19. Hot Summer Backyard Pond Ideas
On a hot summer day, this pond features a covered gazebo with a small water stream flowing through the rocks. A project like this is certainly not for a faint-hearted, but the result speaks for itself.
20. Walking Alone
A cluster of small rocks and the narrow backyard pond saves the space while giving you all the beauty of a backyard pond.
21. Crowded World
Not a fan of walking alone backyard pond, here comes the crowded world. Give your Koi fish lots of company of other fish, so they don't get bored. Keep all of them in different colors to keep the diversity alive in the aquatic world.
22. Low Budget Backyard Pond
Don't have much money to spend around getting a backyard pond? Well, you will like this option of the low-budget backyard pond. Head over to your landscaping shop and grab this cement block and fill it up with water and some aquatic plants. Once you get more space, you can always upgrade with another block. After all, Rome wasn't built in a day.
23. Garden Angel
This little Garden angle and her companion frog (if you can find it in the picture) is all you need to get a perfectly beautiful backyard pond. Native plants around the lake make it an excellent addition to the simple garden look.
24. Waterlog Koi Pond Idea
Get brick pathways around the backyard pond and place a waterlog from where you can flow the water to the lake. Don't forget to add the interested frog near the plant to add a new dimension to your backyard pond.
25. Mini Spring
A rustic-looking container with a small stream of water flowing over it creates a unique atmosphere for relaxation. If you look closely, you'll see the tiny Japanese sculpture. The sunlight passing through the broad plant leaves gives a nostalgic feeling.
26. Water Wall
This modern-looking water wall looks lovely from any angle. It's simple but elegant-looking small rock walls, and the surrounding bush looks great for any urban backyard or front yard pond.
27. A House Beside The Backyard Pond
This backyard pond has several things which make it a picturesque landscape. A small house and a chair to sit around and relax. The medium size Koi pond with water lilies in it. And to complement all this, you get long-grown trees and a wooden pathway.
28. Circular Koi Pond
This circular koi pond looks modern and simplistic. The rock stone pathways make it inviting to walk over it to see the Koi fish. The surrounding area is covered by small size plants to enhance the look of this backyard pond.
29. Landscaper's Dream
Let's admit it, if we didn't have any restriction on the budget or space, then this is what we really want. A backyard koi pond that does not seem to be bound by any limitation. It looks natural, and the plants surrounding it adds lots of texture.
30. Urban Backyard Pond
A mixture of contemporary rocks and a concrete water basin which flows slowly cutting along the stones makes it look like another Grand Canyon in the making.
31. Lost Angel Koi Pond Idea
This backyard Koi pond idea is different. The placement of long and heavy white rocks along the water flow pathways and the broad leaves surrounding the pond gives it a distinct look. Not sure about you, but when I look at that little angel, he seems so lost in the beauty of this Koi pond.
32. Lighting Backyard Pond
Do you want a backyard pond which you can see at night? Look at this, the careful placement of lights under the waterfall gives a glowing water look. The light spreads when it hit the water, and the bright color of Koi fish in the pond complements water lightings.
33. Stone Pathways Backyard Pond Ideas
Stone pathways around the garden and the backyard ponds combined with small grown trees and flowers give it a distinct look. This water garden is unique and definitely not for everyone. But the addition of small ponds and the koi fish in these ponds catches eyes. It's hard to resist not spending most of the time in this backyard.
Don't forget to share this post