Do you need some creative ideas to make your home look good? Well, today is your lucky day. We are going to give you 35 landscaping ideas which you can use at any size garden and at any budget.
A beautiful serene landscape will make your outdoor area inviting, comfortable and stylish to relax and spend time with family and friends.
The inspiring landscape view is also a great way to bump up the value of your home while creating a relaxing and comfortable space for you. Several experts came up with creative ideas to make your yard look beautiful. 
Landscaping Ideas for Front of House
1. Succulent Paradise Landscaping Ideas
A collection of succulents makes your front of the house inviting with lush green and beautiful cut flowers.
2. Beautiful Stone Pathway Simple Landscaping Ideas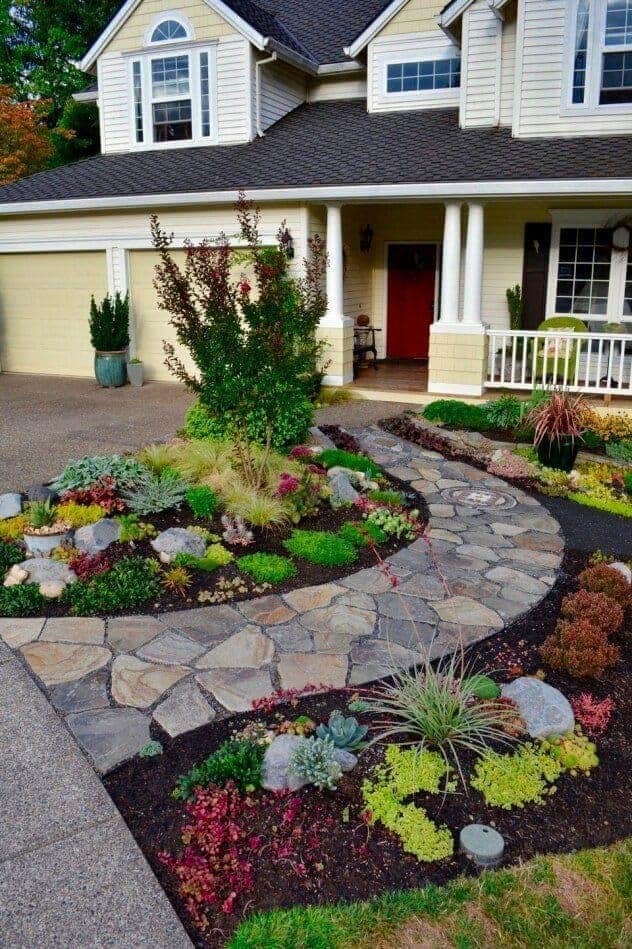 A stone pathway makes your house front looks elegant and divine. Plus, it's a cheap DIY project that you can do within your spare time.
3. Rocky Driveway Stylish Front Yard Landscaping Ideas
Who said you can only have a concrete driveway? A driveway built with crushed rocks and gravel works great in any season and looks beautiful.
4. Circular Fountain Driveway Landscaping Ideas
Well, this one is no-hold-barred driveway. If you got more space in front of your home and didn't know what to do, then try this circular fountain driveway. Get this extravagant driveway to complement your high-end living place.
5. Green Pathway Landscaping Ideas on a Budget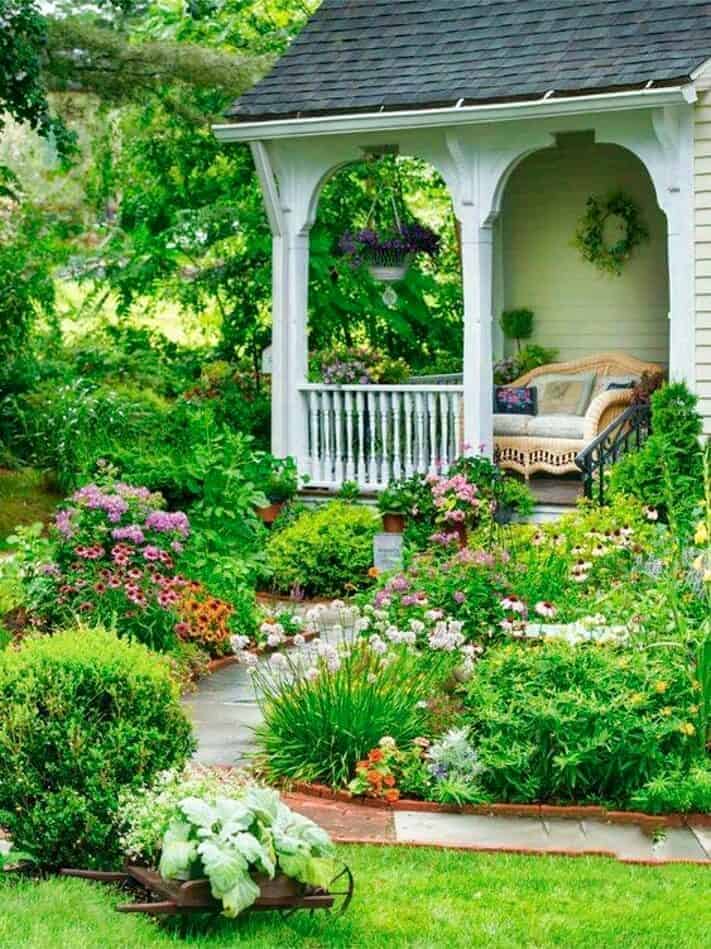 Stretch your front of the house into inviting green pathways with lush green leaves and flowers.
6. Modern Stone Rack Landscaping Ideas for Privacy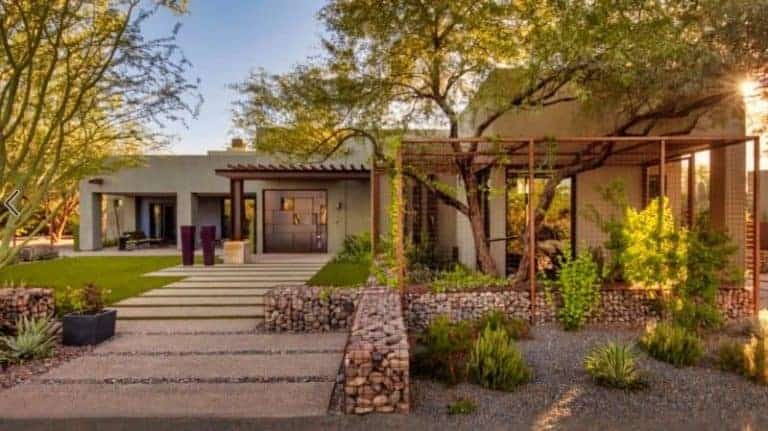 Some caged rocks and the simple layout entrance to the home can work wonders. Who said, simplicity can't be beautiful.
7. Glowing Rocky Stairs Landscaping Ideas for Front Yard
Put some rocks and gravel on this modern-looking bright home, and you will get a combination of modern and natural.
8. Leaning Cypress Tree Front Yard Landscaping Ideas
Towering cypress trees at the front of your home makes it look that these trees will welcome every guest coming to your home.
9. Brick Walkway DIY Landscaping Ideas
Brick walkway with solar lights around it makes a lovely walk with a good visual impact. Did we say it is easier to build and maintain?
10. Rocky Stones Easy Landscaping Ideas
Natural landscapes full of rocks and gravel bring the aesthetic of nature to the front of your home.
11. Light Delight Bright Landscaping Ideas
A big and open full-front yard with sidelights makes your home looks way different than other houses in the block.
12. Fenced Gate Privacy Focused Landscaping Ideas
The modern and sleek fence with a designed gate and frontal landscape with beautiful flower pots just look inviting.
13. Paver Walkway Front Yard Landscaping Ideas
Modern Front Walkway with lots of flowers and a front garden makes gives its distinct look.
14. Garden Galore Simple Landscaping Ideas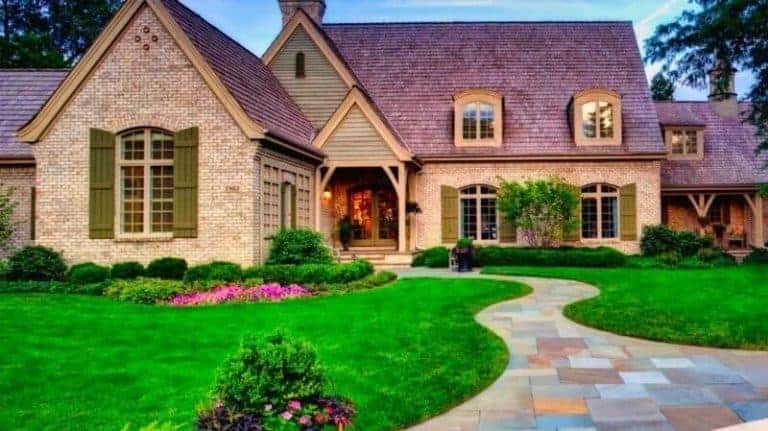 A simple frontal pathway with lush green lawn from both sides and a touch of flower bed gives a perfect landscaping recipe for the front of your home.
15. Queen's Cottage Garden Vintage Landscaping Ideas
The vintage-looking lush green garden with a flower arch makes the old cottage garden look back.
16. Shades of Summer Around House Landscaping Ideas
Surrounded by tall green trees and a carefully crafted front yard landscape with a touch of blooming flowers gives you all the shades of summer.
17. Rainy Day Landscaping Ideas for Small Front yard
A curved pathway with a slab of rock and concrete blocks and the flower bed around it makes it look beautiful path.
Low Maintenance Landscaping Ideas for Front of House
18. Rustic Foliage Simple Landscaping Ideas
Gray concrete and stone-colored walkway keep your front of the house looking clean and textured, and seasonal plants give your garden year-round good looks.
19. Waterfall Gateway Nice Looking Landscaping Ideas
A well-crafted rock and water falling through it give the Zen-like feel. A low- maintenance landscape design.
20. Lighting Pathway Ambient Landscape Design
A well-illuminated light fixture to match your home style complements your home looks.
21. Country Living Landscaping Ideas at Front of House
The front fenced yard, stone walkway, and light-colored windows sidings give the country-looking feel.
22. Water Pond Amazing Front Landscaping
Add a small pond with some fish and frogs that will make kids hang around the lake. Just make sure kids are safe.
23. Relaxing Bench Comfortable Landscaping Ideas
Bring your indoor comfort outdoor with a relaxing bench and flower sidings.
24. Flower Stairways Elegant Landscaping Ideas
Roll flowers around the stairways give a distinct look.
25. Dress it up Landscaping Ideas for Small Areas
Dress up your driveway with green flowery bushes and shrubs.
26. Flowery Details Simple Landscaping Ideas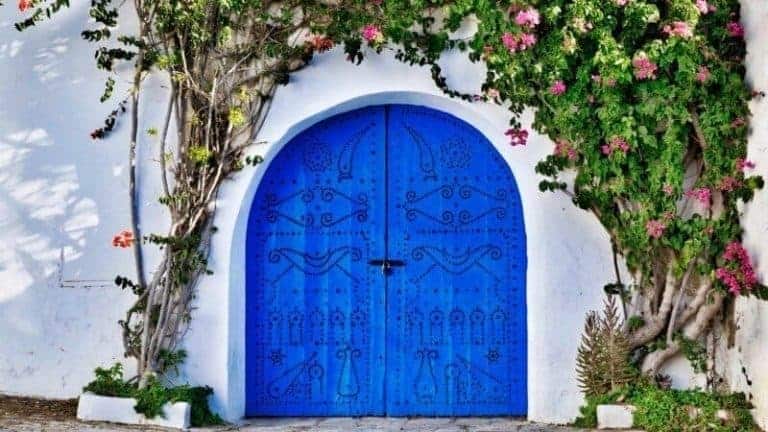 Dotted design gateways in bright blue color and the side garden bush gives an extra touch.
27. Planter Baskets Landscaping Ideas for Big Front Yard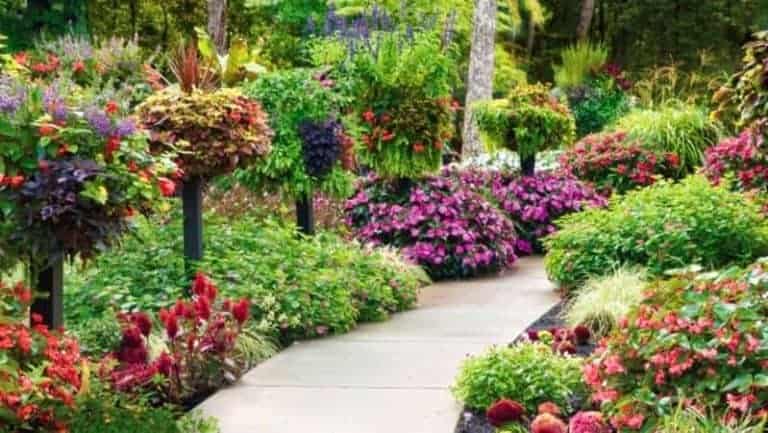 Add planted basked with seasonal and perennial flowers for all seasons.
28. Grassy Number Landscaping Ideas for Any Home
Get classy, don't treat your home number just as a number but a hallmark of aesthetics and design.
29. Comfortable Welcome Simple Landscaping Ideas
Get your family and friends to come over and treat them with comfort and luxury outside of your home.
30. Flowery Border Landscaping Ideas Around House
Give a flowery appeal to your front side fence with an adorable picket fence.
31. Rocky Looks Modern Landscaping Ideas
Don't have much time to maintain the front yard? Don't worry you can have your cake and eat it too with this simple but effective landscape design idea.
32. Pinky Door Distinct Landscaping Ideas
A pink door paint and bright blue color gives a distinct look and makes you famous in your neighborhood as a proud owner of "Pink Door."
33. Pallet Planters Easy Landscaping Ideas
Have some pallets lain around? Hang them on the wall and use them as a planter.
34. Container Garden DIY Landscaping Ideas
Don't have much front space for a flower bed? Don't worry, plant your flowers in a container and leave it in front to make an inviting home. This is an excellent landscaping idea on a budget.
35. Plant Mixer Low Maintenance Landscaping Ideas
Treat your home with fresh and dynamic looks with various eye-catching plants. It will give your home a beautiful and inspiring look.
Don't forget to share this post