Lawnmowers can be a necessary part of anyone's gardening or landscaping routine, but they can also be expensive. A newer lawn mower can cost anywhere from $250 to over $1,000. Buying a new mower when you're not going to use it regularly won't give you the best investment return.
I recently bought a used zero turn lawnmower and did quite a bit of research on where to buy the used lawn mowers that fit my budget and need. I searched several places and found various outlets to buy lawnmowers and other gardening tools.
This article covers various places to buy the used gardening tools and the expected price for second-hand lawnmowers.
Let's roll.
Where to buy used lawn mowers near me?
If you've searched "Where to buy used lawn mowers near me?", there are three ways you can acquire a lawnmower. You can buy it new, buy used, or rent it.
You can also borrow from your neighbor, but that may not be a long-term sustainable option. And you don't want to spoil relation with your neighbor if anything breaks while in use.
If you're looking to buy a used lawnmower, there are several different places to buy it. Here is the list of 16 places to get the most reliable used lawn mower deals.
1. Local Dealers
Several gardening and home hardware shops sell second-hand lawnmowers and other gardening tools.
Here is a list of dealers you can contact, depending on your location, to buy used and a new lawnmower. If you don't find one near your area, Google "used lawn mower near you" to get some suggestions.
List of locations to buy new and used lawn mowers
Location
Address
Marysville, TN
Broadway Outdoor Power Equipment
2017 E Broadway Ave, Maryville, TN 37804
Lebanon, IN
Bane Welker Equipment
10303 S Iris Rd, Plymouth, IN 46563
Louisville, KY
The Mower Shop
12923 Ford Dr. Fishers, IN
Ogden, IA
Anderson Car and Tractor Corp
3030 N Rangeline Rd, Joplin, MO 64801
Greensboro, NC
BT South
4416 Groometown Rd, Greensboro, NC
Hampshire, NH
Seacoast Power Equipment
106 Lafayette Rd, North Hampton, NH
Kitsap County
Evergreen Mowers
16514 Ash Way, Lynnwood, WA 98037
Freehold, NJ
Barg's Lawn & Garden
876 NJ-33, Freehold, NJ 07728
Austin, TX
Travis Tractor & Lawn Equipment
5700 S Congress Ave, Austin, TX 78745
St. Louis, MO
Louis Equipment
807 Mcarthur St, Cheboygan, MI 49721
Fayetteville, TN
TriGreen Equipment
Multiple Locations
Crawfordsville, IN
Booth Machinery Sales
2645 US Hwy 136, Crawfordsville, IN 47933
Conroe, TX
Lansdowne-Moody Company
Multiple Location
Duluth, MN
Denny's Lawn, and Garden
4122 Woodland Ave, Duluth, MN 55803
Fishers, IN
The Mower Shop
Multiple Location
Houston, TX
Houston Saw & Turf Equipment Co
3602 Navigation Blvd, Houston, TX 77003
Montgomery, AL
Capital Tractor, Inc
1135 NY-29, Greenwich, NY 12834
2. Craigslist
Craigslist is an excellent place to find used gardening tools. You can search for it under the farms and equipment category.
You may find a wide range of prices and conditions of lawn mowers for sale. You can filter the listing based on your location and price to narrow down the options.
If you don't see the mower you like, you can increase the location to find the lawnmowers listed.
3. Kijiji
Those who are in Canada or United States may be familiar with Kijiji. It's an online classified service owned by eBay and functions similar to Craigslist, providing a listing of several items.
It has a very intuitive interface and contains filters to search lawn mowers by location and find something within the same city or near you.
There were options for both new and second-hand lawnmowers when I last checked. You also can use the search function to find the specific make and model of lawnmowers.
4. Amazon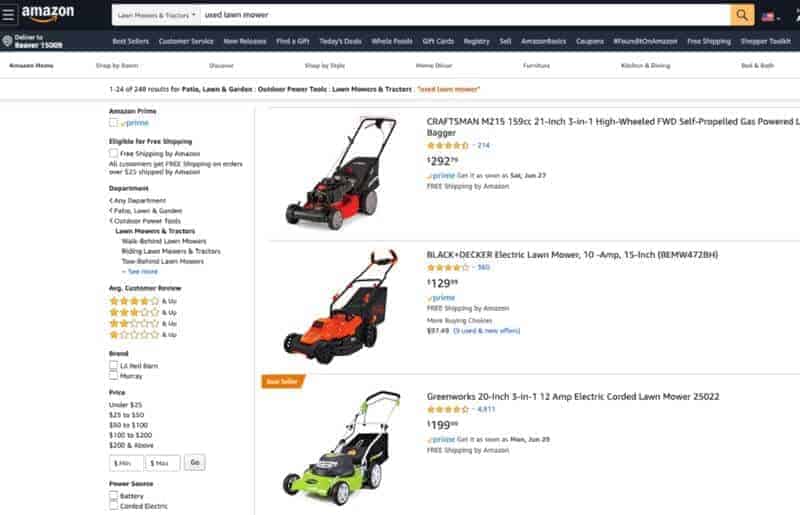 Amazon is a great place to buy refurbished and new items. With Amazon, you're not restricted to purchasing items from local suppliers. Amazon will ship it to your address. Many refurbished lawn mowers are almost brand new and come with a warranty.
You almost get a new lawnmower at a discounted price. It's a good option for those not looking for bargain bottom prices but a reliable gardening tool with a warranty.
You can check out the refurbed Amazon lawnmower at this link.
5. eBay
eBay is another eCommerce giant that allows you to buy used items at a discounted price. It has private sellers listing their equipment and comes with a money-back guarantee.
eBay can be an excellent place to start if you're looking for a used lawnmower.
6. OfferUp
OfferUp is another excellent web portal to look for used gardening tools. You can filter it down near your location and search for refurbished lawn mowers such as cub cadet, John Deere, and other gardening tools.
I also found newer listings of gardening tools and lawnmowers at lower prices than retailers.
7. TractorHouse
The Tractorhouse has a large inventory of used farming and gardening equipment from most major manufacturers. You can filter the listings and find a used lawnmower suitable for you.
8. American Freight
American Freight used to be a Sears outlet rebranded after Sears's closure. Here you find several refurbished riding lawn mowers with a considerable discount.
9. Facebook Marketplace
The Facebook marketplace is a great way to buy and sell local items. You may also find an option to get it shipped to your home address.
When searching, you can set your location and physically find used lawn mowers near you to visit and negotiate with the seller.
10. Pawn Shop
A pawn shop is a great place to buy used gardening tools. The price of pawnshops is very reasonable and often unbeatable. I have found John Deere's used lawnmower in excellent condition selling for less than $120. The same model was selling new for more than $450 at Home Depot.
Buying at a pawnshop also reduces the risk of buying from the local private seller, as the pawnshop will often provide you with the receipt of the purchase. There won't be any risk to you of buying stolen property as with individual sellers.
11. Charity Donation
Charity donation places to buy a used lawnmower have become increasingly popular. There are many reasons for this, including the fact that used lawn mowers are often cheaper than new ones, and they can be an excellent way to get a used machine without spending a lot of money.
Find out the local charity donation in your area where they often have good condition lawnmowers donated by people for a potential buyer. People donating their equipment to charity get a tax deduction that lowers their taxes owing that you can benefit from buying cheap while supporting a local cause.
12. Small Repair Shop
Another option is to head for your local small engine repair shop. They often purchase used and broken lawnmowers that they refurbish and sell at lower prices.
You often get a better deal here than at the salvage yard, as most repair shops warranty on selling these refurbished used lawnmowers.
13. Local dealer
If you have a particular lawnmower in mind, check around the nearby local dealer who often sells refurbished models at a discount. They also provide a warranty for additional peace of mind and take care of any issue without further spending.
14. Google Search
A general google search of "where to buy used lawn mowers near me?" will probably come up with valuable recommendations of places where you can buy used lawn mowers in your area.
This includes large resale stores, reputable establishments selling used products, and local garage sales. If you're searching to get a used lawnmower, you may also come across small sell-offs.
15. Lawnsite Forum and Marketplace
Browse through lawnsite forums to find a community designed to give lawn care solutions. You can ask questions, determine responses quickly, and look at what other people are saying.
In addition, the local marketplace is an excellent platform for buying used lawnmowers. Some local businesses know their potential customers hang out at these places, so they often try to post used mowers for sale on the site.
16. Ask Friends and Families
Many people underestimate the value of their networks. You can get a great deal by getting in touch with friends and acquaintances.
You could inform them you are interested in buying a used lawnmower, and before you know it, one of them will call you to let you know if someone in their circle is selling one.
What do you need to know when buying a used lawn mower?
Buying a used lawn mower is different from purchasing a new one with a warranty.
When you buy a used item from a private seller, it's most commonly sold as it is. This means once you have made the payment, there is no recourse, and you will enjoy the benefit or hassle of owning that equipment.
You must consider the following factors when buying a used lawnmower.
Check for any damage
It's given that the used lawn mower will have dents and cosmetic damage to it as it won't look the same as any new mower. But you should check it for visible damage to the body.
Any major dents, crack, and rust on the body means the lawnmower won't last long. You can also negotiate the price depending on the damage to the body and the approximate repair cost.
Take a trial run
You should always strive to buy a lawnmower that is in running condition. Some sellers may claim that the lawnmower isn't operational and needs cheap repair.
Unless you're a mechanic and know inside and out about the lawnmower, you won't see the extent of damage or if the seller is downplaying the extent of damage to the lawnmower. Do a test run before buying the equipment.
Lawn mower engine
The engine is the most expensive part of the lawnmower. Knowing the engine's power rating and the engine condition should give you some good indication about the deal.
You may ask the seller to provide engine service or maintenance records. The well-cared lawn mower should have records of regular maintenance. It indicates how well the owner has taken care of the machine.
Warranty
A new lawnmower usually comes with several years of warranty. The warranty gives you added peace of mind that it will be taken care of if any problem happens during the warranty period.
Some buyers also buy an extended warranty coverage beyond the standard manufacturer's warranty. Don't forget to get the warranty card to use when needed.
Price
The price is an important consideration when buying a used lawnmower. Before you start negotiating on price, check the price of a newer model to get some idea about the price range.
You can then provide your offer, depending on the condition of the used lawnmower. You often pay less than 60% than the newer model unless it's almost brand new and has an extended warranty.
How much is an old lawn mower worth?
The price of the old lawn mower depends on the make, model, and overall condition. Usually, you can find old lawnmowers anywhere from $70 to $250.
You can also depreciate the lawnmower value at a 15% to 20% rate. That means an average well-maintained lawn mower lasts anywhere from 5 to 7 years.
So, if a lawnmower is three years old, you can expect to get a 45% to 60% price discount compared to the newer lawnmower.
You can lower the price if there is additional damage to the equipment or any issue with the engine. Most used lawn mowers for sale by owners through a garage sale can sometimes be bought for less than $50.
What is the benefit of buying a used lawnmower?
Buying a used lawn mower is an economical option for people looking for a mower to use in their gardens. It is also a good choice for people who want to do some gardening and willing to invest in good quality but affordable lawnmowers.
There are many benefits of buying a used lawnmower. For example, it saves money, time, and the hassle of purchasing one new, and it helps keep the environment clean through recycling.
If you don't have enough time to maintain your garden, a used lawnmower can be an excellent choice as it is much cheaper to buy than a new one.
How long do cheap mowers last?
Mowers can last from a few months to a couple of years, but the average lifespan of a mower is around 8-10 years with proper care.
Cheap mowers usually have shorter lifespans, around 5 to 6 years, because they are made with lower quality components that can break or wear out faster. If you plan to buy a cheap mower, do your research and find one that has the features you need and is guaranteed to last.
Conclusion
In conclusion, buying a used lawn mower is a great way to save money and invest that money back into your yard. There are several places where you can find a used lawnmower, so do your research to find the best deal. Once you have your lawnmower, be sure to take care of it to last for years to come. Thanks for reading!
Don't forget to share this post