When it comes to managing your lawn, a lawn mower is an essential gardening tool. But let's admit it, these aren't cheap.
You want your investment in the mowing tool to last long and be available to use whenever you need to mow your lawn.
If you research more about the walk-behind mower or riding mower brand, you will often find different recommended brands with mixed reviews.
In this article, I have looked into mower brands with the highest number of complaints from users at various social media forums, retail outlets, and consumer reports.
The most common complaints were regarding:
Quick breakdown
Under-performance or non-starting engine
Expensive or hard-to-find replacement parts
Poor customer service
Warranty non-coverage
When I looked into the details, some brands had the most complaints.
Here is a list of 7 lawn mower brands to avoid:
It's essential to let you know that these companies produce several different mower categories.
The most popular are riding lawn mower, push lawn mower, and zero turn mower. I'm here talking about specific models that you should avoid.
Later in the article, I have included alternative brands that you can buy with confidence.
Let's jump in
What makes a lawn care mower reliable: 5- step approach
When it comes to finding a reliable lawn care mower, you should look for these characteristics in it:
1. Powerful engine with fewer repair needs
There are two types of engines you can find in a mower. It can be either gas-powered or electric motor. The gas-powered machines are either two-cycle or four-cycle engines.
A low-powered engine may look able to handle the rough turfs in your yard but may not be able to make a cleaner cut to the grass. Buying a more powerful engine may also become overkill as it then becomes bulky and much harder to operate.
Gas engine lawn mower most commonly used in riding or zero turn mower has general complaints about starting the engine. At the same time, most electric-powered mower engine becomes underpowered.
For cordless mowers, the batteries often need to be replaced to get the job done. There are also mower attachment options that you can hook behind the lawn tractor.
A good walk behind mower engine needs to have enough power to handle turfs on the lawn. It should be easy to start in any season without needing a repair. Honda engines are reliable and robust.
2. Adjustable cutting deck height, size, and sharp blades
An adjustable cutting deck height gives you the option to determine the length of grass clippings from anywhere 1 to 3 inches.
A cutting deck made of heavy-duty stamped steel improves the strength and durability of the edges. In a mower, there are different sizes of decks available. You should choose the deck size depending on your lawn size.
Here is a brief guideline on choosing a mower deck size based on your yard area.
| Lawn Size | Deck Size |
| --- | --- |
| 1-acre lawn | 40-inch deck |
| 2-acre lawn | 42-inch to 46-inch deck |
| 3-acre or more | 50-inch deck |
The right deck size reduces the time required to mow the lawn. The mower's sharp blades give you a far better clean-cut regardless of grass or leave thickness and hardness.
3. Durable and long-lasting build quality
When choosing a lawnmower, you want durable and long-lasting build quality. It should have an ergonomic design with a variable speed adjustment option to get the job done quickly.
Corrosion happens to the poorly built mower, and it starts falling apart after a couple of use. When you cut grass on your lawn, the mower is subjected to considerable force due to blade movement.
A high-quality material can withstand extensive wear and tear and last longer.
4. Mulching and bagging performance
A mulching and bagging feature in the mower makes it far easier to maintain your yard. Mulching and bagging remove the need to return and collect the clipped grass from the yard later.
A mower with no bagging feature means it will have a side discharge option. This may be fine with some people as they don't mind cleaning their yard after mowing, but this is avoidable extra work.
Some mower brands have poor design choices due to which it doesn't bag properly, and you often have to empty it to continue.
5. Good value to price
A typical self-propelled mower can cost anywhere from $100 to over $800. This all depends on the power and features available on the mower.
When you're investing in a gardening tool, you want the best value to price on it. It's a waste of money to overspend when you're not going to use all the features available in the mower.
This also means you don't want to cheap out and buy an underpowered or old technology mower that doesn't fit your need. The right type of mower fits your budget and gives you the best value for your money.
What lawn mower brands should you avoid buying?
Several brand manufacturers make powered tools, including gas-powered mowers and electric mowers.
Some excel in creating products that last long, and consumers love them. Some brands had forums filled with complaints and abysmal product ratings.
Here is in detail a list of brands with poor quality.
Craftsman is a well-established brand when it comes to manufacturing power tools. But they have dropped the ball on this mower. The biggest gripe with this mower is the build quality. The cheap quality plastic body feels very flimsy while operating.
I guess that they did it to keep it lightweight, but then they should have used high-quality, durable plastic that won't break when it first hit a rock.
Another design flaw is that the mulcher functionality is held with a pressure clip that comes off whenever it hits a rough patch. It makes you stop and put the pin back on before you continue the mowing.
Several users complained about the poor-quality control when shipping the mower. People had missing nuts and bolts and had to contact the company again to get the parts.
The blades are a bit dull and get clogged up quickly, which means you have to lift them and clean them before you continue mowing.
You will be better off trying your luck with other mower brands until Craftsman decides to improve their quality control check.
2. Cub Cadet SC100 Mower
Cub Cadet SC100 is another avoidable lawnmower. The biggest issue with this model is poor performance for bagging and side discharge capabilities.
If I'm buying a lawnmower with bagging capability, I don't want to stop and empty it after every few minutes.
Moreover, the bagging quality is mediocre at best and easily rips. The cutting performance on this self-propelled gas mower is at par with other mowers. But when you pay this much for the mower, you deserve to get most of your money.
3. Poulan Pro PR550N21R3 Push Gas Lawn Mower
Here is a good thing with this push gas lawn mower from Poulan Pro, it has a reliable 140 cc Briggs Stratton engine that is tough and reliable.
But that's where all the good things with this mower end. It has all the features you may expect in a premium mower, but miss marks everywhere else.
The build quality of the mower is below average. The front wheels are cheap plastic made that aren't easy to move. If you have some rough yard, then expect to put lots of effort into pushing this mower.
Also, the wheel adjuster is of inferior quality. Once you have set the deck height, it gets loose due to vibration, and the mower deck height drops.
This is unacceptable as it may severely damage the yard since you may cut the grass too short. For a tool that you plan to use for several years to come, you should spend a little more and buy a better-quality mower.
If you have a small yard and just need something simple that cuts the grass without spending a fortune, then a reel mower is the right choice.
This reel mower needs no gas, cords, and you don't have to worry about charging. You would think about what could go wrong with such a simple device.
But don't get surprised if you decide to buy an Earthwise Reel mower. First of all, it has long, poorly designed rollers at the back. It works fine only on flat ground.
But if you have slightly uneven ground, the blades stop, and you have to move back and push harder again. You have to make several passes to get the blade to cut grass. This means you will be wasting all your effort on something that could be done in less time.
Moreover, it performs awful when it comes to cutting weeds such as dandelions in your yard. Avoid this as there are several other high-quality reel mowers that you can buy.
5. Stihl 510 Battery Powered Mower
You may be looking for a battery-powered mower if you don't have a big yard or your needs are modest. The main issue with this mower is battery performance and low build quality.
It's relatively lightweight, and that comes from cheaper and lightweight material used in construction. For example, several people had their bagging compartment broken after using it a couple of times.
You don't expect it to be the main point of failure, but it isn't very pleasant to start looking for replacement parts after a few uses.
Another issue is lower battery performance and longer charge time. The non-brushless motor means it sucks battery power. Then you have to wait another 45 minutes to charge the battery fully.
Other high-quality cordless alternatives will give you far better performance than this mower brand.
6. Troy Bilt TB100 Mower
If you're looking for some simple, no-nonsense type of mower, you may find this to fit the bill. But it's way too simple and doesn't have all the features that most average-priced mowers have.
The engine is grossly underpowered and struggles to cut a thick patch of grass or to use it on an uneven surface. It isn't easy to start the engine, and you have to make several attempts to get it started.
Although it cost a bit less than other mowers, you pay it by not being able to use it when needed. Moreover, there is no option to attach bagging clippings.
This may not be a big issue for some, but it may be a deal-breaker feature for many. Unless you know what you're doing, you should stay away from this brand.
It's another cordless electric lawn mower that comes with a side discharge, mulching, and bagging option. It's a 20-inch cordless mower that uses a single lever height adjustment.
From the specifications of this mower, it appears to be a great mower. But in reality, it's a very heavy and very cheap quality mower.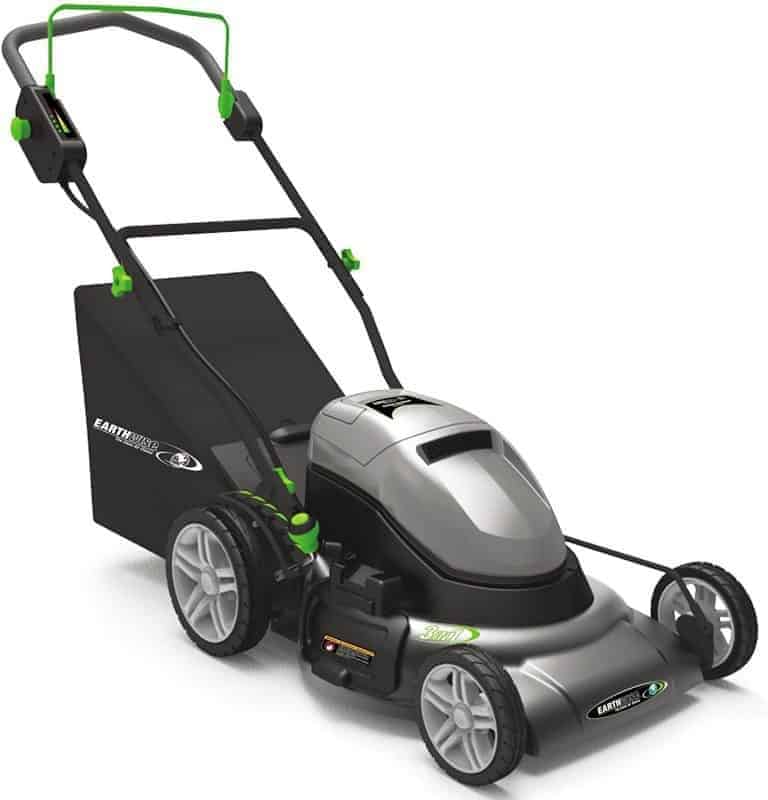 The battery is hefty and also takes a while to charge. It miserably fails if you have to cut thicker grass. The quality is relatively low as people have reported that the blade doesn't align properly and hits the deck wall.
Getting a replacement part is also a challenge even during the warranty period. The customer service is almost non-existent, and it's a lot more hassle if you have any trouble with this mower.
Best lawn mowers brands that you can buy
It may feel a bit disheartening knowing that there are products that aren't of high quality. But fortunately, several other brands are known to have better quality control and design choices.
Here is a list of mower brands that you can trust:
Here are some of their popular lawn mower models:
It's a great battery-powered 3-in-1 mower that comes with a 5-year warranty. It has a 120 V brushless motor that can handle the toughest grass in the yard.
The high-power efficiency battery gives you up to 100 minutes of run time on a single charge with two batteries inside it.
It's a nicely designed mower that gives you a clean cut in a single pass. It has a rugged frame design and doesn't feel bulky or cheap. The 22-inch steel deck is very sturdy and gives a good cutting performance.
It comes with a bagging option that works flawlessly, and the bag doesn't get ripped even after several uses. The quick-release folding handle makes it easy to store.
If you want a budgeted lawn mowing option, then you should consider a Greenworks electric mower. It's very lightweight but highly effective in handling yard turfs.
The powerful engine cuts through thick grass with ease while also taking care of weeds. It has easy to adjust the height level that makes keeping up with the yard easy.
The setup is effortless as you need to assemble the handle by screwing two wing nuts, and you're ready to take it into the yard. The lightweight mower makes it easy to use by people with limited mobility or anyone else.
The sharp blades give a clean cut. You should consider this if you want something quick and easy to take care of your lawn without worrying about filling gas or charging batteries.
Those who want something more versatile and need a bit more than a mower should consider this. This is a 3-in-1 powered tool that easily converts from mower to trimmer to edger.
It has a minimal footprint that makes it highly portable, and you can cut grass along narrow flower beds. It works great on a flat and inclined surface and doesn't get stuck when handling weeds or more problematic grass.
There is a cordless and corded version available. You can choose whatever suits better for your needs.
The cordless mower has 20v Max Lithium-ion long-lasting battery life that offers a longer run time and gets charged quickly. The mower base is sturdy and allows you to adjust two cutting heights.
The lightweight but adjustable height and handle provides you great comfort while operating the mower. The 12-inch trimmer/edger has a gear-driven transmission that maintains a constant speed and automatic line advancement.
This robustly built PowerSmart rear-wheel drive mower contains a 4-stroke single-cylinder gas engine. It packs enough power to help you clear the tallest and toughest grass in your yard.
The 4-stroke engine means you don't need to mix oil with gas and quickly get the job done. This is a self-propelled wheel drive mower, so you don't have to do the hard work of pushing the mower while cutting.
It has a five-position height adjustment option to decide whatever grass length you want in your yard. The engine is easy to start and doesn't need much effort.
The 11.5-inch large rear wheel makes it stable and easy to move on a flat to the rough surface yard. The quick folding handle makes it easy to storage. For added peace of mind, it comes with a 3-year warranty.
You can decide on using a reel mower for a small size yard where you don't need a powered tool. This five-blade reel mower has a cutting width of 12 inches. It rests on an 8.5-inch polymer wheel for maximum maneuverability.
You also have the option to adjust the mowing height from 1 to 1.75 inches with scissor cut action. It's a pollution and noise-free reel mower that works great on the flat and rough surface.
You can comfortably use it to cut grass that is up to 3 inches tall. The handle is long and cushioned, which makes a comfortable grip to push and balance the mower.
The low-maintenance reel mower blades are made of high-quality steel that only needs to sharpen once every 3 to 5 years. It's a great built no emission mower suitable for small and compact size yards.
Over to you
Shopping for a mower shouldn't be hard once you know which brand you can trust and which one to avoid. Armed with brands' knowledge to avoid and the great alternatives, you can have a better return on your investment.
You should also follow the manufacturer's instructions on the proper use and follow up on a regular maintenance schedule.
Want to read the best zero turn mower review and how to maintain a large size yard? Read this post.
Don't forget to share this post