Whether you're a camper or a backpacker, the axe is one of the most useful tools you will find in your toolbox. It's a very versatile, portable, and reliable tool that you can use for chopping logs, cutting wood, and felling trees.
If you're in the market to find the best axe for your next outdoor trip or you need it to split some firewood, you have to find out which axe to buy. If this sounds familiar, you'll want to consider your requirements first and choose one of the five axes detailed below.
With that in mind, in this article, we cover the best axe for outdoor use (and list a few of our top picks). If you're in a rush, you can also choose from our quick picks below.
Top Axes Available in the Market
What is an Axe, and Why should you buy one?
Axe is a convenient tool for cutting and chopping things. It's also a very primitive tool used for various purposes, such as splitting firewood, building a dwelling, hunting, and fighting. The versatility of this tool is in its simple design and reliable performance.
There are different types of axe used for broad purposes. Many people also know axe as a hatchet and use the words interchangeably. However, these are different tools.
Hatchet is smaller (14 inches or less) and you can hold it with a single hand. The axe, on the other hand, is usually large (14 inches or more) and can handle tougher jobs.
For smaller jobs, the hatchet is a better option due to its ease of use and better maneuverability. So if you're a backpacker who needs a tool to make a way through a fallen tree, or hack smaller trees for camping, then a hatchet may be a good option.
But for more tedious tasks such as cutting trees and splitting logs, you may need to get a full-size ax.
Best Axe Reviews
Other Good Choices: Estwing Sportsman's Axe, WilFiks Chopping Axe, RazorBack Single Bit Ax, CRKT Outdoor Axe, and Leveraxe Classic Splitting Axe
What are the Different Types of Axes?
The underlying principle of working with an axe is simple. It contains a head made to create a wedge in the wood and a handle that acts as a lever. Here are the parts of ax: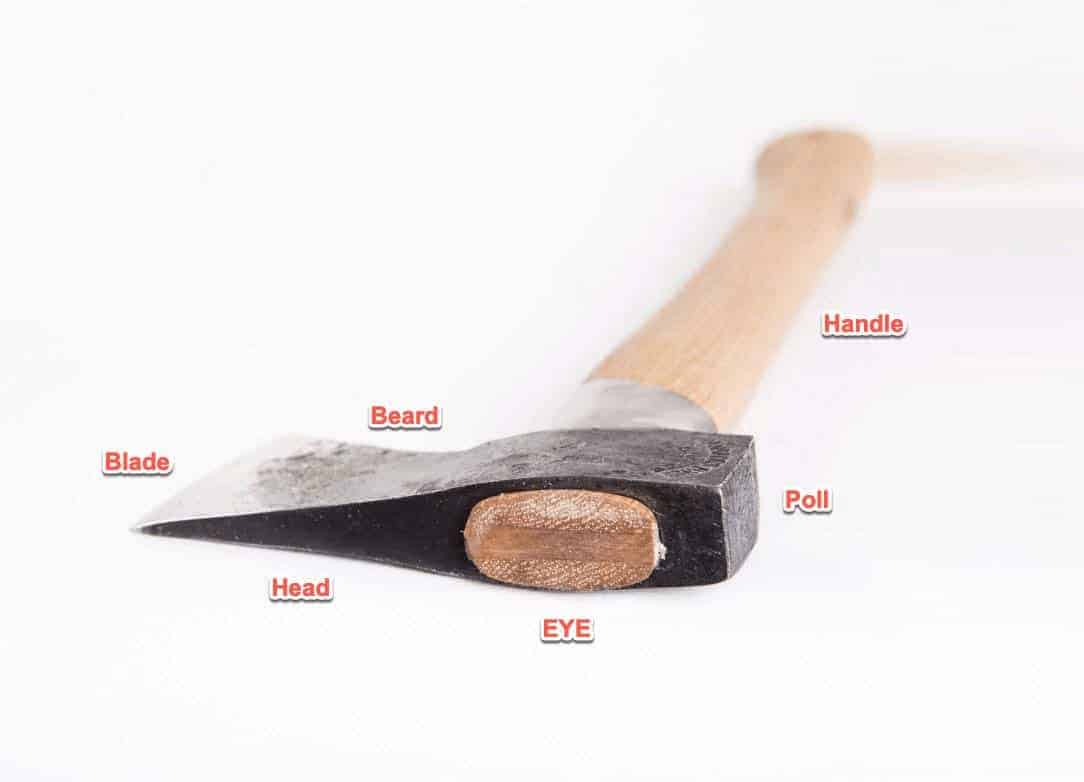 Handle: Made of different materials such as wood or metal.
Blade: The sharp part of the axe at the front that contacts the material to cut.
Beard: The lower part of the blade 
Head: The upper part of the blade
Eye: The hole in the axe that allows you to insert the handle
Poll: The opposite part of the edge. You can also use it as a hammer in some scenarios.
The ax types depend on the design and purpose of the ax. Here are the six main types of ax that you can buy. 
1. Felling Axe
The felling axe cuts down trees and stumps. These have an extra sharp tapered blade that allows you to make a deep cut to the wood.
These are usually heavy and contain a long handle to give you better momentum when swinging the axe. Most felling axes have a head that weighs up to 35 lb and has up to 36 inches long handle. 
2. Splitting Mauls
For cutting logs and woods, splitting mauls are the best option. These have a larger and sturdier wedge-shaped head that gives you a higher impact strike without getting it stuck in the wood.
It has a long but straight handle and is great for splitting firewood during camping or other general purposes.
3. Tomahawk Axe
Tomahawk is a lightweight and portable axe that you can carry along with you during camping, hiking, or hunting. These have a sharp blade and can be used to defend yourself from charging animals or use it as a thrown weapon.
The lightweight and portability come at a price, though. You have to apply greater force to cut down woods, and it's not suitable for splitting wood. These are also known as camping axe. Hudson Bay ax is a famous Tomahawk axe. 
4. Broad Axe
The broad splitting axes have a long and significant bit. Woodworkers mainly use it for hewing logs into beams. You get a scalloped cut due to beveled bits on the size. It gives you a precise cut with smoother edges on the surface.
5. Woodworking Axe
Professional carpenters and woodworkers often need a tool that can carve out intricate shapes. The axe has to be small and lightweight. These are bigger than hatchets but can be operated single-handedly.
These axes have a medium-heavy head and handle. It has a long beard shape in them that makes it easier to cut.
6. Double Bit Axe
The double-bit axe has blades on both sides. The primary purpose of a double bit ax is for felling and limbing trees.
In a double-bit ax, neither side is sharp. One side of the ax is stout for felling, and the other side is pointed for chopping fallen trees. 
How to Choose the Best Axe
Choosing the right axe depends on the task you have in your hand and the requirement of the sharpness, size, and strength of the axe.
Here are some considerations when choosing the axe.
Head Thickness
The shape of the axe head determines whether it's suitable for felling, splitting, or carving. A wider head allows you to cut or split wood pieces quickly.
The sharper head axe is more suitable for cutting and slicing through wood. It's more appropriate when you need to skim the layer of the tree for limbing logs.
Single vs. Double Side Head
The ax can have a single or double side head. The benefit of the double-side head is that you can use both sides to cut. But for most people, the single side cutting head would be sufficient.
Head Weight
The weight of the head determines how quickly you can do the cutting. The heavier head delivers considerable swing momentum and cutting impact to the wood.
If you're cutting a smaller tree or thinner fallen wood, then choose a head that's not too heavy. It allows you to cut longer without getting tired. The heavier head also delivers more power but makes it challenging to do a precise cutting.
If you're cutting a thick tree branch or need to chop several pieces of wood where the precise cutting isn't an issue, then you should choose a heavier ax head. Many people prefer the head weight that is around 3 lb to 5 lbs.
Poll Shape
If you will use ax for backpacking, camping, or hunting purposes, then use a multi-shape poll. The hammer and spike are the two common types of polls.
The flat poll allows you to use it as a hammer. So if you're setting up a tent and need a hammer to put the nail in the ground, then it can work perfectly. The spike poll allows you to dig hard and rocky fields. You can also use it to pull nails out of wood.
Handle
It may not be obvious, but the handle plays a vital role in woodcutting. You can replace it, especially a wooden handle, after using it for a while.
Most commonly, the handle has to be replaced due to damage caused by overstrike. It happens when you don't aim it accurately during a strike and hit the part of the handle that's below the head into the wood.
Here are some considerations regarding the handle.
Handle Material
The handle is mostly made of wood, fiberglass, or metal. The wood-made handles are lightweight and easier to replace. It also absorbs the impact that reduces fatigue. However, the wooden handle breaks or splinters easily.
The fiberglass handle has similar benefits as a wooden handle. These are lightweight and absorb the impact well without breaking or splintering. But these are often difficult to replace.
The metal handles are more durable and don't break easily. You can also use it for various other tasks such as a pry bar. But these are often heavy and prone to rust. You also get fatigued quickly due to lousy handle shock absorption.
Handle Length
The handle act as a lever during cutting, and the length of the handle determine the control and force the axe can deliver. But you don't want the handle to be either too long or too short as it may become cumbersome to use.
Most axes have a handle length that is 24 to 36 inches long and is suitable for cutting trees or splitting woods. The shorter handle length that is 25 to 28 inches long is ideal for cutting smaller branches and is more portable. 
Handle Shape
The handle shape plays a critical role when you're choosing an axe. When you're using a single-side blade ax, the curved handle is more suitable as it gives you a more natural and comfortable grip.
For a double-sided head, you should choose a straight handle as it allows you to easily swing in both directions without changing the orientation of the head.
Handle Cover
The handle cover made of non-slippery material such as rubber or plastic improves the grip. This prevents the ax from slipping away during a swing. If you're using wood made handle, then check if the surface is non-slippery.
Some cheaper quality ax has shiny varnish on it that makes the ax appear durable but increases the chance of slipping during a swing. You can sand it off to make the surface less smooth and improve grip.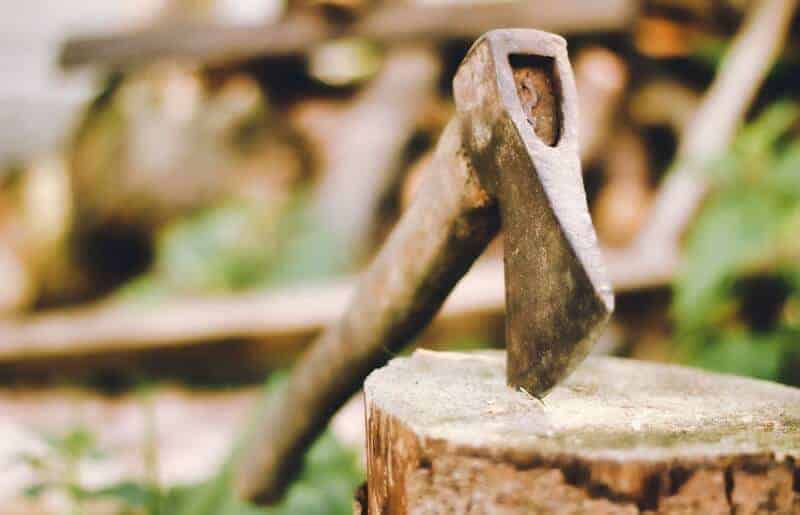 What is a Felling Axe?
The felling axe is specially designed to cut down mature tall trees. You use it to cut down full-grown trees as it has a sharp and long thin blade that makes the head sink deeper in each impact.
There is always a limit on how safely you can trim down a full-grown tree, so make sure you do it carefully. The difference between the felling axe and the regular axe is the mechanism to cut the wood.
The splitting or chopping axe has a thicker head that splits the wood, whereas the felling axe has a sharper and thinner head.
How to Sharpen an Axe?
You want the axe to be sharp to make the cutting. But don't expect it to be as sharp as a knife. The ax works by transferring the energy generated during the swing to make the head split the wood.
Unlike a knife, there is no up and down cutting motion involved. It's a pure brute force that cuts. Due to that reason, the axe has to be sharp but not knife sharp.
If you sharpen it too much, then it will wear down quickly and become blunt again. To sharpen the axe, use a file and grind it slowly left and right direction. Don't file at the top and always stroke it away from you. This helps maintain better control when filing.
After sharpening, make sure there is no rough edge and smooth it out. To prevent it from rusting, you can apply lubricating oil. This improves the life of the axe. 
How to Change Axe Handle?
Depending on the model, it may or may not be possible to change the handle. You have to replace the handle when it breaks or starts cracking. If you're using a wooden handle, then you have to saw it off and use a hammer to remove the leftover piece from the ax.
You can also soak the axe in the water that makes the wood absorb water. Then place it in the sunlight to dry, which shrinks the wood and makes it easier to remove.
You then completely remove any remaining wood piece from the ax eye. Lightly sand the edges of the new handle to fit it in the eye.
Once the new handle goes partly inside the eye, use a hammer to push the remaining wood further. Make sure the handle fits securely and isn't wobbly or loose.
What are the Famous Axe Brands?
Below are the top 5 brands that you can trust for their quality and customer service.
Gransfors Bruks: It's a Swedish axe maker that is well known for its craftsmanship. The ax isn't cheap, but you do get the premium quality ax. If you want the most value from your ax and get something that you can rely on in any situation, then check out their catalog of axes.
Snow and Nealley: It's been a time-tested manufacturer of axes and other tools since late 1800. They used to handcraft their axes in earlier times to provide quality products. You get quality axes at a reasonable price.
Helko: Helko is a German axe maker known for its woodcraft and workmanship. They provide reliable and high-quality axes that you can trust. The axes from Helko is drop forged to provide extra durability.
Husqvarna: You may have seen their several powered tools on the retail stores and its well-known North American brands. 
To keep the prices low, the axes from Husqvarna are made from third-party suppliers and sold under its brand. If you're looking for a cheaper axe but excellent customer service, then choose their axe. 
Mueller: It's an Austrian company known for its quality axes. They make different axes and sell at different price points.
Precautions When Using the Axe
Safety is essential when handling axes. Improper use may result in severe injury or damage to the property. Here are a few precautions you need to take when using an ax.
Inspect the axe: Before you start swinging it, make sure the handle isn't loose, and there is no damage to it. A loose or broken handle may break when making an impact and may cause the head to split from the handle.
Use both hand: Always use both hands for a better grip and position yourself out of the swing path.
Keep the area clean: Make sure there is no obstruction around the cutting area. If you're splitting wood for firewood, make sure to bring it outside where there is enough room to swing the axe fully. Also, pay attention that the splitter wood doesn't fly off.
Right cutting angle: When using ax for cutting trees or branches, start by doing angled cut. This helps to set the direction the tree would fall and allows you to cut faster.
Cutting in cold weather: If you will use the ax in cold climate, make sure to raise the temperature of the ax by heating it a bit. The cold weather makes the metal to become more brittle and increases the risk of chipping and breaking.
Hold it firmly: Always hold the handle of ax securely, so you don't lose the grip during a cut. Keep your one hand positioned near the head while the rest of the hand remains behind it. Keep the ax head at a forty-five-degree angle when cutting.
Use protective cover: The head of the ax is sharp and may cause damage if it falls on your feet or you hold it the wrong way. The protective cover prevents any injury when the ax isn't in use or transporting it.
Don't forget to share this post