One of the most common recurring themes among homeowners is their consistent struggle to keep their garden looking great and keeping the pathways and other areas clean.
A delay in controlling weeds and grass could ruin a well-curated garden quickly and turn your beautiful paradise into an overgrown vegetation mess. But instead of buying an array of gardening tools, you can buy the brush cutter to do all the hard work for you.
We'll try to help you find the best brush cutter available in the market and explain some things you'll want to think about when making your choice. But if you're in a hurry, you can just check out our quick picks below.
Top Brush Cutter in the Market
What is a Brush Cutter?
Brush cutter is a very handy powered gardening tool that is used for a wide range of gardening maintenance tasks. More specifically, you can use it to cut weeds, trim grass, chop tree limbs, and do other upkeep tasks in your garden.
If you have other gardening tools, then you may not need a brush cuter. But it enables you to have multiple attachments depending on the task at hand. It saves you the cost of buying a new gardening tool.
Many people call brush cutters with a different name such as brush saw, weed eater, clearing saw, or even weed whacker. Regardless of what you call them, this powerful and versatile tool should be in any serious gardener's tool shed.
Best Brush Cutter Review
Check out some of the best brush cutters we've found below. We've included different attachment options, ranging from crazy cheap to relatively pricey.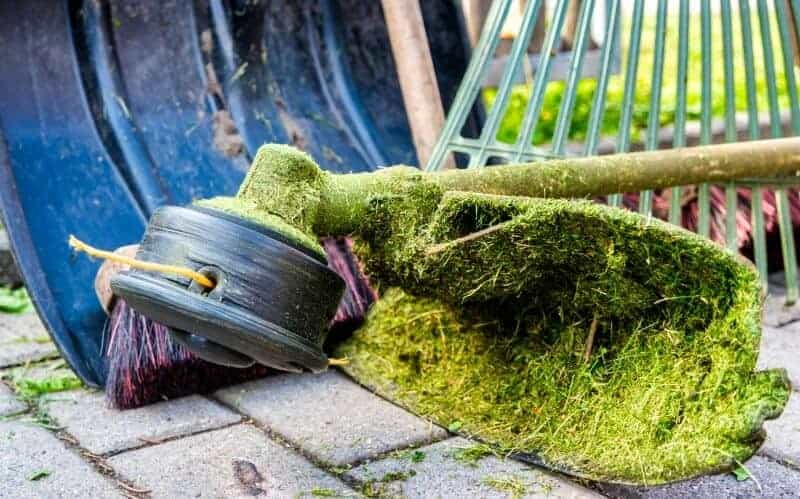 What are the Types of Brush Cutters?
The brush cutters are categorized into three groups based on usage. Following are the most common types:
Handheld Brush Cutter
The handheld cutter is very portable and easy to maneuver. These have a smaller engine to mow down overgrown grass, weeds, and saplings.
Walk-Behind Brush Cutter
The walk-behind cutter is heavier and bulky but has more power to handle the more demanding task.
These may look like a lawnmower but have more attachment options than the regular lawnmower. Many professional landscapers and people with a more massive yard prefer to use a walk-behind cutter.
Tow-Behind Brush Cutter
The tow-behind brush cutter is attached to another powered vehicle, such as a tractor. With this, you can cut down large areas of thick grass and weeds in the least time.
Professionals and commercial landscapers are the primary users of this.
What Can a Brush Cutter Cut?
Brush cutter can cut most of the things that trimmer or other gardening tools can't cut. It can easily handle broad weeds, shrubs, and grass. To make sure that it's suitable for your needs, you have to check what you want to cut.
The most common use of cutter is to use it around thickly overgrown fields and unkempt lawns. It's convenient to use it around cutting grass or removing weeds around the trees or flower beds where you need more cutting control.
For example, if you have several rocks and stones in your yard or need to cut along banks and slopes, then a lawnmower may not be the most efficient tool. In that case, it can get the job done safely and efficiently.
How Thick Can a Brush Cutter Cut?
The brush cutter has durable metal blades that allow you to cut thick grass and weeds that are up to 4 to 6 inches thick. It has a clear advantage over the string trimmer that only uses a nylon string to cut.
The cutting range of the cutter depends on the attachment type. For example, chainsaw teeth type attachment with 20 teeth can cut a 6-inch branch with ease. The wide range of brush cutters attachments means that you can cut a variety of materials.
The blade life depends on the item you're cutting and how frequently you use the tool. Through proper maintenance and keeping the edge sharp can make the cutter last longer while cutting thicker objects.
Things to Consider in a Brush Cutter?
Picking the best brush cutter for your yard requires that you consider your needs first, things that you may need to cut, and the effort you want to invest in maintaining your yard.
When you're looking at the brush cutters, keep the following considerations in mind.
Power
The power rating of a brush cutter determines how thick and complex cutting tasks you can do. You can buy those that are powered either by gas or electricity.
The gas-powered brush cutter generally delivers more cutting power than most electrical brush cutters. A 2-stroke gas engine typically provides up to 42 cc that allowing you to finish the job more efficiently and quickly.
There is also a more potent four-stroke engine that gives you even more power than the two-stroke gas engine and runs cooler with more output.
But it gets more expensive, bulky, and needs more maintenance. Professionals and commercial landscapers prefer to use the gas cutter.
For people with small to medium size yards, you may choose an electrical brush cutter that is easy to maintain and use. The cordless brush cutter uses a battery that gives you higher portability and maneuverability.
It's great for people who want to maintain residential yards and don't want to deal with the complicated maintenance requirement of a gas brush cutter.
A sturdy cutter can easily tackle overgrown weed or bush that ordinary line trimmer or mower can't handle itself.
However, don't be tempted to buy the overpowered expensive brush cutter that you know you're seldom going to need it. This is why identifying your needs is the first important step.
Cutting Diameter
The cutting diameter of the brush cutter determines the maximum area coverage in each pass. A larger cutting diameter means you can cover a large area in each pass which saves time.
You can choose attachments that have a cutting diameter from as small as 4 inches to up to over 9 inches.
Be aware that choosing the large cutting diameter brush attachment makes the cutter big and bulky. Finding the right cutting size blade allows you to reach most types of garden layouts.
Handle
The brush cutter can be operated either by a single hand or with both hands. The dual handle types resemble bull horns that give you more control when running the cutter.
On the other hand, the single-hand brush cuter has a loop handle. It's ideal for a small task where you need more maneuverability to reach tight spots.
You should choose the handle type, depending on the task. For a heavy-duty and challenging job, a two-hand type brush cutter works best as it gives you more control and reduces fatigue.
Also, a handle with cushioned layer allows you to grip firmly without getting tired.
Vibration Damping
When you operate a brush cutter, it generates a lot of vibration. The gas-powered brush cutter produces more vibration than the electricity-based cutter. The wave makes the operator get fatigued quickly.
The vibration damping features in the design reduce the vibration felt by the operator and allow them to work longer. It improves comfort and makes it easy to cut steady and smoothly through thick and overgrown grass.
Shaft
The shaft of the brush cutter can be straight or curved. The shaft allows the transfer of power from the motor to the blade. In a handheld brush cutter, the engine is at the top end while the module is at the other end of the shaft.
The curved shaft makes it ergonomically more convenient to get on tight spots and makes it easier to handle. But it affects the power distribution to the blade as the cutter becomes more prone to breakdown.
The straight shaft brush cutter is simple to operate and is more reliable than the curved shaft trimmer. Now which one you should pick depends on your yard layouts and the access to places where you want to use the cutter.
Head Attachment
The ability to change the head gives you more flexibility in using the tool. Replaceable head attachment allows you to switch between the fast-cutting string trimmer nylon cord to heavy-duty metal blades to handle tougher weeds.
It saves you the time and number of tools needed for the job. You should look for replaceable head attachment options if your needs are diverse.
Shoulder Harness
If you're using a handheld brush cutter, then look for a shoulder harness and straphanger option. It takes the load off from your hands, and you won't get tired quickly.
Not all brush cutter comes with a shoulder harness, and you may have to buy it separately. But you may find it very comfortable to use a shoulder harness while cutting.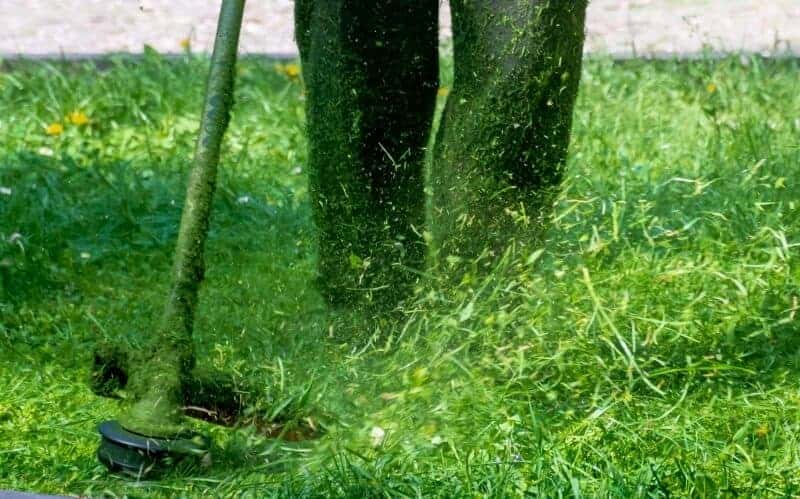 How do You Use a Brush Cutter?
Knowing how to operate a powered tool properly is essential as it prevents injury and gives you the best cut possible. You can use it for mowing, tapering, weeding, and scything purposes.
You may have to choose different attachments depending on the job. But most brush cutters have the same way of working.
Here are some tips on using the handheld brush cutter.
Hold the brushcutter firmly by your dominant hand on the rear handle, and the other side on the "J" Handle if equipped. Maintain a firm grip using both hands while operating.
Bring the brush cutter to the right side with a firm hold of both hands.
Maintaining your grip balance, yourself on both feet. Position yourself stable so you won't lose balance due to any kickbacks.
Check the area for loose objects such as rocks, glass, concrete, fence, and wired wood, that can be thrown or get entangled in the blade.
To cut, start making a sweeping action from side to side, avoiding hitting any hard objects.
When finished, turn off the engine and clean the brush blades with water and wipe it dry.
What is the Difference Between a Trimmer and a Brush Cutter?
The main difference between a trimmer and a brush cutter is the head type. String trimmer uses cheaper nylon heads that have the plastic cord wrapped in a spindle. You have to continuously feed the rope as it breaks and gets damaged while cutting.
You can increase or decrease the cutting area by adjusting the length of the nylon rope. This is handy if you're cutting not very thick and softer vegetation.
If you have a yard with a light amount of weed and grass, then a string trimmer may be all that you need.
The brush cutter head comes in different shapes and types. These brush cutter blade attachments are explicitly designed for various tasks such as cutting grass and chopping small wooden limbs that won't be possible with a string trimmer.
When you're looking to buy the brush cutter blade, consider the material, diameter, teeth count, and guard types.
A full blade gives you a large cutting area but needs more power to drive the module at high RPM. The most common blades have a diameter from 8 inches to 10 inches.
A large number of teeth counts in the blade provides you with a smoother cutting. Blades with no teeth are used to trim light vegetation and may become difficult to use on a more demanding task.
How to Sharpen a Brush Cutter Blade
You have to sharpen the blade of the brush cutter regularly to keep it remains efficient in cutting and mowing. It can be done quickly at home and won't cost too much. Sharpening yourself is also cost-effective than buying a new blade.
To get started, you can buy the blade sharpener. But if you have a chainsaw, then you can buy a file that allows you to sharpen not only the chainsaw chain but also brush cutter blades.
To get started, clean the blade from dirt and debris using warm water. You can also use soap if needed. Place the cutter at a flat surface and adjust the angle so you can be comfortable sharpening the blade.
Now move the file at an angled motion at the tip of the blade. Keep visually checking the edge to make sure you sharpen it uniformly.
Don't touch the blade with bare hands as it may result in injury. Use proper protective gear such as hand gloves when sharpening the cutter blade.
Don't forget to share this post