This is a review of the Hitachi RB24EAP Gas Blower.
When it comes to maintaining a yard, a leaf blower is an indispensable tool. I have a big backyard with several mature trees. The raking of fallen leaves isn't a practical solution.
I have used the Hitachi RB24EAP gas leaf blower for several years and have been extremely satisfied with its performance. You're also not limited to using it for blowing leaves alone. It's highly effective in removing grass clippings and dirt from the driveway.
I found this blower to be great for most residential users with small to medium size yards. It works without any problem, and the rope pull engine is easy to start.
In this review, I have looked at several features of the Hitachi RB24EAP gas blower and compared how well they perform. If you find that it doesn't fit your needs and need a blower with more power and features, I have included three alternatives later.
Let's dive in. 
Hitachi RB24EAP Overview
Hitachi is a well-known brand that manufactures power tools and machines. The Hitachi EB24EAP is a great gas-powered blower that is an excellent choice for maintaining small to large yards.
It's easy to operate and is very lightweight. The single-hand operation makes it easy to maneuver and eliminate leaves and dirt from narrow and tight spots.
Here are the specs:
| Feature | Specs |
| --- | --- |
| Engine Type | 23.9 cc two-stroke engine |
| Max Power | 1.13 HP |
| Air Volume | 441 CFM |
| Air Velocity | 170 MPH |
| Fuel Tank | 17.6 ounces |
| Oil Ratio | 50:1 |
| Weight | 8.6 lbs |
| Warranty | 7 years of consumer warranty |
Here are the pros and cons of this blower
Let's dive in-depth into each feature it offers and see whether it's worth buying.
Engine
Hitachi RB24EAP has a 23.9 cc, 1.13 HP commercial grade 2-stroke internal combustion engine. The main benefit of a 2-stroke engine is higher power density over a 4-stroke engine and lower Brake Mean Effective Pressure (BMEP).
It's a small size engine that weighs less than other larger but more powerful engines. The gas engine is very fuel-efficient and generates fewer emissions.
PureFire technology creates fewer fumes that make it safe to operate and is also environment-friendly.
The blower has a 17.6-ounce fuel tank, which is sufficient for medium size yard. The choke and primer bulb is easy to reach for a quick start of the engine. The blower is designed for a right-hand start, but left-handed people shouldn't have trouble starting the engine.
As it's a two-stroke engine, you need to mix the fuel with 89 or higher-octane gas. A tiny string is attached to the fuel lid so you don't lose it. This is an excellent design choice that makes it convenient to operate the machine.
The engine's starting is relatively easy. You press the carburetor choke and push the primer couple of times to circulate the oil. You can pull the string couple of times to start the engine.
When you're buying new, run the machine at idle to break in before running at full speed. If you need to replace the Hitachi RB24EAP spark plug, it uses Champion CJ6 as a replacement part.
The engine is rated to be CARB Tier III compliant for use in California. 
Blowing Power
For leaf blowers, the blowing power determines the machine's efficiency and how quickly it can get the job done. Hitachi RB24EAP comes with a high speed 170 MPH air velocity with an air volume of 441 CFM.
It's sufficient power to handle any medium to a large job, such as removing fallen leaves or blowing away grass clippings from the yard.
The high-performance blower design works without any difficulty to move leaves, dust, and debris effectively.
The 441 CFM (cubic feet per minute) rating blower is enough for medium-sized yards and blows away object effortlessly.
I used to clear leaves fallen on the gutter, and it blew leaves and small tree clippings in a single swipe.
Weight and Balance
The blower is very lightweight at just 8.6 lbs. The build quality is very sturdy and doesn't feel cheap holding it.
The large overgrip handle makes it easy to carry a full grip that improves the balance when operating the blower.
The ergonomic and balanced design allows you to maneuver it in any direction without getting fatigued. The large two-finger throttle makes it easy to operate.
This is a handheld blower, and most people can easily handle 8.6 lbs for a while.
If you need more power, that may mean a heavier blower. In that case, you should consider the backpack gas leaf blowers.
Switching Modes
Some blowers come with multiple functionalities such as blowing, mulching, and vacuuming.
The quick switching mode allows you to change the operation with a flick of a button.
Hitachi RB24EAP has a single blowing air functionality. It would have been nice to have multiple-use functionality, but it increases the cost, weight, and complexity of the machine.
If you need blowing functionality alone, it's a great machine as it reliably does the job. 
Noise
A noisy gardening tool is a concern for most people. Some localities have strict rules when people are allowed to do garden maintenance tasks that create noise.
The blower generates noise at 107 dB (A), which is loud but not excessively loud.
The blower has some noise dampening features, such as using a semi-sealed body and placement of exhaust.
Nozzle Design
Blower nozzle design impacts the air it can push through it. In most blowers, the nozzle can be either flat or round. The Hitachi RB24EAP has round type nozzle and comes as an attachment.
You can attach a nozzle without needing any tool. The holding cuts made on the body allow you to slide and turn it for a lock.
It gives you more flexibility as round nozzle tips generate more power to move items that may be sticking to the ground.
Speed Control
The variable speed control allows you to increase or decrease the speed with a flick of a switch. It saves fuel and creates less noise.
The speed control switch is easy to operate and returns to low whenever you release the button.
Warranty
Hitachi RB24EAP has three types of warranty depending on its intended use:
For residential use, it has a 7-year warranty
2 Year for commercial warranty
One-year rental use warranty
The extended warranty gives you additional peace of mind that it will be repaired or replaced if something goes wrong within the warranty period.
Most handheld blowers come with 3 to 4 years of warranty. Hitachi's extended consumer use warranty indicated their trust in the product and cared for their customers. Here is a link to download the Hitachi RB24EAP blower Manual.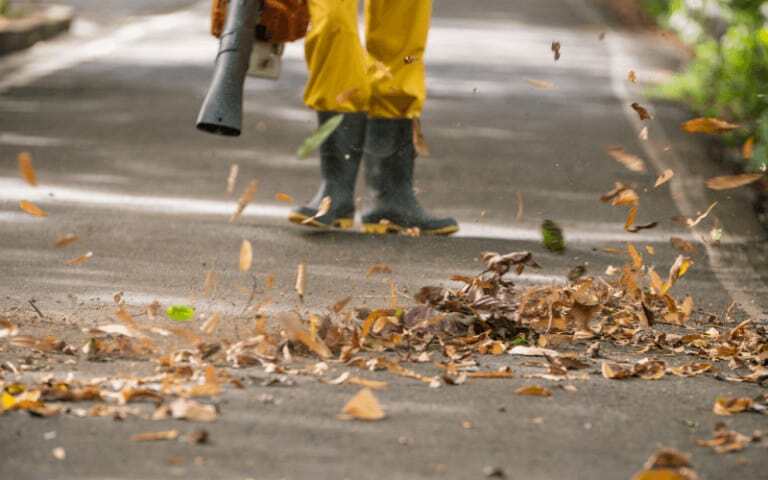 What are the alternatives for Hitachi RB24EAP?
If, for some reason, you find this blower model not to be suitable for your needs or it's out of stock, here are the three best alternatives that you can consider.
It comes in a similar price range and has a relatively close specification.
This is a reasonably priced 2-cycle gas leaf blower that is lightweight and powerful. You get 200 MPH and 430 CFM air power that can handle tough jobs with ease.
The quick-start technology makes it easy to start the gas engine. The extended reach of the blower allows you to blow things away from tight corners and smaller areas.
It weighs 12 lbs, which is slightly more than the Hitachi blower but still relatively lightweight.
Here is the link to buy Remington Hero 2-cycle gas blower.
Craftsman handheld leaf blower is another great alternative to Hitachi RB24EAP.
It has a 2-cycle gas engine that generates 200 MPH and 430 CFM airpower. The low emission gas engine creates less noise and reduced emissions.
It has a strong build quality and is relatively lightweight. The extended nozzle provides precise blowing.
Here is the link to buy Craftsman Handheld Leaf Blower.
If you're not fond of a gas-powered leaf blower and need something electric, Kimco cordless leaf blower is a great choice.
It has a lightweight design and works similarly to the Hitachi blower. The battery-powered blower means you don't have to deal with the hassle of refueling. With a full battery charge, it gives you 20 minutes of operation.
It's suitable for any small to medium yard, and the fast charging and power indicator light tell you when you need to put it on a charge. It comes with a 2-year warranty. 
Here is the link to buy Kimco Cordless Leaf Blower.
Our Verdict
Maintaining a beautiful and clean yard isn't an easy task. You can rake leaves manually, but it's a tiring and time-consuming process.
Hitachi Power Tools RB24EAP blower is an excellent option if you want something reliable and easy to operate.
It gives you the versatility and ease of use for several tasks such as blowing leaves, removing grass clippings or dirt from the yard and walkways.
The seven years extended warranty gives you additional peace of mind.
You can buy Hitachi RB24EAP directly from Amazon. 
Don't forget to share this post