For any good-looking and healthy garden, you have to prune branches, shrubs, and trees. Admittedly, this isn't a simple job when you have several tall trees.
You can use a ladder to reach these higher branches, but it's cumbersome, and you need to be careful about safety.
For any small to medium size yard, you can choose the pole saws that allow you to cut higher tree branches while standing on the ground. It makes your cutting job more comfortable and safer. 
But not all pole saw is made the same, some will give you more power but heavy while others may be lightweight but deliver less power (while still costing you a bit of money).
In this article, we'll try to help you pick out the best cordless pole saw and explain some of the most essential things to consider when making your choice.
If you're in a hurry and don't want to read an in-depth review and buyer guide, then see our quick picks below.
Top Cordless Pole Saw For Your Garden
What is a pole saw, and why do you need one?
Pole saw is a gardening tool used to cut tree branches without needing any ladder. It has a saw attached to the long end of the pole with an adjustable length to reach the cutting height.
This offers you greater flexibility and safety in cutting and trimming tree limbs for yard maintenance. There are several styles and types of pole saws available in the market to handle cutting tasks.
The benefit of having a personal pole saw is that you can trim and maintain your garden yourself. You don't have to hire expensive landscapers to get the job done.
Using a pole saw is very straightforward, and you can use it whenever you need to trim overextended tree branches. It saves you the time and money to maintain your garden while giving you the result of your liking.
Cordless Pole Saw Review
You wanted our favorites cordless pole saws, and here it is. Check out our top battery-powered pole saws lists that you can buy with confidence.
How Many Types of Pole Saw?
There are 4 different types of pole saws.
Manual Pole Saw: Manual pole saw has a simple design and contains a saw and a long pole to make the cut. This is a not-powered device, so you have to use your muscle power to make a cut. This is suitable for small size yards or cutting a few trees. The benefit of a manual pole saw is that it doesn't require much care and is usually cheaper.
Corded Pole Saw: The corded pole saw has an electric motor that moves the chainsaw at the tip of the pole. You have to plug in the power cable to the electrical outlet to use the pole saw. It's suitable for small to medium size lawns and is portable and quiet.
Cordless Pole Saw: The cordless pole saw has a battery attached to the pole that powers the saw. These are suitable for light to medium size lawns and are very portable and quiet.
Gas Pole Saw: The gas pole saw uses a gas engine and generates more power than other types of pole saw. This is suitable for medium to large size yards or if you're a professional landscaper. It has more power and cutting run time but is heavier, noisier, and generates smoke when in use.
What Size Pole Saw Should You Get?
We have found that for most gardens, a pole saw 8 to 10 feet long is sufficient to tackle most types of jobs. A person with average height can reach around 12 to 15 feet high branch while standing on the ground.
That's the safe height you can cut while standing on the ground. Pole length is more prolonged than that makes it difficult to maintain balance and becomes wobbly.
What Features To Look For In The Cordless Pole Saw?
Buying a cordless pole saw requires some understanding of your gardening needs. Here are some features you need to look for in the best cordless pole saw.
Cutting Power
The cutting power depends on the size of the chainsaw and the battery rating of the tool. If in your garden, you have trees that have thicker and sturdier branches, then pick a higher rating battery.
But don't rush to buy the highest rating cutting power pole saw if you have a few trees in your yard. This will be overkill, and you will be spending extra money without having a good use for it.
Battery
The battery is the primary power delivery source in a cordless pole saw. The higher-rated battery determines the cutting power delivery and the duration it can run. You can find out the battery rating and sometimes run time mentioned on the product specification page.
However, remember that the larger battery capacity means additional weight to the pole saw. The most cordless pole saw has a battery rating anywhere from 18 V to 40 V.
Pole Length
The pole length determines how high you can reach to cut the branches. There is a limit on how far you can go cutting branches while standing on the ground. As you go higher up, it becomes harder to control the cutting saw and increases the safety risk.
You should choose a pole length depending on the average size of the trees in your yard. Consider whether it's worth paying extra to get the most extended pole length.
Pole Saw Weight and Balance
You have to carry the pole saw around to get the job done. The weight of the pole saw is a critical factor as it determines how long you can hold it to get a job safely done. A heavier pole saw makes you get tired quickly and increase the risk of accidentally dropping it.
Most cordless pole saws are lightweight, and you may not find it very heavy while holding it. But it becomes quickly tiring when you have to raise it for an extended period above your head.
Look for the balance and stability of the cordless pole saw while holding it up. A well-balanced and lightweight cordless pole saw makes it easier to get a job done quickly and precisely.
Lubrication
The cordless pole saw uses a chainsaw at the top to make a cut. It bears a huge load when cutting through thicker and heavier tree branches. Keeping the saw well lubricated reduces the friction and gives you a cleaner cut.
Some chainsaw comes with automatic lubricating functionality that lubricates the bar and chain when in use. You can also lubricate it manually, but then you have to remember to lubricate it as per need.
The self-lubrication features free up your mind to do one less task. These have an oil reservoir where you can fill the lubricating oil.
Noise
Let's be clear here, the pole saw will make a lot of noise. The level of noise is usually less than the gas pole saw, but you will have loud enough noise from the cordless pole saw to disturb your neighbor.
The level of noise generated depends on the chainsaw and the cutting capacity. You should check the noise level rating that is denoted in decibels (dB) on the product specification.
Pick the one that has the right balance of cutting power and noise level that you're comfortable using.
Detachable Saw Head
Some cordless pole saw models allow you to remove the pole and use the chainsaw as a standalone cutting tool. This gives you more flexibility as you don't have to buy an extra chainsaw for the regular cutting job.
But as a drawback, the detachable saw head has a motor attached to the cutting head that makes the uneven distribution on the pole. You should review your needs and think if this is what may be beneficial to you.
Faster charging
The cordless pole saw has a rechargeable battery. Most have lithium-ion batteries that have a larger battery capacity and shorter charging time. The fast charging allows you to get ready to finish the task quickly.
Cutting Thickness
For light to medium work, a cutting thickness capacity of 4 to 5 inches should be enough for most tree branches. Now, it also depends on the tree you're planning to prune as some have softer limbs, while others have a more robust stem.
Safety features
Battery-powered pole saw can cause injury or damage to the property if not handled correctly. The safety features available in the tool prevent these accidents from happening.
Some standard safety features include automatic shut-off, emergency stop, and pole stability. Choose the pole saw that has several safety options and read the product manual for the proper use of the tool.
Warranty
The warranty gives you the additional peace of mind that the product will be replaced or fixed if anything goes wrong in the warranty period. Most manufacturers provide a different warranty period for the chainsaw and battery.
Choose the one that has an extended warranty period to prevent any hassle in the future.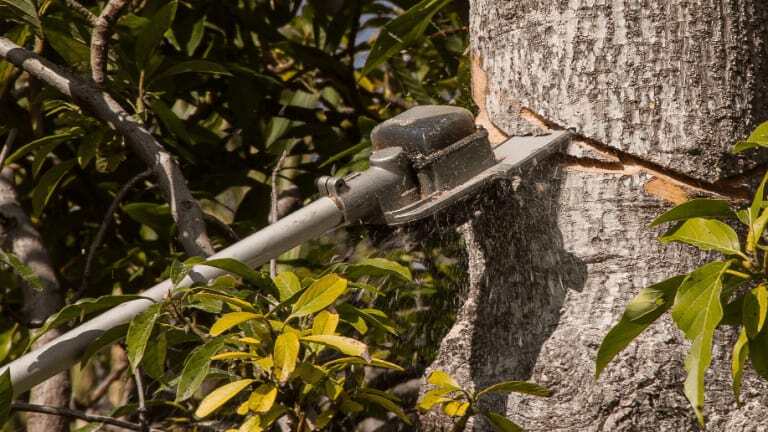 Who Makes The Best Battery Powered Pole Saw?
There are several powered pole saw manufacturers. Buying a pole saw from a reputable brand provides you with better customer service and sometimes a more extended warranty.
Here are some top brands that manufacture battery-powered pole saw that you can trust:
Black + Decker
Black & Decker is a leading producer of power tools in North America. Initially established in 1910, it has over 100 years of experience in manufacturing power tools and gardening equipment. It has a reputation for providing quality products.
Worx
Worx is a leading lawn and garden equipment brand that started in 2004. The company is based in China but has a presence in North America. It sells its product through several chains of retailers in North America.
Greenworks
Greenworks is an emerging brand in producing power tools, primarily battery-powered outdoor tools. It has an extensive presence in North America and sells products under its brand name and for other retailers.
Safety Precautions When Using A Cordless Pole Saw
When operating a cordless pole saw, you must follow all safety procedures to prevent injury or damage to properties.
Always wear protective equipment such as a hard hat, safety glasses, and hearing protection.
Use gloves to protect your hand from dirt and debris and wooden spikes.
Always turn off the chain saw when not making any cutting.
Don't attempt to bypass any safety features for convenience.
Keep an eye on the ground to prevent any slipping while making a cut.
Make sure the chainsaw has no broken teeth or loose tension.
Don't forget to share this post