When it comes to cutting woods, you invariably need a chainsaw. And if you have spent some time researching, then you would have noticed two famous brands Stihl and Husqvarna.
It seems that both provide the same result—that is, to cut trees and wood. But it gets confusing as you dig deeper into product specifications. If you're undecided between Stihl vs. Husqvarna chainsaw and don't know where to get started, then you're not alone.
Not all chainsaws are the same as each appeals to a different user, with a range of features.
So, which is better in Stihl chainsaw vs. Husqvarna?
That's what we're here to find out.
Stihl vs. Husqvarna Chainsaw
Brand History
Stihl is a German company founded in 1926. It manufactures a wide range of power tools and is a well-known brand. You can find its products from Europe to North America. Their motto is "To ease peoples' work with and in nature."
Husqvarna, founded in Sweden, started as a weapon production company in 1689. It had its first plant at the waterfall in Husqvarna in Southern Sweden. In 1700, they began building rifles and other equipment. Since then, they diverged into various types of power tools.
Based on brand history, Husqvarna has been long in the market than Stihl and competing them on various products. Both are well-known brands that stand by their reputation to provide the highest quality product to their customers.
Read on to discover which brand product is right for you.
Stihl vs. Husqvarna Chainsaw: Product Categories
Stihl designs its chainsaw for various purposes and has a power range from 1.3 kW to 6.4 kW (1.6 HP to 8.7 HP). You can use a Stihl chainsaw for the following purposes:
Property maintenance
Agriculture and horticulture
Forestry
Arboricity
Emergency services
Carving
Pole Pruning
Husqvarna has a limited range of chainsaw products, but they cover more product categories than the Stihl. The Husqvarna line of chainsaws has the following products:
Gas and electric powered chainsaw
Forestry clearing saw
Pole Saws
Power Cutters
Stump Grinders
Winner: Stihl
Stihl chainsaw product line offers multiple types of chainsaws for a wide range of use. Both professionals and residential users can use it.
Husqvarna has a limited chainsaw product range, but it covers the most extensive use case scenarios. However, if you have a unique need or have to use a chainsaw for a particular purpose, then Stihl offers multiple chainsaw product options than Husqvarna.
Stihl vs. Husqvarna Chainsaw: Power
Stihl manufactures both gas-powered and electric chainsaws (Cordless and Corded). The power rating of the tool depends on its use. For example, most residential use chainsaws are rated to be 1.6 hp to 2 hp, whereas the professional-grade chainsaw can go up to 8.7 hp.
The power is essential for smooth and uniform cutting. A low-power chainsaw could increase the cutting time or may not be able to finish the job at all. But you don't always want a higher power chainsaw if your need is modest and you use a chainsaw occasionally.
Husqvarna casual chainsaw is geared toward homeowners for light cutting tasks and hobby works. These are easy to start and operate. It has several useful features that help new users. The casual saw has a power rating of 1.8 hp to 2 hp.
The mid-range and professional-grade chainsaw have a power rating of 2 hp to 8.3 hp, such as Husqvarna 460 Rancher. If you're looking for a professional-grade chainsaw that is tough, durable, and reliable with high work performance, while it remains to be lightweight, then you should choose Husqvarna as they have more than 30 different chainsaw models to choose from. 
Winner: Husqvarna
The Husqvarna is a clear winner here with multiple products offering that suits casual users and professionals. A series of chainsaws is developed for the demanding work of contractors and landowners.
These chainsaws are easier to use and loaded with raw power and efficient operations. Husqvarna 550 XP G Mark II and 572 XP are some popular chainsaws from Husqvarna.
Stihl vs. Husqvarna Chainsaw: Feature Comparison
Both Stihl and Husqvarna come with different features to set them apart from each other.
Stihl Chainsaw Features:
Stihl 2-Mix Engine: For gas-powered chainsaw, the Stihl 2-Mix is a two-stroke engine that saves up to 20% fuel and reduces 70% emission compared to other gas chainsaws.
Compensator: For a cleaner fuel burning in a gas chainsaw, the controller in the Stihl carburetor prevents the fuel-air mixture from getting clogged. It maintains the proper fuel/air ratio for cleaner and efficient burning of the fuel.
Anti-vibration system: The precisely calculated buffer zone in the chainsaw minimizes the vibration at the front and rear of the chainsaw handle. It reduces fatigue and allows you to work longer.
Stihl Ematic system: The Stihl Ematic system reduces the consumption of chain lubrication oil by 50%.
Single-lever master control: The single lever master control provides all the functions of the chainsaw such as start, choke, throttle from a single lever.
Quick stop chain break: This is an additional braking system available in the cordless chainsaw models. This feature makes the chain stop immediately whenever you let go of the rear handle.
Control handle: The soft-cushioned control handle ensures a safe and secure grip when handling the chainsaw.
Husqvarna Chain saw Features:
X-Torq: The highly efficient gas engine made with X-Torq technology improves the fuel efficiency of the chainsaw. It lowers fuel consumption and reduces the exhaust emission level.
Autotune: The autotune feature in the chainsaw gives the optimal engine performance throughout the automatic engine settings. It means you don't have to manually adjust the carburetor to get the best performance from the chainsaw engine.
Easy to start. The Smart Start feature makes it effortless to start and stop the chainsaw gas engine.
Air injection: The centrifugal air cleaning system reduces the wear and gives you a longer operating time between filter cleaning.
Winner: Husqvarna
It was tough to decide between Husqvarna vs Stihl as both have unique features, and some of the features aren't available in each other. But Stihl has several standard features, whereas the same functionality is automatic in the Husqvarna.
The auto-adjusting feature in Husqvarna gives it an edge over the Stihl as it reduces the time you need to spend to fine-tune the settings.
Stihl vs. Husqvarna Chainsaw: Ease of Use
The ease of use depends on the overall design of the chain saw which makes it lightweight, portable, and produces less vibration while using.
Stihl chainsaws are ergonomically designed and have handles that are easier to hold and maneuver. The handle is wide enough for people with a bigger hand to make a proper grip and move it around.
The Stihl is also more targeted toward the home users, and their gas chainsaws have smaller fuel tanks that make it weigh less. On the other hand, Husqvarna saws are geared toward more pro-users and experienced residential users.
The larger gas fuel tank in the Husqvarna gas-powered chain saw, and the beefier batteries mean you get more power to handle the tough cutting job, but the chainsaw is a bit heavier. Husqvarna also put more emphasis on the research and development of chainsaw technology.
For example, Husqvarna anti-vibration technology absorbs vibration, thus reducing the shakes and impact on your arms and hand. It makes cutting thick and large wooden trees a comfortable experience.
The use of combined choke and stop control makes it easier to start the gas-powered chainsaw and prevents it from flooding. It makes it quick and easy to start the chainsaw engine.
For cordless operation, the Husqvarna chain saw batteries are 36 V Li-ion that is quiet, lightweight and provides up to 10 hours of cutting time between charges when used with backup batteries. 
Winner: Husqvarna
The Husqvarna is a clear winner here due to the use of the latest technology in its chainsaw engines and continuous improvements in functionality and design.
The chainsaw, as vouched by several positive reviews from buyers, provides a comfortable working for an extended period due to reduced vibrations and stress on the shoulders, arms, and wrist.
We recommend choosing the Husqvarna cordless chainsaw over the gas-powered one for occasional users and for those using it to maintain a small to medium size lawn.
With a cordless chainsaw, you get high power and torque, with a low operational cost as you don't have to keep filling the gas tank or deal with the exhaust.
Stihl vs. Husqvarna Chainsaw: Safety
Both Stihl and Husqvarna come with several safety features. Safety is essential as it reduces the risk of injury to the operator.
The prolonged use of a chain saw exposes the user to the vibration that may cause white finger disease or carpal tunnel syndrome. It reduces the hand's ability to feel and regulate temperature.
In some extreme cases, it generates a burning sensation and numbness to the fingers that may last longer or become permanent. For preventing the above side effects, most Stihl chain saw come with an anti-vibration system that reduces the transfer of vibration created by the chainsaw to the user's hand.
We recommended that you choose the chainsaw designed with an anti-vibration feature if you use a chainsaw on a regular and sustained basis.
Husqvarna has implemented several safety features in the chainsaw, including anti-vibration. Some of the following safety features are optional in the Stihl chainsaw as they are either available in the more expensive professional-grade models or are inferior to Husqvarna.
The following safety features are available in the Husqvarna saw models.
Kickback guard and chain break: The kickback guard prevents the sudden stop when using the chainsaw that may cause you to lose control. The chain break happens when your left wrist forces the kickback guard-forward. This prevents serious injuries.
Throttle lock: You don't accidentally want to increase the throttle while using a chainsaw. The uncontrolled high throttle may cause you to lose control and result in damage to the property or injury. The throttle lock feature in Husqvarna allows you to throttle when the lock is pressed. It prevents the unintended throttling of the chainsaw.
Chain Catcher: The chain catcher holds the chain in case the cutting chain break or derail.
Right-hand guard: The right-hand guard in the chainsaw protects your right hand in case the chain break or derail.
Quick stop control: The quick access stop control allows you to shutdown chainsaw in case of emergency.
When you look at the product safety features between the Stihl vs. Husqvarna, the divide is clear as Husqvarna comes with overall more safety features than the Stihl.
For example, you can shut off the Husqvarna with a simple push of a button, whereas for Stihl, you have to push the switch upward which is very counterintuitive. 
Winner: Husqvarna
The Husqvarna is a winner here due to its natural safety design and including the basic and more advanced safety features in its chainsaw design.
It doesn't mean that the Stihl chainsaw is unsafe or shouldn't be used. Stihl has its design safety advantages that aren't available in the Husqvarna saw.
However, if you're dedicated to choosing these chainsaws, the Husqvarna will give you more safety and functionality for a wide range of use.
Stihl vs. Husqvarna Chainsaw: Maintenance
Proper maintenance of the tool is essential to operate the chainsaw safely and prevent any accidental injuries. Routine maintenance improves the overall cutting performance and the efficiency of the tool.
In a chainsaw, the usual maintenance requires checking the front handguard, checking the brake trigger, testing the chain catcher, fixing the keypad, cleaning the cooling system, and checking the battery and compartment for the cordless chainsaw.
The Husqvarna design is a bit more complicated than the Stihl chainsaw. This is due to the more inclusion of safety features. The more straightforward design of the Stihl chainsaw means it's far easier to maintain than the Husqvarna chainsaws.
However, Husqvarna has an extended warranty than the Stihl. It means you don't have to maintain it as often as Stihl. In case, if you missed the scheduled maintenance and something goes wrong with the chainsaw, you're still covered with the extended warranty. 
Winner: Husqvarna
We give Husqvarna an edge here, although its maintenance isn't as simple as Stihl. But the extended warranty period on the Husqvarna and the sturdier design means you don't have to maintain as often as Stihl.
Stihl vs. Husqvarna Chainsaw: Warranty
Warranty on the product gives you peace of mind that if something goes wrong in the warranty period, you will be covered to get it fixed without incurring additional cost.
The more extended warranty on the product also shows the confidence of the manufacturer in their product. Stihl provides around to 2 years of limited warranty coverage on their lawn care equipment.
For Gasoline and electric chainsaws, Stihl provides a 1-year warranty for personal use and three months for professional use.
Husqvarna chain saw warranty is almost double the Stihl warranty. It provides a two-year warranty to personal users and around one year to a 3-month warranty to professional users.
If you're using a cordless chainsaw, you get around a three-year warranty on the batteries for personal use and from 2 years to 3 months for professional use.
The extended warranty available to everyday users for regular household use and the professional users on Husqvarna chainsaws gives it a clear advantage. 
Winner: Husqvarna
Husqvarna provides almost double the warranty period than the Stihl. We liked Husqvarna's warranty on residential chainsaw of 2 years as compared to Stihl's 1-year warranty.
It indicates Husqvarna's confidence in their product and their willingness to standby longer behind their product in case anything goes wrong during the warranty period.
Stihl vs. Husqvarna Chainsaw: Price
Ah, budgeting.
It's hardly the most exciting part when you have to spend extra money to buy the tool that you want—but let's face it, most of us don't have unlimited cash. You have to decide between your NEED and WANT.
It's always easy to get swayed by all the cool features in the chainsaw and things you can do with more powerful (and expensive) models. But in the end, you shouldn't overspend on the features and power that you know you're never going to need.
Fortunately, both Husqvarna Stihl and offer entry-level, mid-level, and professional-grade chainsaws at a different price range. You can pick the one that has all the features that you need in a chain saw.
There is no universal price on the chainsaw, as it all depends on the area you live in and if there is any promotion or discount provided by the retailer. But for comparison purposes, the Stihl chainsaw tends to be cheaper than the Husqvarna.
The general belief is that, if you want a budgeted home use chainsaw, then you should buy a Stihl or even a brand like Ryobi. But if you're looking for a professional-grade chainsaw or need it for heavy use, then you should choose a Husqvarna. 
Winner: Stihl
On a price front alone, the Stihl chainsaw gives you more value as their chainsaw is cheaper than the Husqvarna.
But remember that price is only one consideration. As the Stihl has a lower warranty than the Husqvarna chainsaws and you get more options with a Husqvarna saw.
However, for simple personal needs, the Stihl gives you better pricing flexibility than the Husqvarna.
Stihl vs. Husqvarna: Which Should You Choose?
Both Stihl and Husqvarna have strengths and weaknesses to consider:
Stihl is a well-known brand and provides chainsaws for a wide range of use and has different designs and features. The chainsaw is easy to operate and far more straightforward to maintain than the Husqvarna.
Husqvarna, on the other hand, is a very able and versatile tool with lots of features and options to choose from. It has some features that give it an edge over the Stihl, such as a longer warranty time for both personal and professional users on the tool and battery.
Choose Stihl if you want:
Excellent pricing on the budget models
Wide retailer presence
Budgeted model
Efficient tree cutting performance
Ease of use
Good value to the money
Choose Husqvarna if you want:
Superior performance
Hassle-free operation
Higher power and performance
Need low maintenance
Longer Warranty
Wide range of automatic options
More safety controls
If you have any questions or want to share your experience then let us know in the comment below.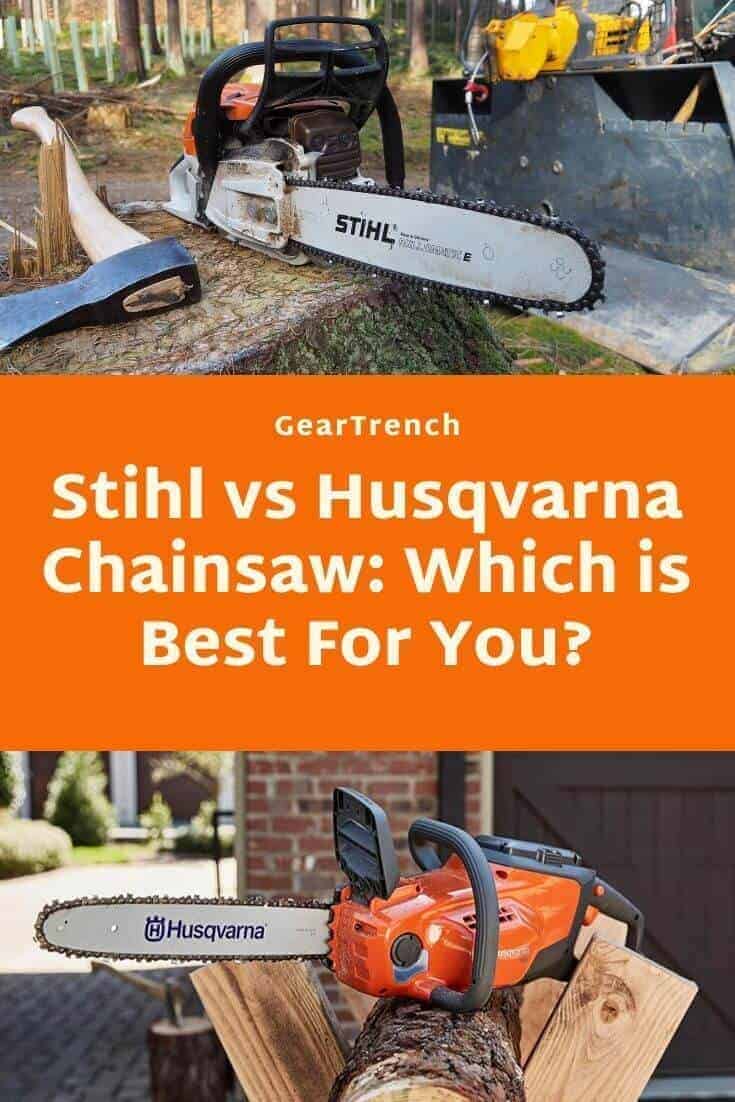 Don't forget to share this post