Ryobi Pole Saw is an easy-to-use, highly efficient tree branch cutting tool. It has a gas-like power with cordless convenience. It provides superior run time and performance.
The powerful in-line motor and angled cutting head give you very precise cut even to toughest branches.
Effectiveness
4/5
It does everything great. It's a robust pole saw with the ability to cut through thick branches with ease and do the job often. Very efficient in cutting long and thick branches with ease.
Price
4.5/5
Much cheaper than the other same specification pole saw. It's a powerful saw without being obnoxiously expensive. It's the best value for money on the market now.
Support
3.5/5
This has the right blend between the powerful saw and user-friendly operation. It's a great tool to pick up if you're just getting started with yard maintenance.
| Feature | Specs |
| --- | --- |
| Battery | 18V/40V Lithium-Ion |
| Chain Saw | 8 Inch Bar and Chain |
| Pole Length | 6.5 ft. to 9.5 ft. |
| Cutting Depth | 6 inch |
When it comes to yard maintenance, every gardener knows that it's imperative to have some kind of cutting tool to prune overgrown tree branches.
And the excellent pruning tool for overgrown tree branches should have a long reach pole to cut tree branches while standing on the ground safely.
There are so many options out there that it can get a little overwhelming. We know you don't have the time to go through and try each pole saw before finding the perfect one for you. That's why we've done just that for you.
As a gardening enthusiast, I have lots of overgrown trees in my yards and have tried different brands of pole saw over the years. Just so be clear, there won't be a single-pole saw that will be perfect for everyone. There are pros and cons to each depending on your requirements.
In this article, we will introduce one of the options to you: Ryobi Pole Saw. When most people think electrical pole saw, this isn't one of the first tools that pop into their heads.
However, Ryobi should be one of your serious options when it comes to making the final choice. To provide you with an in-depth review and the various features this pole saw has to offer, I conducted a full review of this tool.
Let's get started with the Ryobi Pole Saw review.
What is a Ryobi Pole Saw?
This pole saw is a tool to prune trees and hedges in your yard. It's an 18 V lithium-ion pole saw (also comes in a 40V model) that has a long-lasting battery capacity. It works perfectly for pruning hard-to-reach branches and limbs of tall trees.
A video is worth a thousand words. Here is the quick overview video of Ryobi.
Features of Ryobi Cordless pole Saw?
Bar and Chain
This saw has an 8-inch Bar length that allows you to cut branches up to 6-inch thick. The chain pitch is 3/8 inches and has Low Profile Skip Tooth Narrow Kerf Chain type.
Pole Reach
You can extend the pole from 6.5 feet to 9.5 feet. This gives you an average overall reach of around 12 feet to 15 feet. The telescoping pole allows you to adjust it to different lengths for ease of use.
Quick View Oil Indicator
The pole saw has a semitransparent bar lube reservoir that lets you see when to add lubricant. This takes out the guessing game when to refill the lubricating oil and prevents damage to the pole saw.
Lockout Button
Safety is vital when handling pole saw. Unsafe use may result in injury or damage to the property. For preventing accidents, It comes with a lockout button that prevents accidental starting. The lockout button must be depressed along with the switch trigger to make it operational.
Durability
The pole saw has outstanding build quality and is very lightweight. It feels smooth when holding, and you can make a comfortable grip on the tool while keeping it straight.
Weight Distribution and Stability
The saw has uniform weight distribution. The battery is at the end of the pole while the other end has a saw attached to it.
The grip is comfortable, and hands don't slip while holding it upright. If you extend the pole at full length, it wobbles a bit but has enough stability to maintain precise cutting.
It works great while trimming thicker tree branches as long as you follow the proper cutting technique. The Ryobi cordless pole pruner is very lightweight, and when fully assembled with a battery, it weighs around 8 lbs.
The shoulder strap makes it easy to carry it around as needed without getting tired. 
Cutting Capacity
The powerful 18 V lithium-ion battery runs the 8-inch chainsaw with an in-line motor for precision pruning. It can easily cut through branches that are 6 inches in diameter. It produces 2.52 Nm torque for greater cutting efficiency.
Battery Charging
The pole saw comes with a 2 Ah Battery and charger. It takes approximately 60 minutes to get it fully charged. The battery is compatible with other 40 V Battery of Ryobi tools.
So, you can switch over batteries with other Ryobi tools if needed. The battery is compact, lightweight, and compatible with the same brand batteries. You also have the option for several Ryobi pole saw attachments.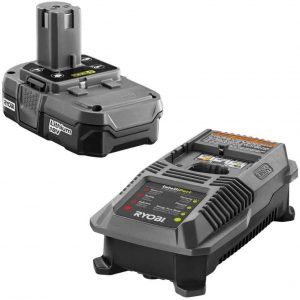 Automatic Oiler
The pole saw is designed for chains and chain oilers. It's formulated to work in a wide temperature range with no dilution required.
You don't get the chain oil added when you receive the pole saw. To add the chain lubricant, remove the oil reservoir cap at the top of the chain saw and fill the tank with oil. Keep an eye on the quick view oil indicator and don't overfill it.
Ryobi recommends checking the oil after every 20 minutes of use and refilling it as needed. The oil may seep from the saw when not in use. To prevent seepage, you have to empty the oil tank after each use then run for one minute.
When you're going to store it for an extended period, make sure the chain is lightly lubricated to prevent rust on the chain and bar.
Noise
This is a cordless pole saw and is quite as compared to a gas-powered saw. But it won't be completely silent since the chainsaw generates a lot of noise when making a cut. You should wear ear protection when using the tool.
Ryobi Pole Saw Maintenance
It needs less maintenance than the gas-powered pole saw. As you don't have to deal with all the gas engine maintenance routine of changing engine oil and cleaning oil spills.
The automatic oiler functionality is convenient as you don't have to do it manually, which reduces the maintenance requirements.
You have to occasionally tight the chain tension. To check it, make sure the guide bar is loose to finger tight. You can quickly tighten the chain by turning the chain tensioning screw clockwise.
You will know the chain is correctly tensioned when there is no slack on the underside of the guide bar. You may also have to sharpen the chain after repeated use. You will know the chain needs sharpening when you see the following indications:
Wood chips are small and powdery
You have to force the chain through the wood during cutting
You get the pole saw chain to cut to one side
Price
It's priced reasonably and is relatively cheaper when compared to similar types of pole saw. You also have the option to buy the reconditioned pole saw at a highly discounted price.
Overall, this is a reasonably priced chain saw that you can buy with confidence.
Warranty
The Ryobi One+ Lithium-Ion Pole Saw comes with a 3-year limited warranty. If you're buying Ryobi's model RY40540, then it comes with a 5-year limited warranty.
You can buy it from a local hardware store such as Home Depot, Lowes, Walmart, or order it online such as Amazon, which comes with extended purchase protection guarantees.
How to sharpen the Pole Saw Cutter?
You have to sharpen the saw cutter after using it for a while. You can do it yourself by using a proper chain sharpening tool and carefully filing all cutters to the specified angles and the same length.
For the fast cutting, all the cutters have to be at a uniform length. Below is the illustration of the cutter and how to sharpen it. 
Step 1: Tighten the chain tension enough, so it doesn't wobble. You have to do all the filings at the midpoint of the bar. For safety, always wear gloves.
Step 2: Grab a 5/32 in diameter round file and holder. Place the file at the top plate of the tooth. Make sure the file is stable and don't let it dip or rock.
Step 3: Use a light but firm pressure, and stroke forwards the front corner of the tooth. When you complete one stroke, lift the file before returning to the start of the filing position.
Step 4: Repeat the firm strokes on every tooth. Make sure to file all left-hand cutters in one direction before moving to the other side.
Once you finish filing one side, move to the other side and file the right-hand cutters in the opposite direction. Wipe the filings from the file with a wire brush. If you need a 5/32 inch chain saw sharpener that is compatible with Ryobi's chainsaw then Pferd Chain Sharp Filing Guide is a reasonably priced high-quality sharpener. 
Common Troubleshooting
Issue: Bar and Chain running hot and smoking
Cause: Check chain tension for the over-tightened condition. Also, check if the bar lube reservoir is empty.
Solution: You have to tension the chain and fill the lubricating oil in the bar lube.
Issue: Motor runs, but the chain isn't rotating.
Cause: Chain tension too tight. Check guide bar and chain assembly for damage.
Solution: Tighten the loose chain and, if needed, replace the bar and chain. Visually inspect if there is any damage to the guide bar and chain.
Call Ryobi's support line at 1-800-860-4050 to find out the nearest authorized Ryobi Service Centre. 
What are alternatives to Ryobi Pole Saw?
There are several other reasonable alternatives to the Ryobi pole saw. If you're looking for great options in the cordless pole saw category, then we have an in-depth review of the best cordless pole saw that you can check out.
Overall, there are some great alternatives such as Worx Cordless pole saw, Greenwork's Pole Saw, Black + Decker Lithium Pole saw, and Oregon Telescopic pole saw that provides a good value of money.
In the end, you have to choose the one that fits your needs.
Final Thought: Should You get it?
I've been thoroughly impressed with the performance of this pole saw, and I think it could be a great cutting tool for most types of residential gardens.
It's straightforward to use, and I find it cutting even the toughest branches with ease. The 3-year limited warranty gives you additional peace of mind that it will be repaired or replaced if anything goes wrong during the warranty period. 
Don't forget to share this post