Miter saw is a very versatile tool that's used to make precise cuts to the wood. It's a great alternative to a manual saw.
So, whether you're a professional carpenter or DIY person who wants to make a quick cut for the backyard shed, you need to decide which miter saw to buy.
To make your job easier, we'll dive into some of our favorite options below and point out a few essential things to be aware of when trying to choose the best sliding miter saw.
But, if you're in a rush, just check out our quick picks for some fast recommendations.
Top Sliding Miter Saw Available in the Market
What is a Sliding Miter Saw?
A sliding miter saw allows you to cut thicker and longer wood pieces as you're not limited to the small cutting area of the miter saw. To make a cut, you move the blade back and forth on sliding rails.
Sliding miter saw is popular in construction industries as contractors often need to cut longer and thicker wooden pieces. But if you're a DIY person and want to build a deck or backyard fence, then choosing a sliding miter saw may be a better option.
Best Miter Saw Review
Everyone has different job requirements and cutting tasks in their hand. So be sure to choose a sliding miter saw that suits your needs and provides you with an efficient and cleaner cutting performance.
Some other notable alternatives: Delta sliding miter saw, craftsman cordless miter saw, WEN Sliding compound miter saw, and Hitachi C12RSH2.
Types of a Miter Saw
The miter saw is mainly three types.
Simple Miter Saw
This is the most basic type of miter saw that has a nominal range of motion. You can often only make a straight cut to the woods. Due to its straightforward design, these are easy to operate and cheaper.
Compound Miter Saw
The compound miter saw allows you to pivot the blade left or right for the angled and beveled cut. This is a great functionality to have as not all projects need a simple straight-line cut. With a compound miter saw, you get more precise and sophisticated cuts.
You also get the option to choose a compound miter saw that moves only in a single direction or can be tilted on both sides. The bi-directional compound miter saw is called a dual-compound miter saw.
Sliding Miter Saw
The sliding miter saw has a sliding arm that is used to move the blade back and forth. This increases the cut length. The sliding compound miter saw gives you the best of both worlds. You get the ability to make a longer angled cut with a sliding compound miter saw.
How big of a miter saw do you need?
Miter saw doesn't come in a single size. Depending on the length you want to cut, you can buy a different size miter saw.
Most professional contractors usually choose a 12-inch miter saw. This allows them to cut longer size woods as often required in construction projects. These miter saws are heavy and a bit more expensive.
If you need a saw for personal use to handle your DIY projects, then you should choose a 10-inch miter saw. This allows you to manage most types of wood-cutting jobs without spending extra money.
If you want something a bit inexpensive and more portable, then choose the 8 ¼ saw size. These are lightweight and can be moved around to the location where you want to make a cut.
For beginners, you can also buy a miter box that helps you to get a perfect angled cut. But if you're a more experienced user and know how to get the right-angle cuts, then you don't need a miter box.
Factors to consider when buying the miter saw
When you're choosing a slider miter saw, look for the following features based on your needs and budget.
Power
The sliding miter saw is powered by an electric motor. For harder and complex projects, you want the most powerful engine.
For the majority of works, you should choose at least 15 Ampere motor. This gives you enough power to cut most wood types.
Be aware that having a low-powered motor may not be able to cut thicker woods or give you a cleaner cut.
Blades
Having a right saw blade is essential to get a precise and clean cut. The module comes in 8 ¼, 8 ½, 10, and 12-inch diameters.
The bigger blade makes a more extended cut. This is important if you're cutting longer and thicker crosscuts with miter and bevel capability.
You don't always have to choose the 12-inch blade. Most sliding miter saw designs will allow you to use a range of blade sizes. So, know beforehand what you will be using the saw for and the types of wood and thickness you will cut.
Cutting Speed
If you want a clean, smoother cut, then you should choose a blade that has a higher tooth count. Usually, the 12-inch diameter blade has more teeth than a smaller size blade. But as a downside, a higher tooth count slows the cutting speed.
We recommend that you use a larger blade when you have to cut thicker wood and need a more clean-cut appearance. Switch the module to the lower tooth count when you need fast cutting with less precision and finishing.
Blade Guard
The blade guard is a safety feature that prevents injury from the fast-moving saw blade at the workspace. Some people find it a nuisance as it slows the cutting efficiency and attempts to bypass this safety feature.
We recommend not to disable any safety feature as it may cause severe injury or damage to the property.
When choosing a saw, look for the transparent blade guard. This allows you to quickly adjust the blade at the desired position without having to lift it to align at the cutting mark.
Blade Change
The ability to quickly change the blade is a big-time saver. You often have to change the modules when you're cutting different types and thicknesses of wood.
Sliding miter saw with a single nut blade change option reduces the time needed to change the blade.
Some models of the miter saw have an onboard storage option to store blade-changing wrenches. It's a huge time saver as you don't have to hunt for tools whenever you need to change a blade.
Dust Chutes
When you cut wood planks, it creates lots of fine wood dust. Keeping your area clean is essential to get a precise and efficient cut.
Some sliding miter saw come with a dedicated dust collection spot that prevents the dust from blowing all over the place. It makes cleaning easier afterward.
Few brands have optional air blowing near the cutting area. This keeps the cutting area clean and allows you to get a precise cut. But it moves the dust into the air.
The dust chutes may not be the first thing you have in your mind, but it becomes crucial for health reasons and cutting efficiency.
Laser Attachment (Optional)
The laser attachment gives you an additional tool to make a more precise cut. Some people find it useful, and some don't like it at all.
Depending on your preference, you may choose whether you want a laser attachment or not.
Sliding Rails
The sliding rails allow the saw blade to move back and forth. The length of the track determines the maximum width of wood that can be cut.
There can be a single sliding rail or four sliding rails. Having a more sliding track adds complexity to the miter saw and needs more care, but you often get the smoother movement.
Price and Warranty
The sliding miter saw usually costs more than the general-purpose miter saw. The price depends on the brand and quality of the saw.
We recommend getting the best quality sliding miter saw even if it cost a bit more. This gives you greater flexibility when cutting woods.
Also, look for the warranty terms to have peace of mind that it will be repaired or replaced if anything goes wrong in the warranty period.
How to properly care for the sliding compound miter saw
With proper care of the sliding miter saw, you get better performance and longer life of the saw. Before using a sliding compound miter saw, check it the blade isn't loose.
Look for the damage to the blade tooth and replace it if you find any damage or crack in the blade. After the cutting session, turn off the chainsaw before you start the cleaning.
Empty the dirt chute to reduce spillage. Clean the cutting area with a damp cloth. Make sure the safety switch is engaged to prevent any accidental start by children.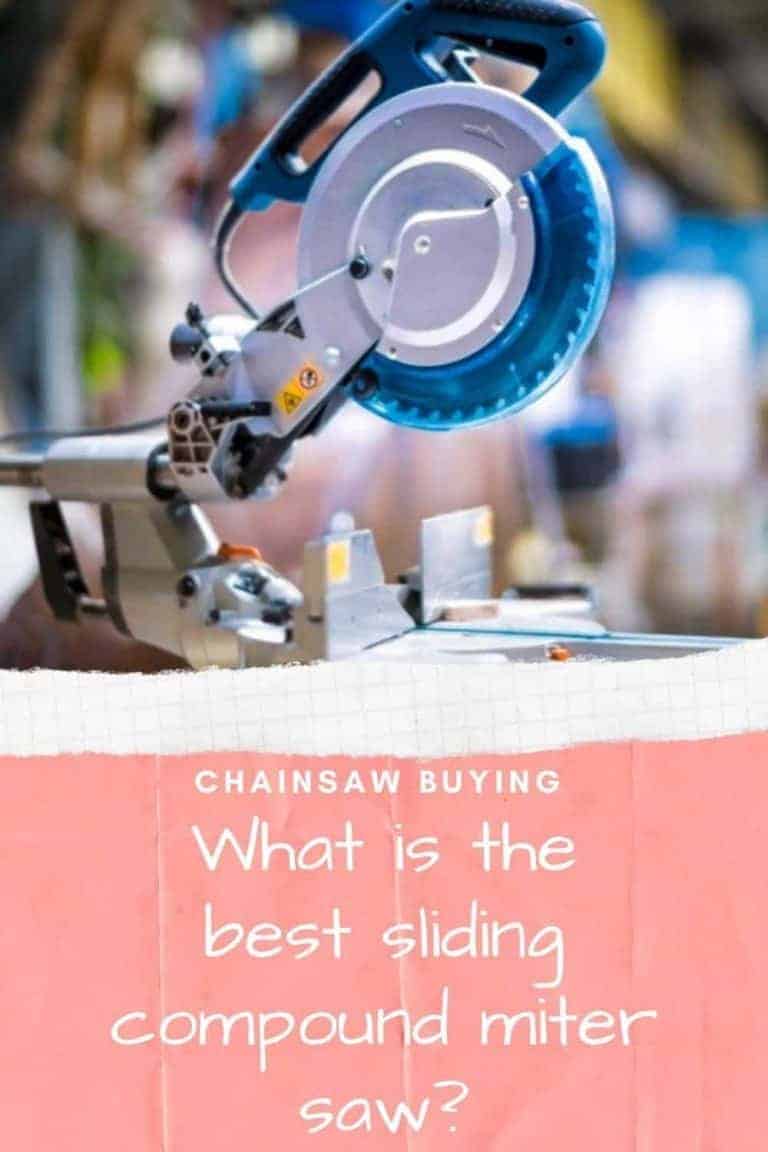 Don't forget to share this post