This is our review of the best tow behind sprayer in 2023
We all love to have a beautiful weed-free and lush green yard, but it takes some work to have that. When you have a medium to a large yard, a tow behind sprayer can be a great time saver.
You can use it to fertilize the lawn, apply herbicides or pesticides, or use it for cleaning. The options are endless with these sprayers. But there are so many different options available in the market that making the right choice can become a daunting task.
If you're looking for the best two behind sprayer, Northstar Trailer Boom Broadcast and Spot sprayer is our best choice. We have also researched and reviewed other sprayer brands with different capacities and functionality to help you choose the right one for you.
Later in the article, we have included the buying guide to help you decide what factors to look for when choosing a pull-behind sprayer. But if you're in a rush, you can pick from our top three options below.
Let's get started. 
5 Best Tow-Behind Sprayer in Market
Our Top Pick
Northstar Tow-Behind sprayer is our top pick. It has a large storage tank made of durable plastic with UV resistant coating. This means it can last several years in any weather condition. The industrial-grade pump automatically turns off when no flow is required to conserve the battery.
What is a tow-behind sprayer?
Tow-behind or pull-behind sprayer has a high-capacity storage tank mounted on wheels and towed by ATV or lawn tractor. You can spray fertilizers, insecticides, or weeds killers herbicide in your lawn with ease and in far less time.
The sprayer has a pump attached to the storage tank that helps disperse the tank liquid solution. If you have a large size yard or do a spraying job for commercial landscaping or yard maintenance, the tow behind sprayer is a great tool to have.
Types of Tow/Pull Behind Sprayer
When it comes to a sprayer, there are several different options available in the market. You can use these sprayers to spray water, apply herbicide, or disperse fertilizer. Here is a list of popular sprayers.
ATV Mounted Sprayer
These are great for off-road or agricultural purposes. If you have a large lot with distant spray areas, the ATV sprayer is an excellent option as it allows you to reach difficult places. These are highly portable and designed for quick attachment on the ATV.
It's easy to use and highly maneuverable to access rough terrain space. The sprayer has a storage tank capacity of 22-25 gallons.
UTV Mounted Sprayer
UTV sprayers are designed similarly to ATV, but these have a large storage capacity. You have to mount it on a tractor or larger vehicle, and it has a 25 to 200-gallon storage capacity. These include a powerful compressor to spray at a larger distance.
Lawn Tractor Sprayer
For residential purposes, a lawn tractor sprayer is a great option. The storage tank is mounted on a dedicated frame with wheels, and you attach it to a lawn tractor to get started.
There are different storage tank capacities anywhere from 55 to 100 gallons. The spray pump is powered by a 12 V electric diaphragm pump or gas motor centrifugal pump. 
What to consider when buying Tow-Behind Sprayer
Tank Capacity
Tank capacity can range anywhere from 15 to 100 gallons. For small to medium size yard chooses 25 gallons. 
Boom Sprayer
A multiple nozzle attachment boom sprayer helps you get the job done quickly. Choose a model that can be easily mounted. 
Towing Wheels
The towing wheels determine how smooth the spraying ride will be. Use air-filled wheels if you're going to use them on rough surfaces. 
Have a question about buying a tow behind sprayer? Contact us
Tow-Behind Sprayer Review
1. John Deere Tow-Behind Sprayer
Suitable for Medium to Large Size Yard
The John Deere Tow-Behind Sprayer has a 25-gallon capacity suitable for maintaining residential and commercial yards.
It comes with a 60-inch folding spray boom. It covers enough distance to spray any liquid fertilizer, weed killer, or de-icer around your properties.
The sturdy 100 psi diaphragm-type pump maintains consistent pressure and runs longer. If you run out of liquid while spraying, it won't damage the pump. This is great as you don't have to worry about accidentally running dry and damaging the pump.
The sprayer comes with an adjustable spray wand that can generate a stream up to 30 feet. You can further extend it by attaching it to a 19-foot hose.
The storage tank rests on two pneumatic tires. The low-profile tires are very stable even when used on rough terrain.
Attaching the power supply from your tractor to the sprayer is straightforward. The two-wire fused wiring harness lets you quickly connect the electrical connection without needing any tools.
See More Information about: John Deere Tow-Behind Sprayer
2. NorthStar Tow-Behind Trailer Broadcast & Spot Sprayer
ATV/UTV Pull Behind Sprayer
If you're looking for a tow behind sprayer with a 100% continuous duty rating, NorthStar Trailer broadcast, and spot sprayer is the best option. 
It has a 21-gallon plastic tank coated with UV-resistant material to use in any climate and is compatible with all pesticide types.
It has an industrial-grade pump that can work longer without getting overheated or stopping. The manufacturer claims it to last five times longer than other brands.
The main reason for this long-lasting performance is the pump's unique pressure switch design. It slowly cycles the pump for a reduced switch that lessens the motor wear.
The tank is loaded on a heavy-duty steel cart that can handle rough terrain with ease. There are multiple spray options to choose from that allow you to cover large areas with ease.
The spring-loaded breakaway boom arm doesn't kink, break or deform when struck. This allows you to use it at hard-to-reach places without worrying about damaging the arm.
You have complete control of the left and right nozzle that allows you to set the spraying amount as per need. The large 7.5-inch tank lid provides easy filling without spilling water or chemicals.
The 12-inch pneumatic wheels give excellent stability that prevents spilling even when moving at a rough surface.
The easy towing attachment option allows you to quickly attach it to ATV or garden tractor without wasting any time. You may have to assemble it as it comes in parts, but it has easy-to-follow assembling instructions.
See More Information about: NorthStar Tow-Behind Trailer Broadcast & Spot Sprayer
3. Ironton Tow-Behind  Broadcast Trailer
Affordable Spot Sprayer
Ironton Tow-Behind sprayer is an affordable but good quality sprayer. It has a 13-gallon hard plastic-made tank coated with UV-resistant material. It's not a high storage capacity tank but enough for any small yard.
The industrial-grade pump is mounted at the top of the tank. The one gallon per minute flow pump makes it suitable to spray around trees, bushes, and fences. The pump is built to last and has a chemical-resistant coating.
There are multiple spraying options. You can use 40-inch wide broadcast spray or 20-foot horizontal spot spraying options to save time.
The broadcast spray is excellent to spray on yards and ornamental flowers. In contrast, the spot spray is suitable for spreading herbicides on weeds, trees, and fence lines.
The storage tank has a large 7.5-inch tank lid at the top that makes it easy to fill without spilling. A 13-gallon storage tank is enough to cover the medium lot size with fewer interruptions.
It has an 11-foot PVC hose reinforced with a synthetic braided cord for durability and prevents kinks while in use.
You can adjust the spray nozzle from stream to cone by just turning it. It has a pair of 10-inch pneumatic wheels for easy towing and higher stability.
See More Information about: Ironton Tow-Behind Trailer Spot Sprayer
4. Fimco 25-Gallon Trailer Sprayer
Best with Boom
If you're looking for a sprayer for a medium to large size yard, Fimco 25—Gallon trailer sprayer is a good option. The storage tank is made from corrosion resistance polycarbonate tank.
The steel-made frame is durable and comfortably holds the full load. The 12-volt diaphragm pump works without any problem. The pump is located at the sprayer side and has a 15 ft hose attached to it. It gives you a 2.1 GPM flow rate with a 30 ft spray distance.
The opening at the top is a bit smaller (5 inches) than other models but shouldn't be a problem if you use a hose to fill it.
You can fit it easily behind a truck, tractor, or riding mowers. The adjustable nozzle tip allows you to choose a different pattern depending on your needs.
The corrosion resistance body frame is stable even on rough terrain. It has 13-inch pneumatic wheels that move smoothly on uneven ground.
Most people find it a reliable tow-behind boom broadcast sprayer, but there have been some poor customer service complaints.
See More Information about: Fimco 25-Gallon Trailer Sprayer
5. Precision Products Tow Behind and Spot Sprayer
Best This and That
Precision product tow behind spot sprayer comes in two storage capacities, 15 gallons, and 25 gallons. The 15 gallons are sufficient for any small yard, but for any medium to large size yard, you should choose a 25-gallon storage tank.
The sprayer has a 12-volt sprayer pump that generates up to 60 PSI. You can use it to spray over a 7-foot area comfortably. The 15-inch hand wand is suitable for any spot treatment, such as applying herbicide on weeds.
The opaque plastic tank is durable and mounted on a reliable steel frame trailer. The fluid level marking on the tank gives you a visual indication of how much liquid is left inside the tank.
The powder-coated steel tubes are lightweight but sturdy enough to handle a full load. The unit rolls on two 10-inch size pneumatic tires that roll smoothly on any surface.
You can easily clean up by opening a drain plug located at the bottom of the tank. You can quickly attach it to a tractor or lawnmower and connect it with a snapping 12-volt battery to power the pump.
The sprayer comes fully assembled with a remote switch so you can get the job done without any delay. For added peace of mind, you get a 90-day limited warranty.
See More Information about: Precision Products Tow Behind and Spot Sprayer
Tow-Behind Sprayer Buyer Guide
When it comes to choosing the right pull-behind sprayer, certain characteristics are worth noting. Understanding the key factors in the sprayer will help you find the right tool for your yard.
Tank Capacity
The tank capacity determines how much liquid you can carry in each load. A higher sprayer tank capacity means you don't have to return and refill it to get the job done. Usually, pull-behind sprayers have tank capacity anywhere from 15 to 30 gallons.
For small to medium size yards, you can choose a 25-gallon tank capacity. We find it to be a reasonable compromise between performance and ease of use. If you're buying it for farming, you can go for a much larger up to 100-gallon tow behind sprayer.
Tank Material
There are different materials used for storage tank construction. The fiberglass-made storage tank is gaining popularity as these are highly durable and lightweight. These are great for areas where the temperature won't go below freezing; otherwise, you risk it cracking.
Polyethylene-made tanks are also the right choice due to their high durability and weatherproofing. Most of these tanks have a weather protection coating that prevents tanks from cracking or fading.
You should confirm if the tank has these protective coating as these aren't default options. Some manufacturers increase the thickness to withstand weather, but it increases the weight of the tank.
A premium-grade tank is made of stainless steel. These are corrosion and weather resistant and are highly durable.
You can use these in any weather conditions without worrying about cracking or damaging the tank. But steel is far heavier than fiberglass or polyethylene made storage tanks and also more expensive.
As a recommendation, for small to medium-sized residential yards, you can safely choose polyethylene tanks. These are sturdy and lightweight while costing less than a metal-made tank.
These tanks are translucent and have visible markings that help you gauge the remaining liquid inside the tank.
Water and Chemical Mixer
The tow-behind sprayer has two chambers to let you hold chemicals and water separately. You can set up the desired concentration by setting up the mixing ratio between water and chemical.
We find a sprayer with a concentration tank capacity of 2 gallons and a water tank capacity of 25 gallons to be the right fit for average use.
Boom Sprayer
Boom sprayer comes as an attachment to the sprayer. It has multiple nozzles to cover larger areas in each run. These are a great option to have whether you want to spray in the large bulk of land or a small farm lot.
The boom sprayer attachment is available from 4 inches to 30 inches in length and has up to 18 nozzles. The boom sprayer's main benefit is that it can be easily mounted and have multi-system irrigation capabilities (wet booms).
If you're buying it as an attachment option, check with your manufacturer manual and ensure that it's compatible with the storage tank. 
Nozzle
The nozzle is most often overlooked when it comes to choosing a sprayer. Nozzle plays a significant role in adjusting the spray rate and the pressure inside the tank.
Nozzle tip comes with different patterns that allow you to spray more efficiently and evenly. Follow these guidelines when choosing a spray nozzle type:
Conventional Nozzle: It's suitable for pressure above 40 PSI. At lower pressure, the pattern collapse, and you get uneven spray distribution.
Low-Pressure Nozzle: It works under low pressure, for example, below 40 PSI.
Hollow Cone Nozzle: It generates a solid spray circle and distributes liquid evenly over an area. You can change nozzle settings and obtain a spiral, axial, or tangential spray pattern.
Misting Nozzle: Misting nozzle is great for generating a uniform pattern. It mixes with air and sprays uniform but small quantity solution to plants. It's useful when you're spraying herbicides or insecticides.
Solid stream Nozzle: Solid stream nozzle creates a straight jet pattern that produces high-impact spray. It's a good option to spray long distances or use it for cleaning purposes. 
Pressure Gauge
The pressure gauge visually tells you the amount of liquid inside the container, including the flow rate, speed, and tank pressure. A large size pressure gauge dial makes it easy to read even in low-light conditions.
You should keep in mind that pressure inside the tank fluctuates a lot. A pressure gauge mounted on the pump indicates the flow rate. You should be aware of where pressure is measured within the sprayer.
A pressure gauge that is visible from the seat of the tractor is a great option to have. You don't have to stop and get down to check the pressure inside the tank.
An oil-filled pressure gauge gives you a correct reading as oil reduces the noise of bouncing the gauge needle.
Most pressure gauges provide you with readings in both bars and psi. You should check if the sprayer pressure gauge displays the reading that you're comfortable with.
Also, ensure that the pressure gauge returns to zero when the pressure is released; otherwise, you will get the wrong pressure indication.
Towing Wheels
In a tow sprayer, the storage tank is mounted on wheels and pulled by ATV or a lawn tractor. The wheels need to have good traction and withstand the full load with a filled storage tank.
The towing wheels can be air-filled or pneumatic. The air-filled wheels give you a very smooth ride, which is essential when carrying a liquid solution in the tank. A bumpy or rough ride could result in the spilling of liquid inside the tank.
The pneumatic tires are great if you're spraying at rocky or uneven surfaces that may cause a flat tire. Ensure that the wheels are of the right size to get a smoother ride.
Most sprayers have wheels that range from 12 to 25 inches in size. If you know you will be spraying at a smaller and smoother surface, choose small-sized wheels as it makes it easy to maneuver.
Universal Mounting Bracket
When using a tow-behind sprayer, you have to attach it to a tractor or ATV with a mounting bracket. The mounting brackets come in different shapes and sizes.
If it's not compatible with your current tow hitch attachment, you either have to buy an extension or change the hitch.
You can attach a universal hitch mounting bracket to any powered vehicle. It's great money and time-saving feature that is worth considering.
How To Clean Sprayer After Use
You must clean the sprayer after use. It prevents any clogging in the nozzle and improves the life of the storage tank. Follow these steps to clean the pull-behind sprayer.
Step 1: Remove the pull behind sprayer for the tractor and park it on a flat and stable base.
Step 2: Drain any leftover liquid from the storage and close the valve again. Make sure you follow the proper regulatory procedure to dispose of any chemicals such as herbicides or pesticides.
Step 3: Using a hose, sprinkle clean water inside the tank. You can use a pressure washer or garden hose to wash and rinse the tank.
Step 4: Depending on which chemical solution you used, you have to use the right cleaning agent. You can check the solution package that will tell you the recommended cleaning agent.
Prepare the right amount of cleaning solution with an agitator and fill up the tank with a cleaning agent.
Step 5: Let the cleaning solution settle inside the tank for 6 to 8 hours to clean inside the tank properly. You must not rush the process to prevent later on contamination.
Step 6: Remove any nozzle, screens, or strainers from the unit and place them in a bucket with a cleaning agent solution.
Step 7: Use a brush to wipe off any dirt from these removable parts and wash it with clean water. Use the freshwater to drain the tank and rinse it thoroughly. Keep the top lid open to get the tank dry from inside.
Step 8: Reattach all removable parts, and your sprayer is ready to use again.
Maintenance Tips For Pull Behind Sprayer
You can extend the life and functionality of pull behind sprayer by following these tips:
Read the operating manual and follow proper safety and cleaning guidelines
Do a routine checkup on filters and nozzles to prevent any clogging. Don't operate the sprayer if the nozzle is clogged, as it puts unnecessary pressure on the motor
Operate the sprayer within operating pressure and flow rate
Drain your sprayer before a long-term storage
Store it under shade or keep it covered when not in use
Regularly clean the engine and pump after the operation. This prevents corrosion or obstruction to the plumbing lines
Drive slowly on uneven roads or bumpy surfaces. Don't overfill the storage tank and fill it as much as you need
Use the right attachment to hook the sprinkler with a tractor or ATV. To attach the sprinkler correctly to a tractor, secure the necessary cables from the tractor battery outlet to sprinkler input
You will need this connection to power up the compressor and towing lights on the sprinkler. Extend the hose to get ready to sprinkle the solution.
Troubleshooting Tow/Pull Behind Sprayer
If you're not getting proper flow from the nozzle, you have to make sure the liquid is left inside the storage tank. You can also check the pressure gauge to ensure the compressor is working correctly.
Sometimes you need to recalibrate the tow-behind sprinkler. The calibration is straightforward as you need to fill the tank with water and set the nozzle at a low drift position.
Let the water run for a minute and store the running water in a bucket. Measure the amount of water in the bucket, and it will give you the flow rate. Once you know the flow rate, you can adjust the nozzle to the desired level.
Our Verdict
Maintaining your yard shouldn't be a backbreaking chore. So if you're still wondering who makes the best tow behind sprayer, we found Northstar Trailer Boom Broadcast and Spot sprayer to be an excellent choice for small and medium-size yards.
It offers excellent flexibility to use and can be attached to several types of tractors or powered vehicles.
If you have a small yard and don't need these pull-behind sprayers, you can check our manual and battery-powered sprayer review.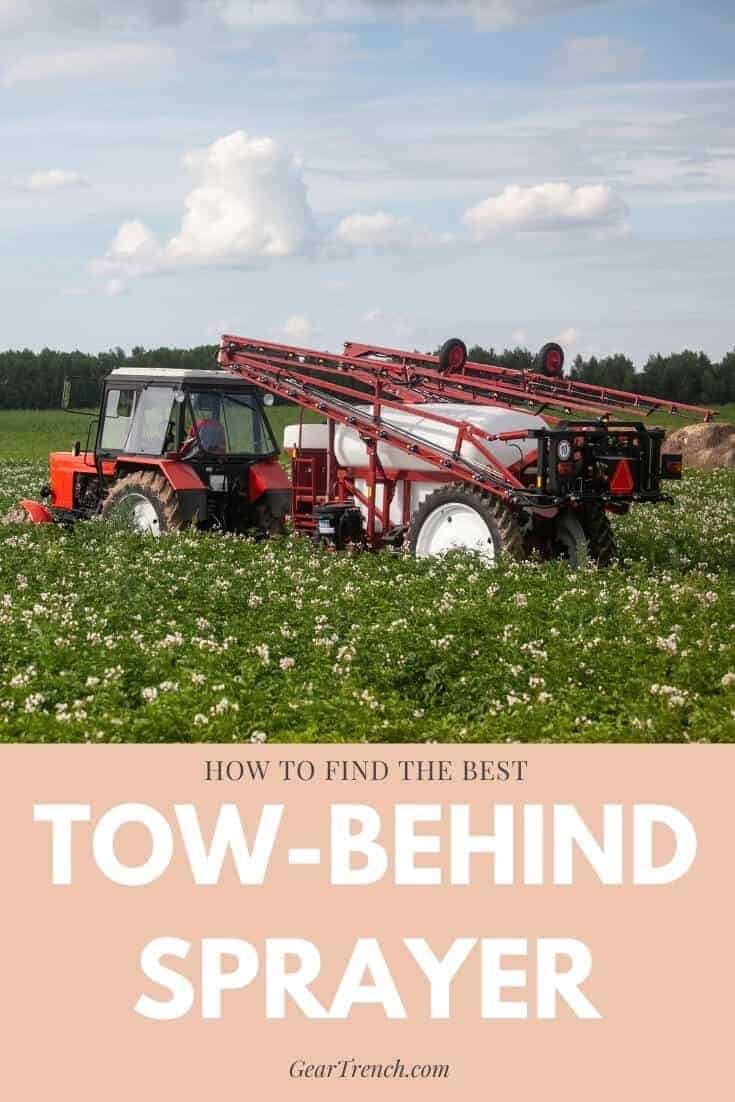 Don't forget to share this post