It's a very common ordeal for people to struggle to maintain the edges of their lawn. You can spend a great deal of time cutting and maintaining your garden, but without a proper border, everything looks haphazard.
You need to have a clear line of separation between the grass and the driveways or flower beds to make it look neat. The use of lawn edgers helps you to clean up the edges around your garden for a more beautiful appearance. 
Lawn edging is a physically intensive task. You can use a powered lawn edger, but those are expensive and need more care. But if you have a small yard and need some occasional edging work, then a manual lawn edger is the best choice.
In this article, we have covered all the information you need to know when choosing the best manual lawn edger. We've also reviewed the top models that are available in the market now.
Let's get started.
Top Manual Lawn Edger You Can Buy
What is a manual lawn edger?
A lawn edger is a garden maintenance tool that you can use to cut or trim the grass and weeds in your yard. Edger helps you create a clean-looking separation between your lawn and the driveways or sidewalks.
In some way, it improves the aesthetics of your home while helping you maintain your yard. You can use the edger to create a distinct look around the patios, flower pots, trees, and raised garden beds.
Best Manual Lawn Edger Review
Why do you choose a manual lawn edger?
A manual lawn edger is a straightforward gardening tool that has an edging blade attached to a long shaft. You use your physical force to do the cutting as compared to other edgers that are powered by gas motor or electricity.
There are several reasons why you should choose the manual lawn edger over the gas-powered one.
Reliable
Depending on the size of your yard, there may be a limited area where you may need to do the edging. For a smaller size garden, you may need something that can quickly do the edging.
You can use the manual lawn edger that is easy to store and can be used when needed. Unlike powered lawn edgers, you don't have to worry about filling the gas or charging the batteries.
Inexpensive
A manual lawn edger is cheaper than a powered lawn edger. And there is no extra cost to keep it operational. It's a one-time investment that may last you several years.
Low Maintenance
Manual lawn edgers are a simple tool and don't have any complex moving parts. The maintenance is easy as you just need to keep it clean after use, so it doesn't get rust. A quick wipe to the edger blade and you're all set.
Easy To Store
Manual lawn edgers are very compact and don't need huge space to store. You can hang it in your garage or just place it in the shed when you don't need it without worrying afterward.
Eco-Friendly
A manual lawn edger is eco-friendly as it doesn't need fuel to power it. You use your upper body strength to do the edging, and there is no carbon emission involved.
Zero Noise
Unlike gas or electric-powered lawn edger, the manual lawn edger doesn't make any noise. You're free to do edging whenever you need it without worrying about disturbing your neighbors.
Workout
A manual lawn edger needs the physical effort that helps you burn calories and keep your body active. You get all the benefits of exercise while maintaining your lawn. It works perfectly for small to medium size yards.
What are the common types of manual lawn edgers?
The manual lawn edger is mainly three types:
Rotary Edger
Standard Edger
Spade Edger
Rotary Edger
A rotary edger has a wheel on one side to move the edger and the rotary blade on the other side to make a cut. The wheel helps you walk in the desired path, and the blade does the edging.
The rotary edger blade is sharp and flat and is best suited for edging along the sidewalks and driveways. The use of the wheel in the rotary edger makes it physically less intensive for lawn edging.
Standard Edger
Standard edgers are the most common types of manual lawn edgers you may find. It has a straightforward design, and the edger blade can be either half-moon shaped or V-shaped. You should choose V-shaped blades when you have lots of roots of grass and weeds to cut.
To help you push the edger deep into the ground to cut roots, you have to place your feet on the top part of the cutting blade and thrust it into the soil.
Spade Lawn Edgers
The spade lawn edger can have a square or rectangular blade. There is a stepping surface at the top of the edge to give you more leverage. The broad-edged spade edger can get the job done as efficiently and cleanly as other edger tools.
The longer size blade allows you to cover the sizeable edging area in each swipe. To use it, you can mark the area with a chalk line or spray paint. Push the spade lawn edgers 3 to 4 inches deep into the ground. You then move the spade forward and pull it back to create a V-shaped trench.
How to choose the best manual lawn edger
When choosing the manual lawn edger, there are a few things you need to keep in mind.
Edger Blade
The edger blade is a crucial part of the lawn edger, and you have to make sure that you get the right type of edger blade. Regardless of what type of manual lawn edger you choose, make sure the blade is made of premium quality. So, it doesn't get rust and remain sharp even after many uses.
The blades made of durable stainless steel are rust-resistant and remain sharp for a longer time. These are also easier to clean as you can wash them with plain water to remove dirt and debris from the blade.
You may also use the blade sharpener to keep it in sharp order as it then required less effort during edging.
Angled Edger
For most people, straight manual lawn edgers may be all that they need. But for a more extended size yard and more complex edging location, an angled edger may be the better option.
This is especially true when you have to edge around the flower beds and along the tree lines. The option to set the cutting angle can save you a lot of time and effort in edging some tricky places in your lawn.
Edger Shaft
Most manual lawn edgers have a shaft that is around 35 to 40 inches long. Make sure you pick the long enough shaft length that's above your waistline.
So, you can get higher leverage when applying pressure on the ground. A lightweight and durable edger shaft can help you finish the job without getting too tired.
Hand Grip
The hand-grip on the manual edger helps you make a proper hold on the shaft not to let it slip. A cushioned hand grip protects your palm from getting blisters and makes it comfortable to operate.
Look out for the quality of hand-grip materials as you want these hand grips to be comfortable and durable. Most hand-grips are made of rubber or foam materials.
Warranty And Price
Compared to a powered lawn edger, the manual lawn edger is relatively cheaper. But you have several options, and you should pick the one that fits in your budget and comes with a more extended warranty.
How to use a manual lawn edger
Using a manual lawn edger is a straightforward process. But knowing some proper techniques can make your job easier and you get a far cleaner cut.
To get started, make sure you have some kind of marking on the ground to keep you at your desired edging path. It's very easy to lose track without any type of marking, so we highly suggest doing that.
Once you have a marking on the ground, place the edger blade on the marked line and firmly hold the shaft in your hand. Push your foot on the edger step and press it in the ground. You may have to wiggle it a bit to get it to dig deeper into the ground.
Once the blade is in the ground, shake it a bit to loosen the dirt and cut any exposed roots. Take out the edger from the soil and move it to the next mark. Repeat the process along your marking line to loosen the ground.
You can then manually pull the grass or weed out from the dig-out ground and either plant it somewhere else or dispose of it in a compost pile.
A picture is worth a thousand words, so here is a brief video on how to use a manual step edger.
Tips on maintaining your manual lawn edger
Manual lawn edger doesn't need much maintenance. After finishing your job, make sure that you clear off any dirt or mud from the blade and also wipe the shaft. This prevents the blade from getting rust.
Here are some maintenance tips for your manual lawn edger:
Washing
Washing an edger with plain hose water is the quickest way to remove dirt and debris from the edger. Make sure you remove all the soils particles from the tool as soil catches the moisture that, in turn, causes the rust.
Brushing
Sometimes the soil may get stuck to the blades and joints. In that case, use a wire brush to quickly and efficiently remove dirt and other debris from the edger. Use a hard metal brush to remove stubborn dirt and mud particles.
Wiping
Wiping lawn edger with a clean, dry cloth dries off any water and removes dirt and debris sticking to the lawn edger.
After you're done cleaning, hang, or store it safely away from the reach of children and pets. You don't want them to get hurt by the sharp blade of the edger.
When should you choose a powered lawn edger?
Powered lawn edgers can be either gas or electric. You should use it when you have a larger yard size and a more significant area to trim.
There are pros and cons to using the powered lawn edger. For example, the gas-powered lawn edger is often louder and generates smoke but is often the most potent lawn edging tool you can have.
The electrically powered lawn edger is cheaper than a gas-powered lawn edger but is usually less powerful and limited to the electrical connection.
Edging takes time. The larger the yard size, the more time it will take. If you're not in perfectly good shape, then it may not be even possible for you to finish the job. But if you have plenty of time in your hand, then you can do it in small chunks and get away with not using a powered edger.
But if you want to get a job done in the least amount of time, then you should choose a powered lawn edger.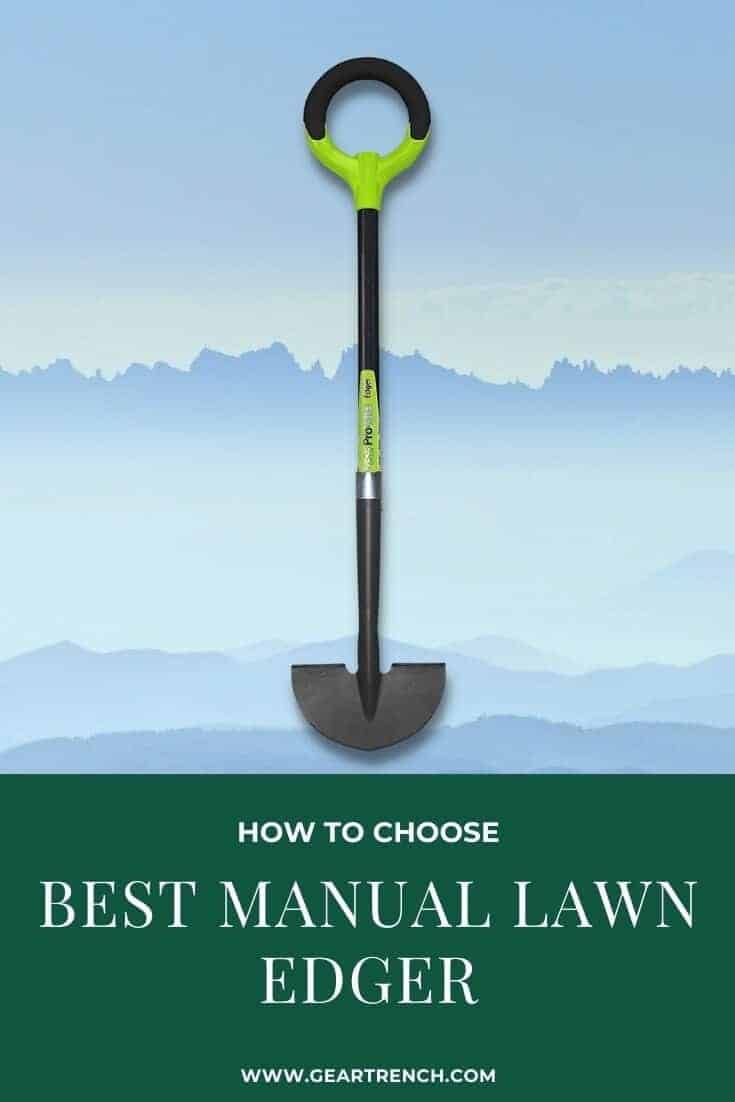 Don't forget to share this post