Whether you love or hate the snowfall, one thing is sure that you may not enjoy finding your car buried under the snow. To unstuck your vehicle from the thick layer of snow and clear your driveways, you need a shovel that's designed for the car and driveway clearing.
You have to keep your car ready for unexpected snow or emergency events during the winter. As part of your winter survival package, you need to keep the snow shovel in your vehicle. It has to be portable and fit comfortably in the car trunk.
We have put together a list of the best snow shovel for cars that can be used to dig your vehicle from snow or use for other outdoor activities such as camping.
Later in the article, we have provided you the buying advice, safety tips, and top-performing shovels.
Top Snow Shovel To Buy
What is a Snow Shovel?
If you live in an area where you get more than a few inches of snowfall, then you may have to clear your sidewalks and driveways from the snow.
It's a tool that helps you to clear snow fast without much effort. You can get the snow removed much more efficiently with less strain on your body.
Top Snow Shovels for a Car Reviews
Here are some of the top snow shovels currently available that you can use to place in your car.
How much does a snow shovel cost?
The price depends on the build quality, design, and brand. The cheapest snow shovel can cost starting from $15. The fully functional and multipurpose high-end snow shovel cost more than $100.
You should choose it for your car, depending on the amount of snow you have to remove. For occasional and light snow, you don't need to buy an expensive shovel, and you can get away with a less expensive one.
But if you need to clean large snow, then you should focus more on quality and functionality. This means you are looking to buy a more expensive one.
How to choose snow shovels for a car
When you are looking for a snow shovel for a car, there are some different considerations you have to keep in mind over a regular shovel.
This is more so if you live in an area where you get unexpected snow dumps. The snow shovel needed for the car has to be portable and lightweight. There should be an option to fold the shovel for more accessible storage in the trunk.
This is more so if you are doing a camping or other outdoor activity where you may need a snow shovel to clear the snow to move your car. In snow emergencies, portable snow shovels can become a convenient tool.
Let's look at some of the characteristics that can help you make the right buying decision.
Handle Length
The length of the shovel handle makes a critical difference over the ease of using it. A longer and sturdier handle provides you with higher leverage to clear the snow from the car roof and driveways.
The handle has to be long enough to reach the top of the car. And should be able to clear snow under the vehicle. Less snow under the car provides better traction to the car wheels.
It used to be that shovels generally had a handle made of metals that were strong and allowed you more snow to clear. But it often becomes heavier to operate for a longer duration.
The handle with a collapsible or foldable design provides greater flexibility and portability in clearing the snow around the car. It allows you to keep the shovel in the trunk of your vehicle so you can use it whenever you need it.
Blade Size
The size of the shovel blade determines the amount of snow removed in each sweep. You should choose a blade size of the shovel that you can use it maneuver around the tight spots and corners of your driveway.
If you have a short ground clearance vehicle, then you want a narrower shovel blade to clear snow underneath the car. But, if you have a truck or large space driveway, then you should choose a bigger blade size shovel.
Shovel Material
For a snow shovel, you want something that is durable and does not get rust quickly. It used to be that it was made of metals that made it sturdier, but also, it gets heavy.
Moreover, if you use these metal snow shovels around your car, then you also run the risk of accidentally scratching the surface of the vehicle.
The newly designed snow shovels are made of sturdier plastics to move heavier snow. But these sometimes get cracked or bend easily. If you are choosing a plastic-made snow shovel, then pick one that's made from bend-proof plastic. As these are more durable than other regular plastic types.
You can also choose aluminum-made snow shovels for your vehicles such as sport-utility cars as it offers an excellent middle ground between durability and weight.
Design and Ergonomics
The snow shoveling is a hard-physical task. The good ergonomic design makes it easy to clear the snow without putting extra pressure on your body. The ergonomically designed snow shovel allows you to adjust it as per your body type and height. It makes you feel comfortable clearing snow.
A poorly designed and bad ergonomic may cause back injury or make you get tired quickly. Some high-end shovels also have a shock-absorbing handle that reduces the impact on your body. The addition of a D-ring handle makes it comfortable to grip the handle that relieves your wrist from stress and prevents injury.
Flexibility
You want a higher degree of flexibility in adjusting snow shovels for faster and secure snow clearing. The ability to adjust the length of the handle provides you with better leverage. The option to set the cleaning angle makes snow clearing around the car and driveway easier.
Storage
The use of snow shovels is very seasonal. You only need to take it out during the winter; otherwise, you have to keep it in storage. A snow shovel that allows you to fold or gives additional options to hang it on the wall makes it easier to store it.
Ease of Assembly
You want a shovel that allows you to easily and quickly assemble it so you can get started clearing snow as soon as required. The tool-less attachment design of the blade and the handle makes it convenient to use it.
It becomes more critical when you are going to be using the snow shovel for the car that may require you to move the handle or change blades for more accessible storage in the trunk.
How to use a snow shovel
The use of a snow shovels seems quite straightforward. Use the following tips to improve the snow clearing performance without getting yourself injured or tired.
Get Ready
Before you get out and start clearing snow, make sure you are well prepared. During snow, the ground becomes very slippery that increasing the falling hazard. Put on snowshoes that have a firm grip to improve traction.
The low temperature also increases the risk of frostbite, so make sure you are adequately covered up, especially around your head and neck. Keeping thick woolen socks also keeps your feet warm while working outside.
You can use the best indoor outdoor thermometer to know the outside temperature that we have reviewed for more detailed information.
Shoveling is a physically intensive task and puts a great deal of load on your heart to supply blood. Make sure you don't overexert yourself as it may cause you to get tired quickly or feel dizzy. Warming up a little bit to loosen your joints is an excellent, prudent step before you get into action.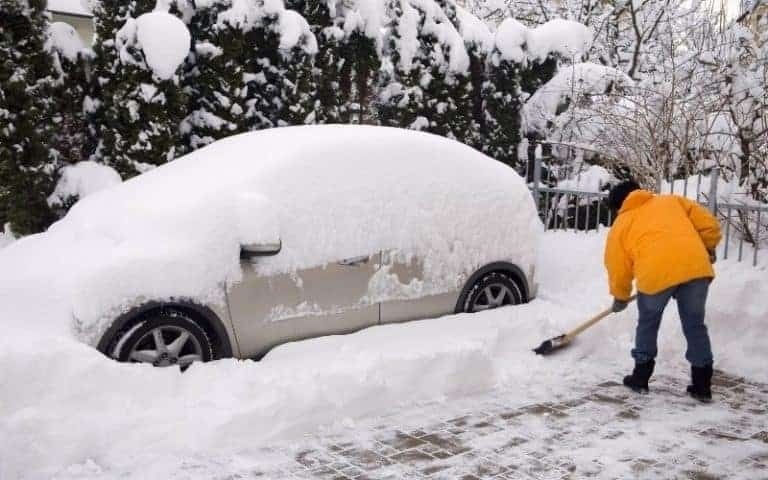 Use proper technique
When clearing snow, make sure that you are using the right technique to minimize the load on your body. Maintain a good posture by adjusting the handle length and keeping the natural curve of the spine.
If you are using a snow shovel where you have to lift the snow and then move it, keep your feet shoulder-width apart. It keeps your body in proper balance, and you have to use less energy to lift and throw the snow.
Keeping the shovel near your shoulder and not extending your arms makes lifting and throwing motion easier. Don't attempt to move more snow than you can lift in each swipe.
You can use your leg to give you some boost in the snow lifting. Throw snow from the least height possible as it needs less effort. You should aim to keep the snow lift below your wait height to reduce the lifting.
Snow Clearing Plan
A snow clearing plan allows you to move snow more efficiently. If you are clearing snow from around the car or driveway, make sure the area is clear from other obstructions.
If you are using the electrical heater plugged into your car, then make sure you clear it first to prevent accidental tripping on it or damaging the extension cable. Remove the pots and other obstructions. So you have a full sweep clearing area, and you are not hitting other objects while clearing snow.
If you have a pusher and snow shovel, then use a shovel to clear the area around the car and narrower paths, then use the pusher shovel to clean the larger areas such as the driveway and sidewalk. Clean up the area on the vehicle first; otherwise, you have to clean your driveway again.
Don't forget to share this post